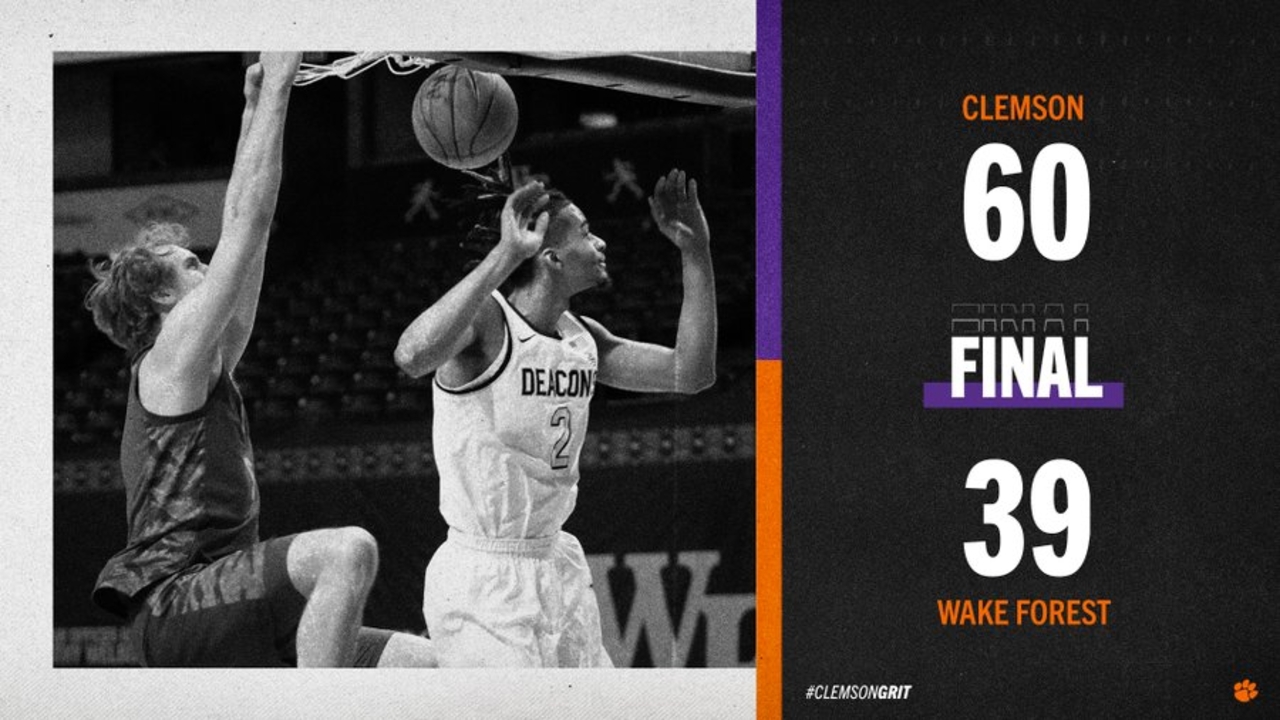 Photo by Twitter: @ClemsonMBB
Clemson Basketball
Clemson Throttles Wake Forest in Road Win
---
WINSTON-SALEM, N.C. — Putting on perhaps its best defensive performance of the season, Clemson returned to action following a COVID-19 shutdown and throttled Wake Forest on Wednesday. Taking the court 12 days after their previous game, the Tigers showed no signs of rust defensively, defeating the Demon Deacons 60-39 at LJVM Coliseum.
It marked the 11th time in Head Coach Brad Brownell's tenure that the Tigers held an opponent to less than 40 points in a game. It also marked the 50th time a team has scored less than 50 during the same time period.

Clemson (14-5, 8-5) shot 43.5 percent from the field, but the story of the game was the dominance by the Tiger defense, as Wake Forest (6-12, 3-12) was limited to a 25.5 percent field goal percentage. Offensively, the Tigers knocked down seven 3-pointers, made 13-of-15 free throws and scored 24 points in the paint. In addition, Clemson won the rebounding battle 40-22 and tallied 23 points off the bench.

Speaking of bench production, Alex Hemenway served as Clemson's leading scorer in the rout, collecting 17 points in a reserve role. He made 5-of-6 shots from beyond the arc and was 6-of-7 from the floor. Aamir Simms recorded a double-double with 13 points and 10 rebounds, and Nick Honor finished with 11 points and six assists. Hunter Tyson chipped in nine points to go along with his 10 boards. For Wake Forest, Daivien Williamson scored a team-high 16 points.

The Demon Deacons took a 3-0 lead, but the Tigers quickly rattled off seven straight points. Hemenway and Honor both hit from deep in the early goings, helping Clemson garner a 20-11 advantage. Soon afterward, a Hemenway triple from the top of the key placed the Tigers ahead by 10, and that point differential was stretched to 14 heading into halftime, with Clemson leading Wake Forest 29-15 at the break. On the Tigers' final possession of the first half, Tyson threw down an emphatic dunk after receiving a pass from Honor.
The 15 points scored by Wake Forest were its fewest in a single half since March 4, 2015 when they scored 15 at Duke.

At the 14:57 mark of the second half, Hemenway sank his third trey of the day, giving Clemson a 38-26 lead. A few possessions later, Honor corralled an offensive rebound and then scored on an up-and-under lay-in. The athletic layup kicked off a lopsided stretch that culminated in Clemson taking a commanding 55-32 lead with under four minutes remaining. The Tigers cruised to victory down the stretch and came away with an impressive 60-39 triumph.
With the win, this marks the first time since 1990 and just the third time since 1967 that Clemson has won its first four games in the month of February.
The 39 points allowed marked the second best scoring defense in an ACC road game in Clemson history. The Tigers allowed just 37 to Georgia Tech on Feb. 21, 2012.

The Tigers will return home to Clemson, S.C., for their next matchup on Saturday, Feb. 27, when Clemson will host Miami (7-13, 3-12) at Littlejohn Coliseum. Earlier in the season, the Tigers defeated the Hurricanes 66-65 on the road. Saturday's contest is slated to tip off at 2 p.m. and air on a regional sports network (RSN).
Head Coach Brad Brownell's Postgame Quotes
Opening statement:
"I'm really proud of our guys for sustaining the lead. It's hard to maintain that sense of urgency when you have a big lead, but our guys played with great urgency throughout. We showed really great attention to detail on defense and took out Wake Forest's first line of offense."

On Clemson's defensive showing:
"We were excited to play, so there was tremendous urgency from that standpoint. I think we were ready for what Wake Forest was trying to do offensively. We needed to guard well late in the shot clock, and we did just that."

On Alex Hemenway's performance:
"We've been wanting him to get a few more shots off. We've run a lot of things for him, and he's put in extra work. We gave Chase [Hunter] a start today and tried to sneak Alex in there to make shots off the bench, and he hit some big ones."

On the Tigers' other top performers:
"Aamir [Simms] and Hunter [Tyson] did a terrific job of defensive rebounding today. Wake Forest had only three offensive rebounds. Nick [Honor] was efficient, and that's what you're looking for in your point guard. Aamir played with poise, and he was extremely efficient around the basket. This was a really good performance by our guys."
Never miss the latest news from Clemson Sports Talk!
Join our free email list