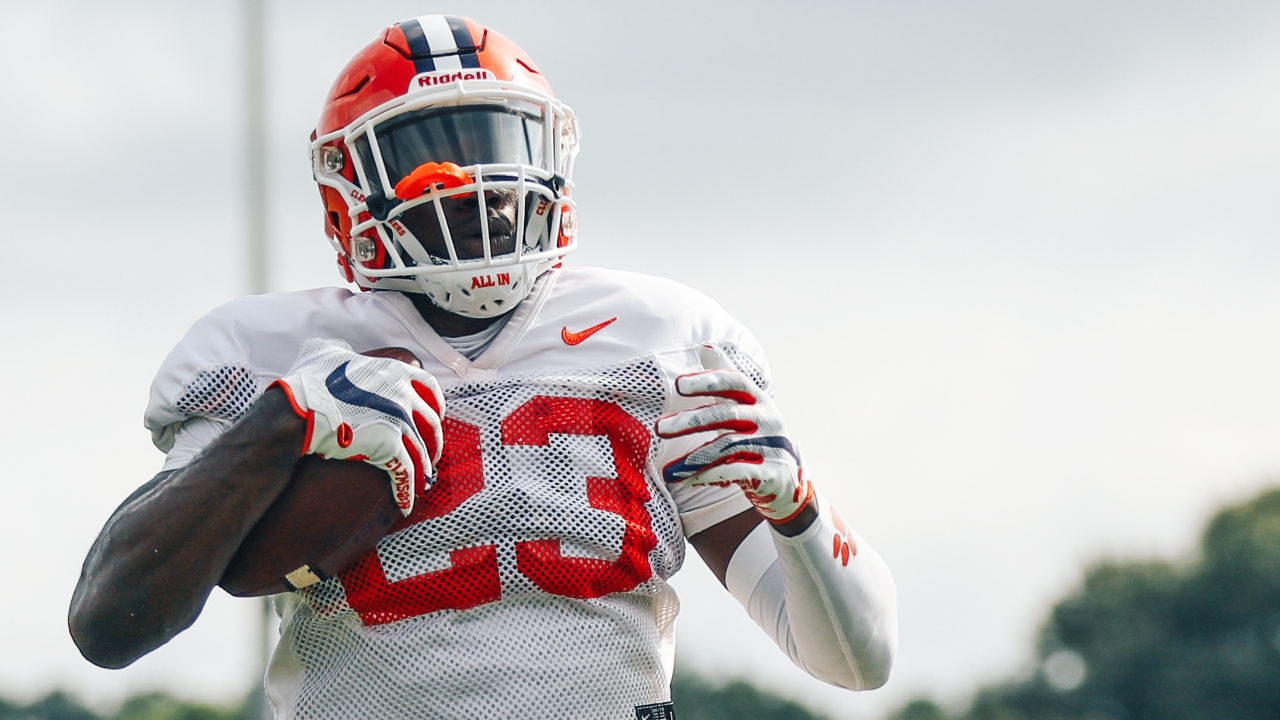 Lyn-J Dixon
D.J. Uiagalelei
Clemson Football
Lyn-J Dixon on D.J. Uiagalelei: 'That man is amazing'
---

Feel the difference - The MOST DIGITAL CONTENT covering your CLEMSON TIGERS! Avoid clickbait and sites bloated with advertising!
Register for your FREE ACCOUNT today, and you are eligible to win a LIMITED EDITION CLEMSON FOOTBALL. ←
---
Lyn-J Dixon
On his responsibility with Etienne gone:
"Really just got to maintain focus and keep working to show the young guys how to work. Not letting things on outside get to you and just maintain focus worry about yourself and yourself only-- nobody else. Just keep striving."
On how his 2020 season developed:
"I was coming up off of a little injury in the fall and I know that held me back a little bit. In midseason it started getting back better, I started building my confidence. Having older guys here, telling me things that I need to do to like upgrade on my game."
On the young guys:
"Phil (Mafah) and Will (Shipley), they come out with the matt drills we have. Them guys were working, Even though they were tired, they were picking it up and pushing every step forward. That showed me something about them guys and they're gonna be good."
D.J. Uiagalelei
On putting his thumbprint on the program:
"I'm just trying to go out every day, just try to do my job. When you talk about the quarterback room, every quarterback is not trying to do anything spectacular, just trying to do our job. I'm out here trying to do my job and trying to be a leader for the guys-- and to be a voice."
On what's different for him this year with Trevor Lawrence gone:
"I'm trying to be a little bit more vocal this year. Last year I was behind Trevor, so I'm just trying to be a little bit more vocal, trying to be that guy. Trying to be a leader. Trying to lead by example, each and every time. I want to be the most accountable guy on the team. Just try to lead by example, first."
On the freshman he's noticed:
"I know one guy on the defensive side I like, (Andrew) Mukuba. I like him a lot. He's a safety from Austin, Texas. He looks really good. Then another guy, I would say on the offensive side is Will Shipley. During all the drills, all the practices, and stuff, he just looks really great out here. He's a really fast running back. You can just tell that he has that mindset. He just wants to compete. He could just tell that he's really locked in."
Never miss the latest news from Clemson Sports Talk!
Join our free email list
PRESENTED BY