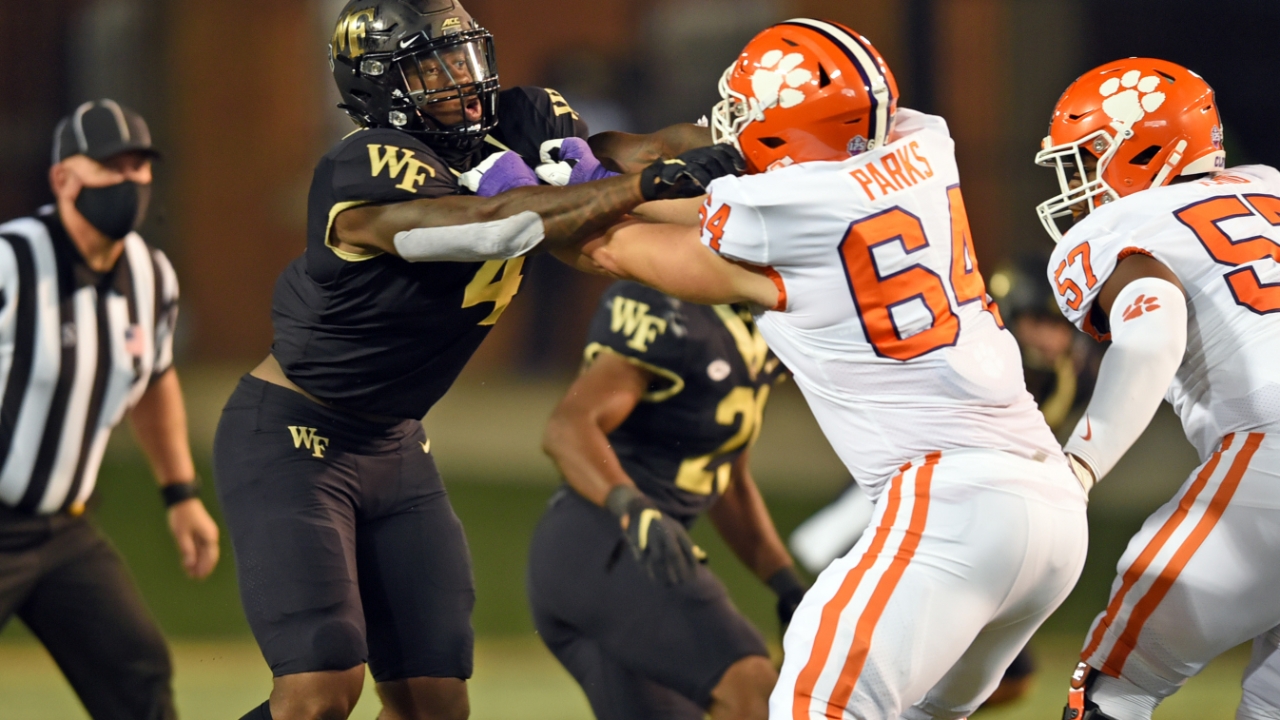 Photo by Courtesy of ACC Media Portal
Clemson Football
Tug of War: Parks Ready to Battle for Starting Spot
---

Feel the difference - The MOST DIGITAL CONTENT covering your CLEMSON TIGERS! Avoid clickbait and sites bloated with advertising!
Register for your FREE ACCOUNT today, and you are eligible to win a LIMITED EDITION CLEMSON FOOTBALL. ←
---
While it's rarely the position group with the most interest, the offensive line is one of the most important units on the field. For Clemson in 2020, the offensive line did not always perform up to its own lofty standards. With the departure of two starters from last season, Jackson Carman and Cade Stewart, second-year lineman Walker Parks knows that there are spots available upfront.
"Right now, it's kind of a battle of both the tackles and everything. It's still early," Parks said. "We're working out in the spring, we're gonna work out again in the fall, and there's no set information we have."
As for the rotation, Parks noted that it's all about what each player does moving forward, and the positions, as expected, will have to be earned on the gridiron.
"There are no set starters right now. Every spot has to be earned going forward," Parks said earlier this month. "So there's really no set [spots], but I'm working back and forth at both tackles."
With the absence of Carman and Stewart, two seniors on the line, there is a sudden need for a voice in that room, and Parks is more than willing to step up into a leadership role.
"I'd say I'm trying to speak up a lot more," Parks said. "That's one of the things in the past that I needed to work on because as a backup, I didn't have the confidence to step up."
One of the people that has helped Parks with his growing confidence is his father, David, who played offensive line at Kentucky. Parks said his dad got him through a lot of tough times, like last season.
"My dad is my hero," Parks said. "My dad is definitely my biggest supporter, and he's the person that I fall back on to. My dad has been through it, so there's no better person to talk to than my own father."
Looking back on last season, even given his immense talent, the Lexington, Kentucky native had plenty to learn a year ago, but his dad was always there.
"My dad's my rock. He's helped me develop, and he's still gonna help me as the years go on. I'm always gonna fall back on him."
"I remember fall camp, I was getting bullied for the first couple of weeks, and I was having a pretty hard time. I was struggling. Even during the season, later on, as I picked it up, I would always call him. I [would] let him know how the day went, tell him what I'm struggling with and what I'm working on."
Anytime he felt his son needed it, his father would send Parks all the motivation he needed.
"He would send me workout videos, things that I need to work on, things that he's seeing when he watched the film and kind of breaking it down for me. I rely on my dad a ton," Parks noted. "My dad's my rock. He's helped me develop, and he's still gonna help me as the years go on. I'm always gonna fall back on him."
With the help and motivation from his dad and the opportunity to start in the fall, the sophomore who grew up in the shadows of the Big Blue Nation is looking to be an integral block in the brick wall in Tiger Town.
Never miss the latest news from Clemson Sports Talk!
Join our free email list
PRESENTED BY