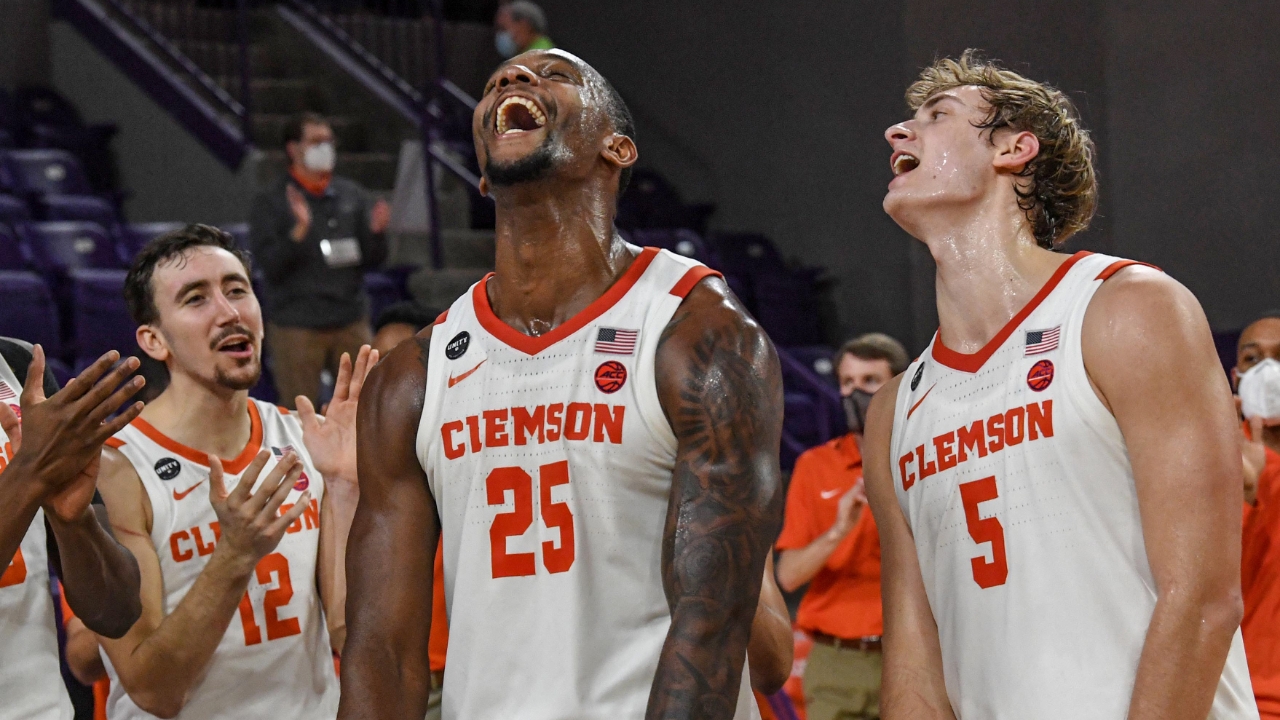 Photo by Ken Ruinard-USA TODAY Sports
Clemson Basketball
Brownell believes Clemson's team 'spirit' has been catalyst in 2021
---

Feel the difference - The MOST DIGITAL CONTENT covering your CLEMSON TIGERS! Avoid clickbait and sites bloated with advertising!
Register for your FREE ACCOUNT today, and you are eligible to win a LIMITED EDITION CLEMSON FOOTBALL. ←
---
Much like the end of the season in March of 2020, there were many unknowns for sports fans, even as they turned towards basketball this year. Through rounds of COVID-19 testing, mask-wearing, social distancing, even pauses, the Clemson basketball team endured, and tomorrow night will get the ultimate opportunity-- dancing during March Madness.
For Coach Brad Brownell, it's been as unique a season as any he's been a part of and for that reason, he told ClemsonSportsTalk.com, he's tried to get as many players on the court as possible. While some have questioned if shortening the rotation might be a positive, Brownell sees it the other way.
"We've done that in certain games (shortened the rotation). When certain situations dictate that-- a guy's playing well, getting off to good starts, all those kinds of things. For the most part, I've tried to play 10, and sometimes 11, guys in games," Brownell said. "I've been trying to reward these kids with all that they've sacrificed and done all year. I talked about doing that earlier in the season. It's helped to get us where we are."
Now, heading back to the tournament for the second time in four seasons, the Tigers head coach believes that the team's spirit could be significant during March after grinding into and through the NCAA's bubble in Indianapolis.
"I also think there's something to be said for the camaraderie and spirit of your team," Brownell noted. "It's different when everybody's playing. I think that that's one thing that has carried us through a long, difficult season-- that is not going to be marked by stats-- but marked by the spirit that your team practices with and the attitude that they carry every day, through the ups and downs of a long season."
Now, with Rutgers in view, the Tigers know that they will have to play well, especially their leader Aamir Simms, as he will be defended by one of the better defenders in college basketball on Friday night.
"The guy he's playing against in talking to a lot of folks is probably the best defensive center in the Big 10. Rutgers is known for their defense," Brownell noted. "I think Myles Johnson is one of the best, if not the best, defensive centers in the league. Those are tough matchups. That's why they're a good defensive team. It's what they hang their hat on, much like us."
Like Clemson, Rutgers takes a gritty approach on the defensive end of the court with stifling pressure, and to help combat their defense, Brownell will continue to look to Simms like he has all season.
"We need Aamir to play well. I mean, there's no doubt about it. We're not going to win many games in this tournament where Aamir Simms doesn't have a good game. Now, it may not be 20 points; it might be 12 points, six rebounds, and four assists. What that looks like remains to be seen," Brownell said. "I think there could be games where it is 20 points. He's got to be involved. The ball is in his hands a lot for us."
Simms leads Clemson in scoring (13.3), rebounding (6.2), assists (2.7), and blocks (17). He also made the All-ACC second team and was recently awarded the Skip Prosser Award, given to the ACC's top male scholar-athlete. He's had a good year. But Brownell would like to see an improvement in one area.
So what does Simms need to be more conscientious of moving forward? Brownell says it comes down to taking care of the basketball.
"The one area I've kind of talked to him about is his turnovers. His turnovers have gotten up a little bit this year. Some of that he's trying to do more things. He's trying to be more aggressive in certain situations, and sometimes those plays are working-- that's why he still leads us in assists," Brownell said about his senior leader, who has a team-leading 57 turnovers. "But there are a few too many turnovers. There were a couple in the game against Miami that were really costly. We've got to make sure that he's playing efficiently, within himself, but there's no doubt that we need him to be aggressive and look for a shot and take shots that are open when he's got them."
Now the Tigers wait as their moment to shine in the NCAA Tournament is just hours away. The lights will once again illuminate Clemson's jerseys in the postseason in an experience the young players will never forget, but as Brownell noted, they all have to be ready to play.
"You're not sneaking up on anybody. If you don't play well, you're probably going to get beat. That's just the way it is when you get to the postseason; everybody's got good players, everybody's competitive, everybody really wants to win, and everybody's prepared," Brownell said.
On the other hand, if the Tigers can lock in and play the way they played earlier this season when they won 9 of 10 games and found themselves 12th in the country, there is no telling how far they could go.
"We've had a lot of success. If we play great basketball and play to the best of our ability, we could do something really special this year."
Never miss the latest news from Clemson Sports Talk!
Join our free email list
PRESENTED BY