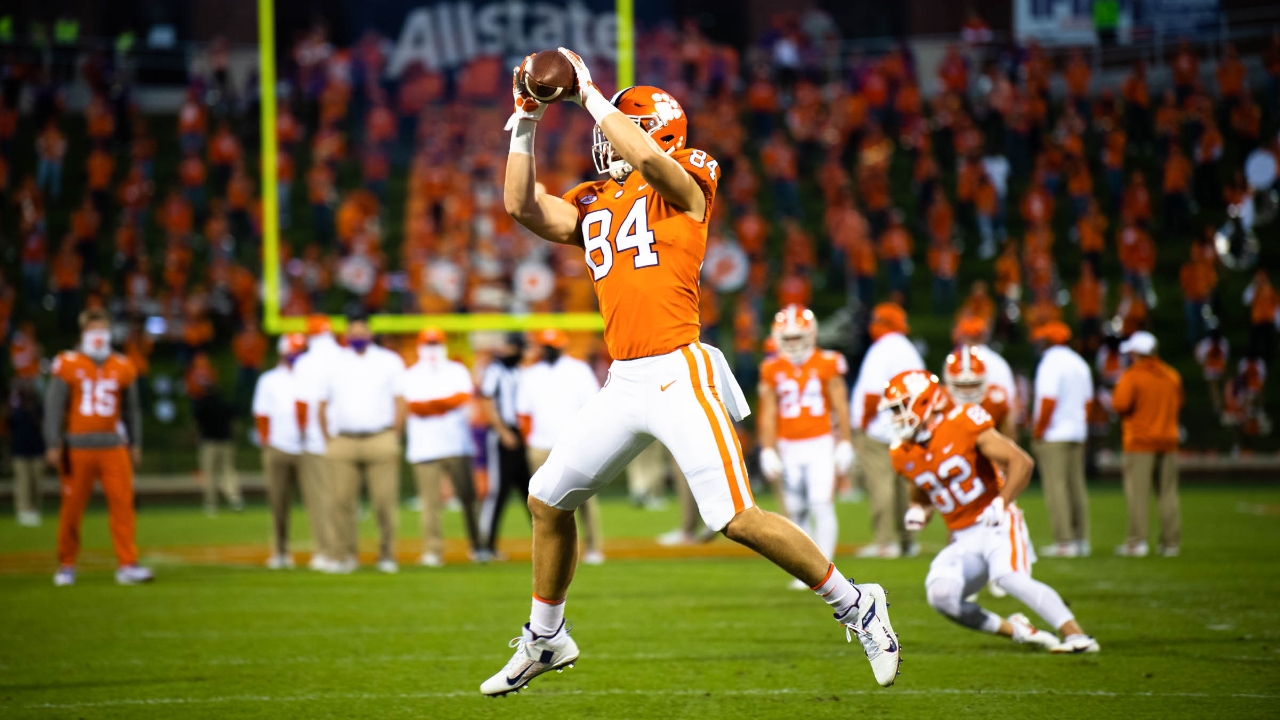 Davis Allen
Jordan McFadden
Clemson Football
Davis Allen says young tight end 'just oozes talent'
---

Feel the difference - The MOST DIGITAL CONTENT covering your CLEMSON TIGERS! Avoid clickbait and sites bloated with advertising!
Register for your FREE ACCOUNT today, and you are eligible to win a LIMITED EDITION CLEMSON FOOTBALL. ←
---
Davis Allen
On Coach Elliott moving to the tight end room:
"It's been great having Coach Elliott in our meeting room. He brings a different set of knowledge when it comes to the passing game-- that has been really useful for me in particular just because I feel like that's one part of my game that I need to work on. Between Coach E and Coach Pearman, they're their own person, but they bring the same thing to the table every day. They care for us. They want the best for us and they're both pushing us to be our best."
On Jake Briningstool:
"He's been great. He just oozes talent. He's a great route runner, really, really fast game. I think in general him coming in as an early enrollee-- I've been impressed with just a basic understanding of the game. It's obviously a learning curve for him-- a new offense and everything like that-- so anything I can do to help, tips, or things that I do to help me remember different things. Overall, I've been really impressed with him. He brings a great attitude every day. He's a really hard worker both on the field and in the weight room. He's something special."
On repping with D.J. Uiagalelei:
"It's been great working with D.J. we got a lot of reps last year, last summer, and throughout the spring. There really hasn't been a huge change in my opinion because I've had a lot of reps with D.J. over the past year. Carrying that over from what we did last year to spring right now it's been really good. I feel like we're on the same page. I feel like D.J. has done a really good job with everybody-- tight ends and receivers-- just being the captain of the offense. He's leading the way for us and I think he's doing a really good job right now."
Jordan McFadden
On if he believes he can thrive at left tackle:
"I do. In high school, actually my whole football career I've played left tackle. It's not really necessarily new to me. I've cross-trained here a little bit playing both sides. I honestly for like anywhere they put me on the offensive line, I'll thrive."
On when he moved to left tackle:
"Just one day, right before practice Coach Caldwell was like, 'you're going to left today,' and I've been there ever since. Just Coach Caldwell playing with it-- seeing who was good where and who was the best opportunity to thrive at each position."
On if the o-line was worn down at the end of the season:
"I don't want to like make excuses or anything, but I think that may have played like a little bit factor in it. We just kind of got away from our old selves, honestly, just like technique things. Then overall nasty. But I do think playing a lot of snaps early in the season, kind of, wears on your body. I think late in the season, guys are just a little banged up-- just nicks and bruises-- kind of started to wear on us. I definitely think that played a little bit of a factor."
Never miss the latest news from Clemson Sports Talk!
Join our free email list
PRESENTED BY