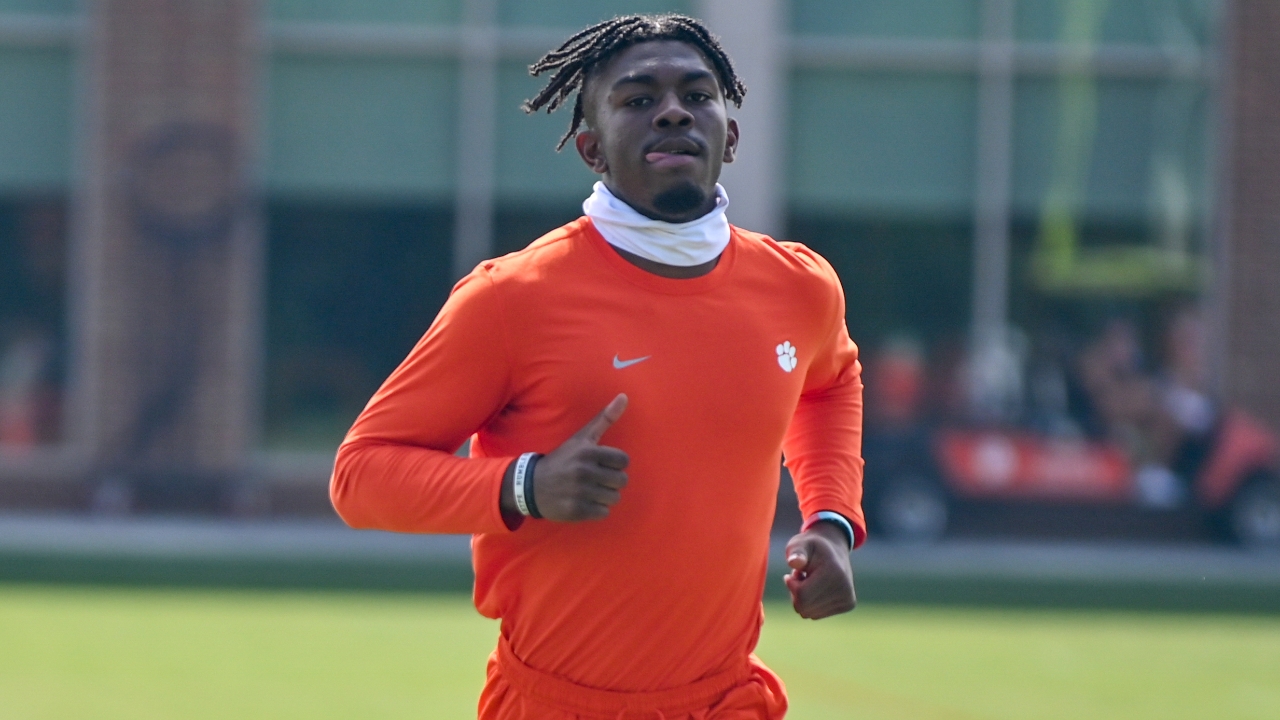 Photo by Courtesy of Clemson Athletics
Clemson Football
"Never question God": Ross reflects on year-long recovery process
---

Register for your FREE ACCOUNT today, and you are eligible to win a LIMITED EDITION CLEMSON FOOTBALL. ←
---
CLEMSON, S.C. – Days before Clemson's spring game, junior wideout Justyn Ross stood in front of the camera, breezing through questions from media members.
Ross rocked back and forth slowly, nodding his head with each reporter's prompt. He chewed a piece of spearmint gum, visible each time he spoke. Ross owned the virtual room.
With each question that came his way, one thing became increasingly clear: above all else, Ross was just happy to be back on the practice field.
"It felt good, man," he said. "I was just out there smiling the whole time."
During a spring practice before the 2020 season, Ross suffered a minor neck injury that cut his day short.
"I was running a slant, and me and the linebacker just collided. Got a little stinger."
At the time, no one predicted the setback to be serious, nor was the wide receiver expected to miss significant action. But X-rays just days later revealed a more dire issue for Ross. Doctors discovered a bulging disk in his spine, the result of a previously undiagnosed congenital condition.
That defect would require Ross to undergo season-ending surgery. On a much heavier note for the Alabama-native, it also placed his football future in jeopardy.
If the recovery process went well, Ross would see action again as soon as 2021.
If not? Well, Ross didn't even want to think about that. Instead, the junior pass-catcher kept his mind on things above.
"It's been hard. But I just put everything in God's hands. Just like my grandma always tells me, put it in God's hands and let Him work. So I went on and did everything my doctors and coaches told me to do. I just went with it."
So far, his focus has paid off. Ross has cleared numerous hurdles already to return for this year's spring practice, with his final doctor's appointment scheduled for mid-June. If he's given the all-clear, he says, then the dynamic duo of Ross and quarterback D.J. Uiagalelei will be ready for liftoff in the fall.
Ross left no doubt that he expects to hear good news in June.
"I feel really good about it. Everything should go as planned. And I'm going to be ready to play ball whenever [the doctor] tells me."
Despite his poised demeanor, Ross' recovery process has been anything but easy. For almost three months following his surgery in Pittsburgh, Ross says he was unable to do anything. It wasn't until last November, he recalls, that he was finally able to put on a helmet and run routes. But his day-to-day mental burdens were made lighter with the help of some of the people closest to him.
"Really, I've just leaned on my mom and my grandma," Ross said. "But I like to do a lot of stuff on my own, just to see if I can get through it… but I know I've got all their support that I need, whenever I need it."
Ross added that he's been supported by another Clemson receiving great throughout his recovery — former Tiger and current Los Angeles Charger Mike Williams. Williams suffered a similar injury for the Tigers in 2015.
"When [the injury] first happened, Mike and I talked a little bit. He was just telling me, 'It's a part of life. Never question God; always have faith.' That's all he could tell me, really."
© Kyle Terada-USA TODAY Sports
Now, Ross is itching to return to full-padded practice. He's not concerned with any long-term effects of the injury, he says, and he's excited about his transition to slot receiver for the 2021 season.
"I like it. I played slot a little bit my freshman year whenever they moved me there. I feel like it will be a great advantage for me, being there in the fall."
And following the departure of Amari Rodgers and Cornell Powell to the NFL, Ross has welcomed his new leadership role in Clemson's receiving room. The junior heaped praise on his younger colleagues, calling the Tiger receiving core "elite from top to bottom."
"Everybody's working their own craft," Ross explained. "Some [receivers] can't do what the others do, so they're working to do what they can. They're working their craft.
"I really feel like we've got a great group coming through."
Never miss the latest news from Clemson Sports Talk!
Join our free email list
PRESENTED BY