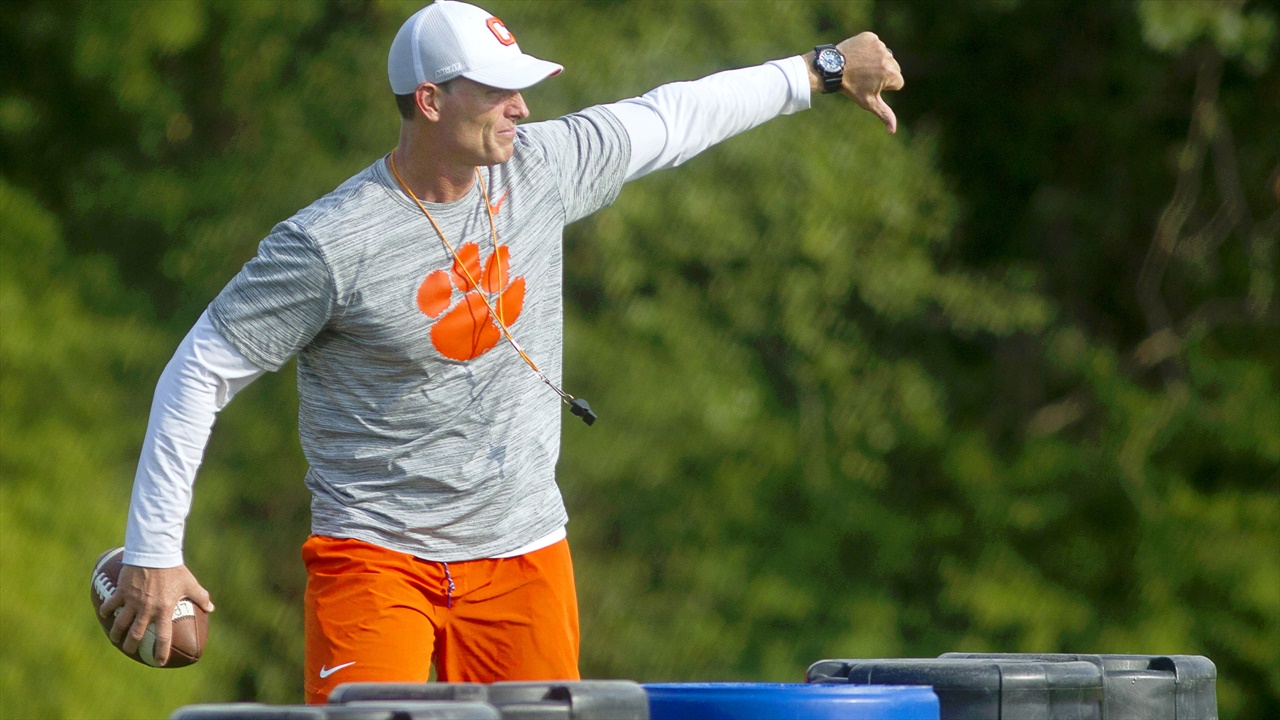 Photo by © Joshua S. Kelly-USA TODAY Sports
Clemson Football
Brent Venables says Clemson's defense has 'a lot of gym-rat' type guys
---

Feel the difference - The MOST DIGITAL CONTENT covering your CLEMSON TIGERS! Avoid clickbait and sites bloated with advertising!
---
Clemson defensive coordinator Brent Venables was not happy with how the defense ended the 2020 season in the 49-28 loss to the Ohio State Buckeyes. After four days of fall practices, Venables answered questions about the current unit.
On the overall feel he presently gets from the defense:
"Got a lot of guys that like to play-- that enjoy practicing. We like to compete, got a lot of good leadership on all three levels-- been pleased with that aspect. A lot of guys, very committed-- a lot of gym-rat kind of guys. Guys that give you a chance to realize your potential and your ability-- and guys that really invest in their opportunity. And so that's been terrific to see. [They've] been showing up early, staying late. It has been four days of camp, but so far so good that way."
On what he has seen from freshman Barrett Carter, who is currently working at strongside (SAM) and middle (MIKE) linebacker:
"He's fast. He really closes very well, smooth. He's very comfortable in space. He's comfortable coverage, and he understands concepts, understands football. And he's been tough, a tough-mindedness about him. He's willing to be led - doesn't have an ego whatsoever. A lot of humility, He's a guy who is ultra-competitive. So he has a bright future."
On how freshman safety Andrew Mukuba has looked after returning from the arm injury sustained during the spring:
"He's very patient. He's got great anticipation and instincts. His transitional movement is excellent. He's got really good closing speed, makes lots of plays on the football. Very rarely is he out of position. He's got plenty of things that he's got to get better at, but playing both outside and inside I've been super pleased with where he's at especially mentally thus far with what he's seen."
On Demonte Capehart, a talented sophomore defensive tackle from Hartsville, SC:
"He's out but he's in green. He's super athletic, and I got more details with what he's doing, but he can do it. Demonte, he's been kind of snakebitten a little bit. Hopefully, he'll be back after a while.
On having linebackers James Skalski and Baylon Spector aka "The Bruise Brothers," who weren't full participants during the spring, back on the field:
"They're just consistent, then you can focus on building your depth-- but the vibe is just a different level of confidence and that's not to say they're some other guys that want to make some improvement that way. But they're excellent football players. Two of our best athletes. Sometimes a guy that might test a little better, maybe test better, doesn't run near as fast or explosive and might make a flash here or there but consistently, they don't have necessarily the instincts or how to take on blocks.......all the little stuff, that let's you play at a really, really high level. And they do every single play, and they bring out the best in other guys all the time. And that's what those two guys do. They do it with humility and great toughness."
Never miss the latest news from Clemson Sports Talk!
Join our free email list