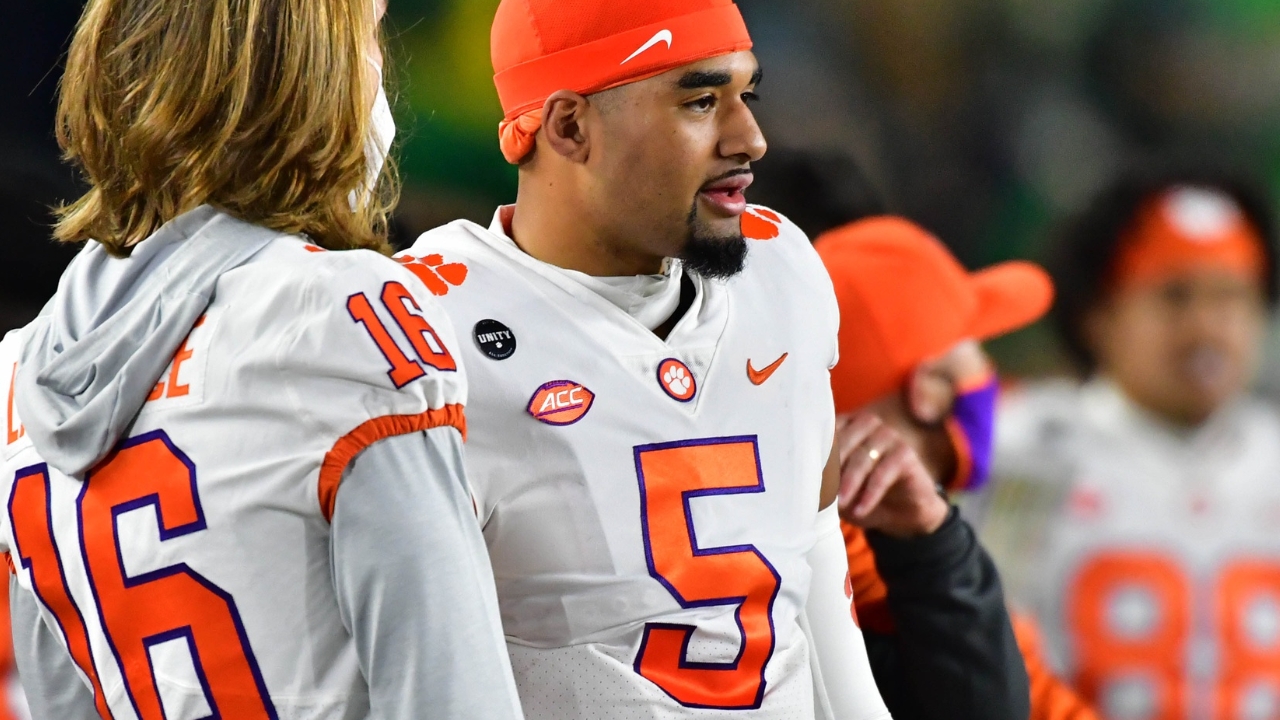 D.J. Uiagalelei
Will Putnam
Clemson Football
Uiagalelei excited to play in 'a packed stadium' for the first time in college
---

Feel the difference - The MOST DIGITAL CONTENT covering your CLEMSON TIGERS! Avoid clickbait and sites bloated with advertising!
---
D.J. Uiagalelei
On if it feels different this year being the starter:
"I think the only reason why I might feel a little different is because it's Game 1. I feel like that's the only thing that's different. Last year we knew we had Trevor-- Trevor's going to start Game 1. I think knowing now that I will be the starter for Game 1, that's about the only thing that's different."
On playing in front of a large crowd in Charlotte:
"I think it's gonna be amazing. I think South Bend, I don't know how many people was there-- I think there's only maybe 25,000. I mean, it felt like a lot. They had like music pumping in-- so it was super cool. I'm super excited about going to Charlotte. I don't know how many people they hold in Charlotte, but I know it's gonna be a packed stadium. It's going to be my first time playing in a packed stadium, so it's gonna be real cool experience. I'm really excited about it."
On the possibility of seeing Georgia twice this year:
"Coach Swinney's talked about it, 'yeah, we might be able to see these guys later down the road,' but I feel like for me, every single game, whatever game it is, that's the biggest game of the season for me. So it doesn't matter if we're playing another team, it doesn't really matter who we're playing. So whatever the next game up is the biggest game."
On what he's been working to improve:
"I think just consistency with reads, attention to details, stuff like that. Just making the right decision, every single play, to be able to put the offense in the right position. Make sure I'm doing my job, the correct way every single play. I think that's what they're talking about. Just making sure my footwork is correct-- whatever type of drop I need to take. Whatever type of mesh I need to take-- that everything's it's all fluid and I have to really think about it-- and that I'm really consistent with it."
Will Putnam
On if the offense will look the same this year:
"I wouldn't really say that we're going to be the same offense, we're going to be a different offense in the fact that I mean, it's a new year. We have a bunch of new guys. I think the standards still there, and that won't change. We have a lot of new pieces now. Trevor's gone but we have D.J. (Uiagalelei), you know, Travis (Etienne) is gone, but we have (Kobe) Pace, (Will) Shipley, (Phil) Mafah, Lyn-J (Dixon), all those guys. Upfront on the offensive line we lost Jackson (Carmen) and Cade (Stewart), but we're bringing back myself, Matt (Bockhorst), Jordan (McFadden)-- we have other very capable guys. The standard of our offense is going to be the same, but it's going to be different for this 2021 season for the guys that we have. I'm really excited to see these guys play."
On how D.J. Uiagalelei has expanded his leadership role:
"I would say he's definitely become more comfortable in his situation. He's definitely come more vocal, kind of talking with us about certain things. I'm really excited to see him see him go out there and lead. He's just a good leader on the field and off the field. He's a great guy-- a good kid. Yeah, I'm excited for him."
On replacing Travis Etienne at running back:
"I'm very excited to see that. Obviously, for us upfront on the offensive line, I'm really excited to see these young backs kind of run and go. They've had a great camp. That's one thing now-- the running back room, we have phenomenal depth. We have 3-4 guys who could all play, obviously here, but anywhere else in the country if I'm being honest. So I'm really excited to kind of give them the ball and see what they can do. Obviously not be an offensive lineman, I just want to service them the best I can do."
Never miss the latest news from Clemson Sports Talk!
Join our free email list
PRESENTED BY