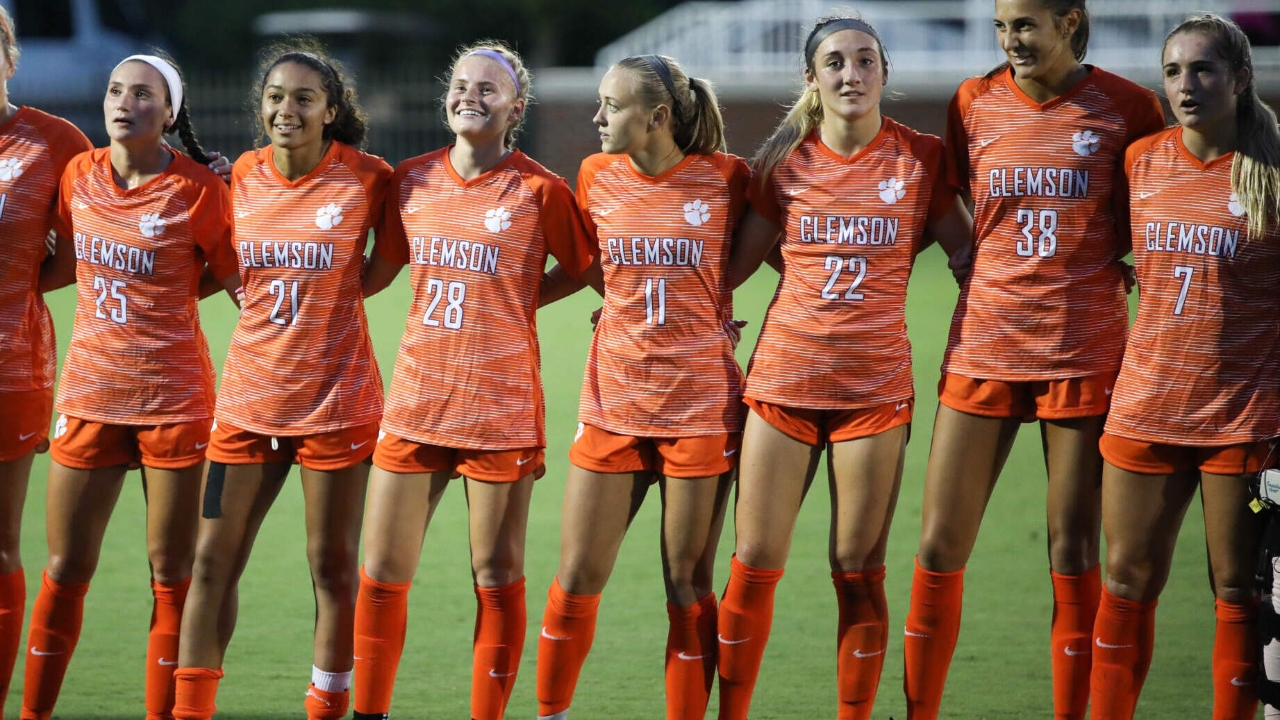 Photo by ClemsonTigers.com
Guion Tallies Five Points in Tigers' 8-0 Win Over College of Charleston
---
CLEMSON, S.C. - Behind five points from senior Renee Guion and braces from junior Maliah Morris and sophomore Megan Bornkamp, Clemson claimed an 8-0 victory over the College of Charleston Cougars (1-4-1, 0-0 CAA) on Sunday afternoon at Historic Riggs Field.
Once again, the Tigers (3-2, 0-0 ACC) struck early on in the match. In the sixth minute, Guion played in a corner kick to Maliah Morris, who ripped a shot from outside the penalty area and into the back left corner of the net. It was the junior's first goal of the season and Guion's fourth assist, moving her into the team lead in the category. Six minutes later, Morris' younger sister, Makenna, doubled the Clemson lead. Renee Lyles played a perfect through-ball in front of the Cougar net and Morris slotted it home for her fourth goal of the season and Lyles' first-career assist.
Guion joined in on the scoring act again in the 21st minute with her first goal of the season, a left-footed dagger from just outside of the penalty area and into the right corner of the net. The defender added her second assist of the game in the 35th minute, playing in yet another brilliant corner kick to Megan Bornkamp who headed it home.
The Clemson offensive barrage continued in the second half, when forward Caroline Conti converted a penalty-kick attempt in the 56th minute and became the fifth of six Tigers to find the back of the net. Just four minutes later, Maliah Morris made a run past the College of Charleston defense and swiftly navigated around the goalkeeper to net her second goal and first brace of the year. Then, Guion and Bornkamp connected again for Bornkamp's second header goal and Guion's third assist on the day. Lyles added a score in the 83rd minute, registering her with a goal in every match that she has played in and three points on the afternoon.
Goalkeepers Hensley Hancuff and Halle Mackiewicz each played 45 minutes, combining to record the Tigers' third shutout effort of the season.
"It was a good response… our group showed up today," said Head Coach Eddie Radwanski. "We scored some really good goals. It was some high-quality passing and movement off the ball. It's early in the season and we haven't been as good as we can be, so this was a positive. But starting tomorrow, we've got to get ready for a tough South Carolina game this week. We need to continue to grow and get better -- if we show up and compete, we'll be in every game."
The Tigers host in-state rival South Carolina Gamecocks on Thursday at 6 p.m. Game coverage will be available on ACCNX.
For complete coverage of the Clemson women's soccer team, follow @ClemsonWSoccer on Twitter, Instagram and Facebook.
Never miss the latest news from Clemson Sports Talk!
Join our free email list