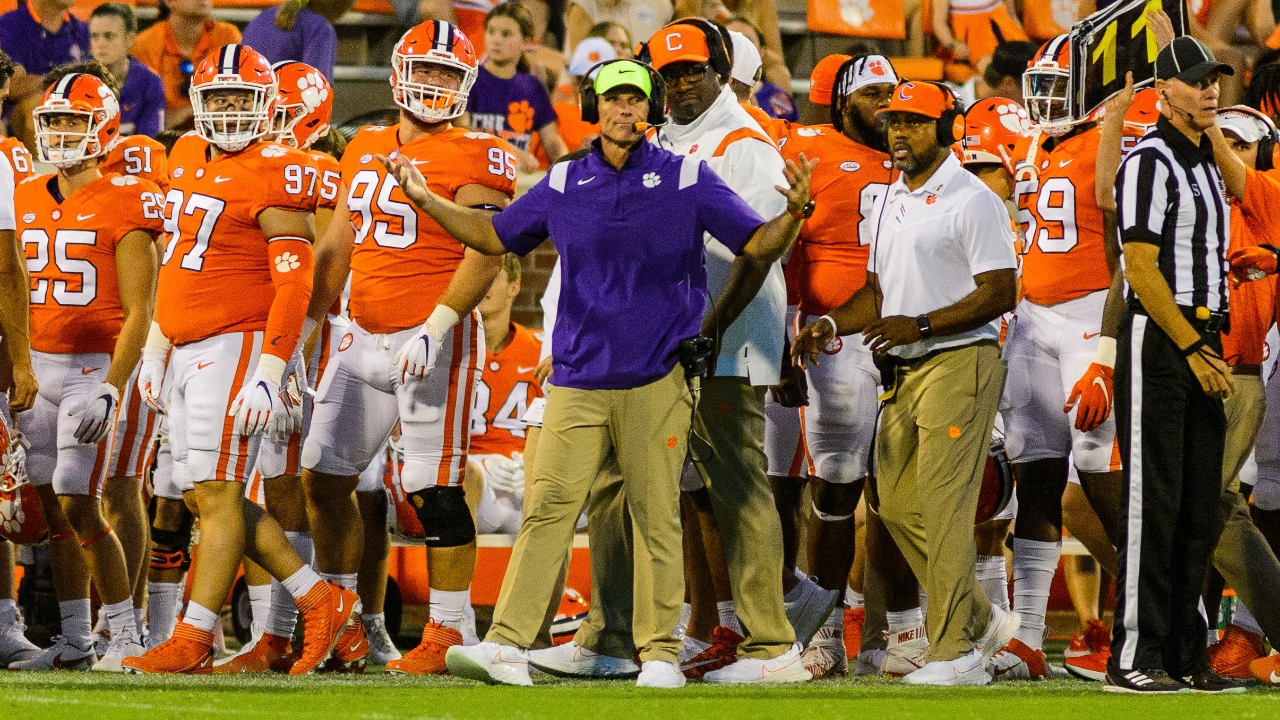 Brent Venables
Tony Elliott
Clemson Football
Coach Speak: Tony Elliott and Brent Venables
---

Feel the difference - The MOST DIGITAL CONTENT covering your CLEMSON TIGERS! Avoid clickbait and sites bloated with advertising! Support a 100% Clemson-owned business.
---
Brent Venables
On the first two weeks defensively:
"I'm pretty good. Was pretty hard on ourselves-- I'm never really satisfied but again appreciate the effort of our guys. The work they put into the week the preparation was outstanding. We had a really mature mindset in both the meeting room and on the practice field. I thought the execution was pretty good. We had our moments where it wasn't so good- misfit and out of position tackling-wise. Gave up a couple of competitive plays, but positioning, effort, toughness, pretty good with fundamentals. Top to bottom, we played a ton of guys this week, holding the offenses out of the endzone two straight weeks, it's not an easy thing to do, regardless of who you're playing."
On the secondary's play:
"Back to back weeks, I think they, they were 4.9 per attempt, that's pretty good. Around a little over 30% completion. South Carolina State is very similar to Wofford on some of the things that they've evolved to out the spread. It's a lot of option principles in what they do. It puts you in a position of disadvantage when it comes to some of the coverage concepts that you're doing, particularly in early downs."
On getting film for the younger players:
"Yeah, it's huge for young just to get a lot of levels, it's big, you know, obviously, the more you play, the better you get as you develop. This is a developmental game. So that's encouraging to see one, but for them to go out and not only play, but play pretty well. Then building our teams for the season, continuing to develop our depth, there's only so many reps during the course of the week in practice. Guys got to know what to do. That's how you win games, by knowing what to do."

On the noise in Death Valley:
"I'm still a little under the weather, but the stadium was awesome. The fans driving on the campus. Just gives me chills thinking about it again, it's just so cool to see the passion, the love, the pride that Clemson constituents have for their university. The alumni are special here. That was so cool. Our guys come out of the bus and get ready to run down the hill and the crowds going nuts. Pull the headset off and just take it all in. So I don't ever want to take that for granted."
Tony Elliott
On the offense this week:
"I thought we, right out the gate, took control of the game. Played with some pretty good precision and rhythm, being able to kind of run and pass in the situations that we wanted to. Then we had that one drive where we had the backup-- we had the point. Thought we should have got to kind of do a better job running the football in that situation so that we didn't have to, you know, throw the ball on third and seven. But other than that, I thought D.J. Uiagalelei responded. Played the way and managed the game the way that we needed him to."
On Lyn-J Dixon:
"Big thing for Lyn-J (Dixon), him and Coach Spiller are working to get on the same page. Coach Spiller is running that room. I give him the autonomy to run the room. He bases it throughout the course of the week with everything that's involved. So we'll have discussions on it tomorrow, but there wasn't anything major that came up, that I can remember on the headsets. It's just Lyn-J and Coach Spiller creating that chemistry and cohesion that they need to have-- but then also the teams got competition. You watch Kobe (Pace) run you watch a watch (Will) Shipley run, they're a little different type of runner, and then obviously they got off to a good start and so you'd like to feed the hot hand when you can."
On working through progressions as a young quarterback:
"It starts with practice, but at the same time too, it's hard to duplicate the exact looks that you're going to see-- especially when you start working, versus your 'look squad'. You're trying to recreate, but it's not going to be the same speed, and it may not be exactly how it looks. Presnap recognition is key to being able to anticipate. You saw if you watched the game, they were trying to disguise-- early on with two safety stuff and then spin it one way or another. As a quarterback continues to see that, then that starts to slow down to him, and then when the game starts to slow down to him he's able to process all the information and the reads a little bit quicker."
Never miss the latest news from Clemson Sports Talk!
Join our free email list