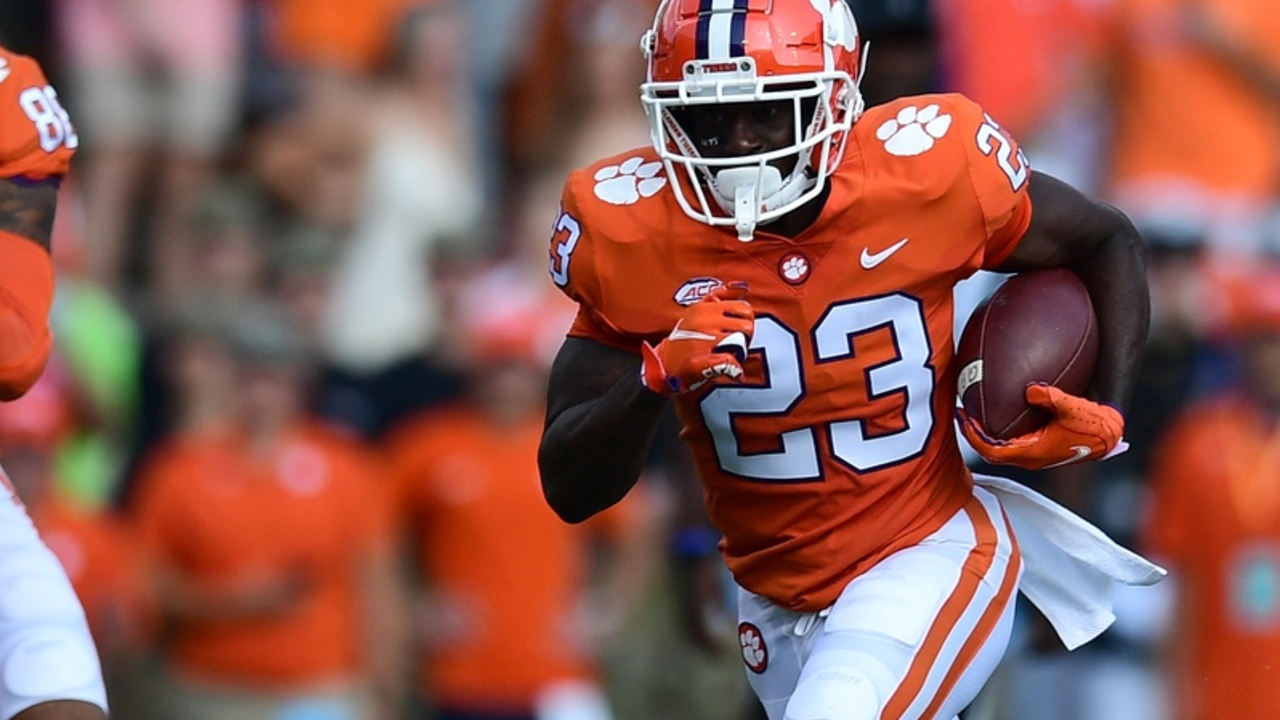 Tony Elliott on Dixon's situation: 'That's the foundation of our program: Accountability'
---

Feel the difference - The MOST DIGITAL CONTENT covering your CLEMSON TIGERS! Avoid clickbait and sites bloated with advertising! Support a 100% Clemson-owned business.
---
Tony Elliott
On the situation with Lyn-J Dixon and C.J. Spiller:
"I've been a part of his life (Dixon), but at the same time, C.J. (Spiller), has to establish the culture in that room. The biggest thing is just accountability and communication between the two. I remember when I first came in-- I have Mike Bellamy. I had Demont Buice and (Andre) Ellington was an older guy. Had Hot Rod (McDowell), and I had to establish the dominant role in that room. Obviously, Ellington had been here for a while, and not saying that we butted heads, but we had to get on the same page. He had to understand what my coaching style is."
"That's what you're going through there and obviously, Lyn-J he's been used to me, and now he's just getting used to Spiller. But y'all know, Spiller, the character that he has, and how he's going to establish the hierarchy in that room. Any of us that are in a situation where you got a chain of command, you've gotta respect the chain of command, according to how the person that's leaving the room, sets it. It's really more just accountability and communication between the two and they're working through it. But you know our program too, I mean, that's the foundation of our program: Accountability."
On D.J. Uiagalelei's mindset:
"Block out the noise, focus on what you can control, and just be you. Don't worry about what people on the outside, say. Focus on the people that you trust to take advice from, that's the only one that you need to worry about taking criticism from. That's a Morgan Freeman quote that we've shown the guys. That's just the mindset that you've got to have, and I think you saw the kind of young man that he is, and how he responded. The best thing about D.J. is, he's gonna be his hardest critic. He's gonna take ownership."
On the age gap between the freshman and the super seniors and their relationships:
"I know I hadn't given much thought to that. That may be a question more so for Coach Swinney, but I think the culture and environment we have in a locker room, and Coach established that from Day 1, that you're going to embrace the freshmen. Right, these guys are part of our program. They're part of the brotherhood, let's bring them in, put our arms around them and let's help these guys make the transition. Whereas it might not have been the same way when I was coming up-- freshmen, you had to earn your rite of passage in the locker room. There's some value to that, but I think there's a whole lot more value when you bring those guys in, and then you challenge your leadership and your older guys to help them with the transition because you remind the older guys, man, you remember what it was like to make that transition, especially if you're a mid-year guy coming to school early."
Brent Venables
On keeping back-to-back teams out of the endzone:
"Well, it's hard to do, you know, keep somebody out of the endzone. As I said, after the game, if it was easy, a lot of people would do it. So you want to keep up perspective on it. Again, we're not beating our chests, we got a lot of work to do a lot of areas that we've got to continue to improve. I believe we will, because our guys' commitment, the way they've worked thus far, and the humility that they've shown. They're very hungry, they understand and recognize the standard. And, again, up to this point, they have really embraced that."
On James Skalski and Nolan Turner's impact on the team:
"They bring out the best in people and that's what the great leaders can do. For guys that have had a great deal of success have been a part of a lot of really good teams, it's a very driven small group of guys right there, those two guys in particular, and (Baylon) Spector. Very driven. You can't raise the standard high enough for them and that's awesome when you have that. You can't coach that, guys either have it or they don't."
On Georgia Tech's offense:
"I think everybody knows they've got quarterbacks and running backs that are very dynamic. Got a great transfer receiver and (Kyric) McGowan that's their leading and receiver and is very explosive-- can really go. (They) do a good job utilizing their tight end and they've got a big X receiver, Camp. 6'3-plus, big guy. Then they've got some experience coming back upfront. This is year three for them, so players understand their system, even more so. The backs that we'll see this week, they're as good as we'll see all year."
Never miss the latest news from Clemson Sports Talk!
Join our free email list
PRESENTED BY