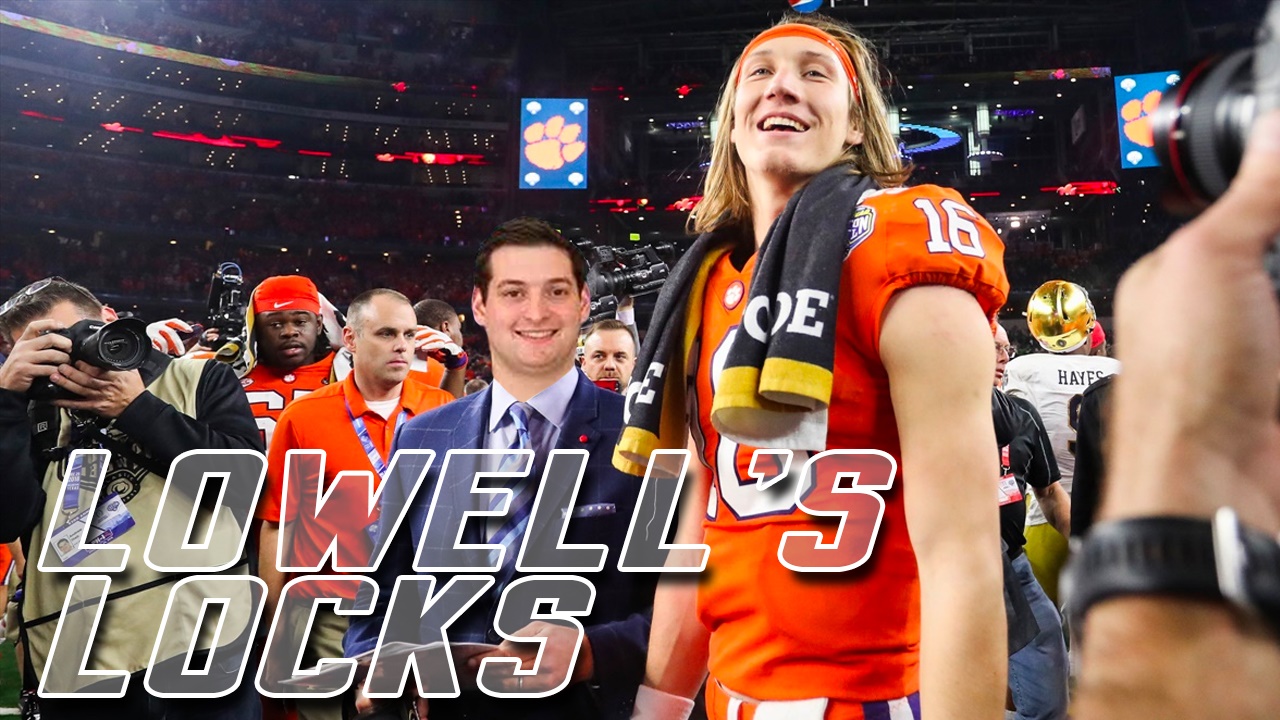 Clemson Football
Lowell's Locks: Week Three
---
It was a big week two for Lowell's Locks, as a 4-2 record pushes me above .500 for the first time this season at 5-4-1. Does it matter that I thought Oregon and Iowa would both lose? No, no it does not. Because the only thing that matters here is the spread. Now, we'll try to attack this week like Oregon's relentless offense attacked Ohio State last week. Let's get it!
Saturday, September 18th
Nebraska at #3 Oklahoma (-22.5):
This is a weird game to me. Everyone is expecting Oklahoma to hang 70 and beat Nebraska by 50+. I just can't get how poor their defense looked against Tulane out of my mind. Nebraska doesn't have much, but they do have a dynamic QB that can carry an offense and put up points. Don't expect them to win, but expect Nebraska to fight a little bit and keep this one closer than the experts might think.
Lowell's Lock: Nebraska covers +22.5
#8 Cincinnati (-3.5) at Indiana:
If Cincinnati wants any shot at the college football playoff, they cannot lose this game. THis is a prove it game not only for the Bearcats, but for potential future USC head coach Luke Fickell. Indiana was frustrated and shut down by Iowa in week one, and Cincinnati's defense won't be much easier to deal with. That combined with the playmaking of Desmond Ridder gives the Bearcats an early season statement win.
Lowell's Lock: Cincinnati covers -3.5
#1 Alabama (-14.5) at #11 Florida:
Many people probably still have the last time these two met in their head, where Florida let Alabama escape their clutches in the 2020 SEC Championship game. It's also easy to fall into the trap of believing Bryce Young will struggle in his first true road game. I've seen no sign that pressure gets to Young yet, and Florida's defense has some clear holes, particularly in the secondary. Plus, when it comes to picking against the spread, there's that one golden rule: Never pick against Nick Saban.
Lowell's Lock: Alabama covers -14.5
#22 Auburn at #10 Penn State (-5):
Auburn's offense looks much improved to start the season, but how real is that? We'll find out as they travel to Penn State to participate in a white out affair. The Penn State defense has been locked in to start the season, and Auburn typically puts up a good fight on that side of the ball as well. Expect this to be a tight, grinding game late into the fourth quarter, and whichever quarterback can avoid the big mistake will pull it out for their team. But it won't be by a touchdown.
Lowell's Lock: Auburn covers +5
South Carolina at #2 Georgia (-31):
On the surface, this spread seems absurd. Then you dive into it. South Carolina gave up 3 sacks to ECU last weekend and generally had their offensive line get bullied all game by the Pirates. That is bad, bad, BAD news against what is perhaps the best defensive front in the country. Georgia hasn't given up a touchdown yet this season, and I don't expect that to change on Saturday. The South Carolina defense may hang tough for a quarter, or even a half, but being on the field that long wears them down and the Bulldogs bust it wide open in the second half.
Lowell's Lock: Georgia covers -31
Georgia Tech at #6 Clemson (-28)
Georgia Tech has not looked sharp to start the season, as they lost the opener to Northern Illinois and looked putrid offensively in doing so. Clemson bounced back from the loss to Georgia, and really seemed to put an emphasis on the running game, which may be a pattern moving forward. Clemson is another team who hasn't given up a touchdown this season, and there's a good chance for that to continue if the backups can hold up in the fourth quarter. Clemson needs to destroy everything remaining in its path for the commitee optics, and it starts Saturday.
Lowell's Lock: Clemson covers -28
Lowell's Locks

Weekly Results
Season Results
Week 1
1-3-1
1-3-1
Week 2
4-2
5-4-1
Week 3
Week 4
Week 5
Week 6
Week 7
Week 8
Week 9
Week 10
Week 11
Week 12
Never miss the latest news from Clemson Sports Talk!
Join our free email list