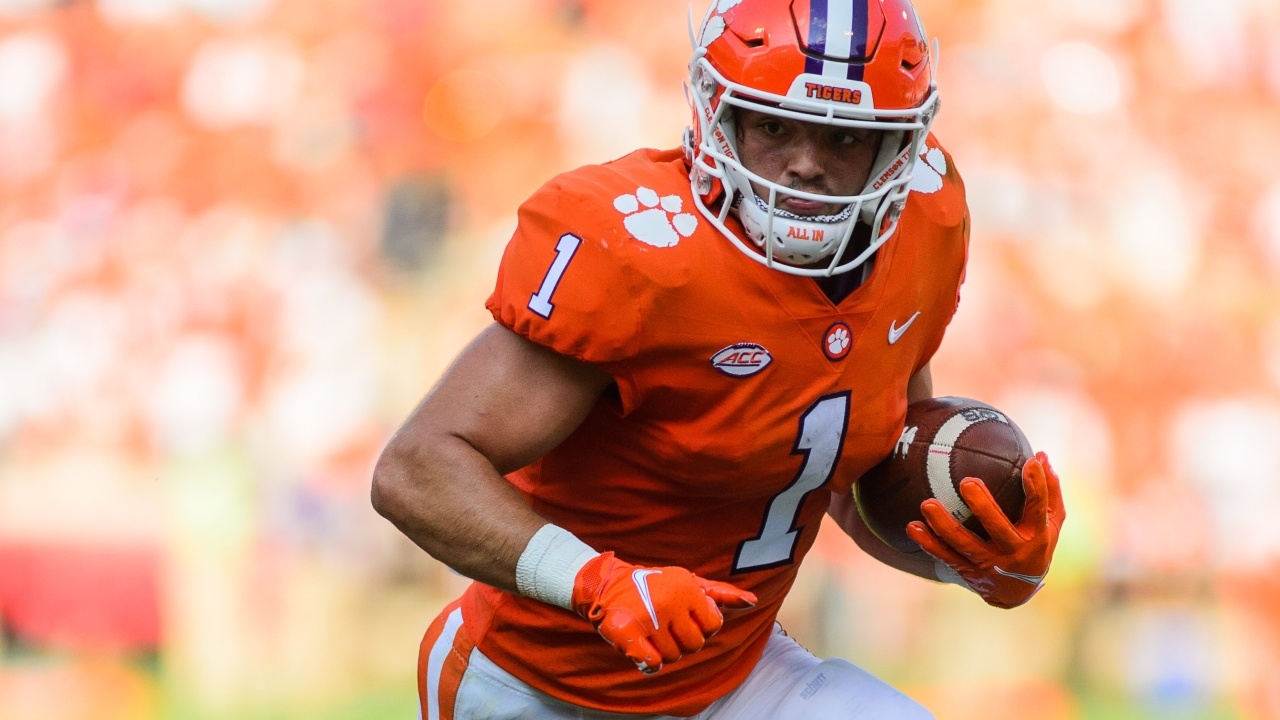 Photo by © David Grooms/Clemson Sports Talk
Clemson Football
Keys to Victory: No. 6 Clemson vs. Georgia Tech
---

Feel the difference - The MOST DIGITAL CONTENT covering your CLEMSON TIGERS! Avoid clickbait and sites bloated with advertising!
---
Each week we give you a look at the game's history, three keys to success, plus Swanny's prediction.
The Match-Up:
No. 6 Clemson (1-1 overall, 0-0 ACC) vs. Georgia Tech (1-1 overall, 0-0 ACC)
Clemson vs. Georgia Tech 2020
Series History:
Overall: Clemson trails 33-51-2
at Clemson: Clemson leads 16-6
at Georgia Tech: Clemson trails 15-44-2
Neutral: Clemson leads 2-1
Last Meeting: Clemson won 73-7 in 2020
Streak: Clemson, Won 6
---
Stat of the Week:
Dabo Swinney is attempting to win an 86th ACC regular-season game to break a tie with George Welsh for second-most regular-season conference wins in ACC history.
Swinney is also attempting to earn his 142nd career win to tie Steve Spurrier for the sixth-most wins through the first 15 years of a coaching career in FBS history. Of note, Swinney is only in his 14th season (including an interim season in 2008).
Chasing History:
Clemson attempting to win a 30th consecutive home game to extend its school record for both the longest home winning streak and longest home unbeaten streak in school history (as well as extend the nation's longest active home winning streak). Of the 135 players on Clemson's 2021 roster, 130 have never experienced a home loss in their Clemson careers. Five sixth-year "super seniors" on Clemson's 2021 roster were on the 2016 team that recovered from a home loss to
Key 1: Spice it up
After having a couple of weeks to digest Clemson's offensive performance against Georgia, I've come to one conclusion-- the Tigers need to spice things up a bit on offense and perhaps even special teams.
As frustrating as the performance was against Georgia, looking back, it really feels like the offensive playcalling lacked the punch we've seen in the past. Even if you equate that to the Bulldog defense being one of the best in America, Tony Elliott never reached into his bag of tricks to "create a spark" and that to me is significant.
It's one thing to be able to line up and run over your opponent, it's another to be willing to stress a team with a look they may not be prepared for.
As I noted this week, in Clemson's first playoff appearance, not only did Clemson run a fake punt against Oklahoma in the Orange Bowl, but Nick Saban ran an onside kick AGAINST the Tigers to create the spark that the Crimson Tide needed that night.
I don't want Clemson to be run trick plays for the sake of running them, but it wouldn't hurt my feelings to see Elliott toss a few wrinkles out there from time to time.
Key 2: Win the Turnover Battle
If the Yellow Jackets have any hopes of winning today's game they've got to win the turnover battle. Clemson's offense hasn't been running as smooth as I'd like, but it certainly doesn't feel like even with the issues that Georgia Tech has the horses to run with the Tigers.
The one limiting factor? Turnovers.
Last weekend D.J. Uiagalelei threw another interception and while no one expects him to be perfect, it was a mistake that falls squarely on his shoulders.
"On the screen overthrew Joe Ngata right there-- pick-- dumb mistake. Just make sure I'm locked in right there and just be able to focus in on every single little detail," Uiagalelei noted. "Make the easy play. It's not a given. Right there-- and in a big-time game that could be a game-changer. So (I've) just got to continue to be locked in to make the easy plays-- and to make all the hard plays too."
While one mistake shouldn't be the difference today, as it was against Georgia in the opener, two or more could make this game closer than we all expect heading into the late stages of the contest.
Key 3: Defense, Defense, Defense
This afternoon, Clemson will attempt to hold opposing offenses out of the end zone for three consecutive games for the first time since 1990 (Appalachian State, Duke, and Georgia). It would also represent the first time first since 1950 that the Tigers have achieved that feat in the opening three weeks of the season. That year, Clemson shut out Presbyterian, Missouri, and NC State to open the year.
The Tigers feasted last season in Atlanta and while Yellow Jacket head coach Geoff Collins knew the change over from Paul Johnson would take a while, they should be improved this season.
In 2020, the Tiger defense forced three turnovers and totaled five sacks in the contest and you can expect that the offensive line play for the Ramblin' Wreck will have a significant part in deciding if this game stays close early-- or if it will get out of hand before the break.
If the Yellow Jackets can move the ball and keep Clemson's offense on the sidelines it would present an opportunity to keep this one much closer than last season-- unfortunately, I don't know that they will be able to hold their own against this Tiger defensive front.
Prediction:
Last season's 73-7 win was a wild ride in Atlanta. Clemson's 66-point win was 7th largest margin of victory in Clemson history and the 2nd largest ever against a Power Five team as the Tigers beat Georgia Teach 73-0 in 1903.
The swamping was also tied for Clemson's second-most points in a road game in school history, trailing its 94 against Furman in 1915.
As for this afternoon, the Tigers should press into the mid-40s with little issue and as much as I'd like to see the defense keep that streak alive, I think it comes to an end at some point today.
No. 6 Clemson 45, Georgia Tech 10
Swanny's Predictions:
| | | | |
| --- | --- | --- | --- |
| Date | 2021 Schedule Predictions | Swanny's Prediction | Actual Score |
| 9-4-2021 | No. 3 Clemson vs. No. 5 Georgia | 31-27 Clemson | 10-3 Georgia |
| 9-11-2021 | No. 6 Clemson vs. SC State | 59-7 Clemson | 49-3 Clemson |
| 9-18-2021 | No. 6 Clemson vs. Georgia Tech | 45-10 Clemson | ??? |
Never miss the latest news from Clemson Sports Talk!
Join our free email list
PRESENTED BY