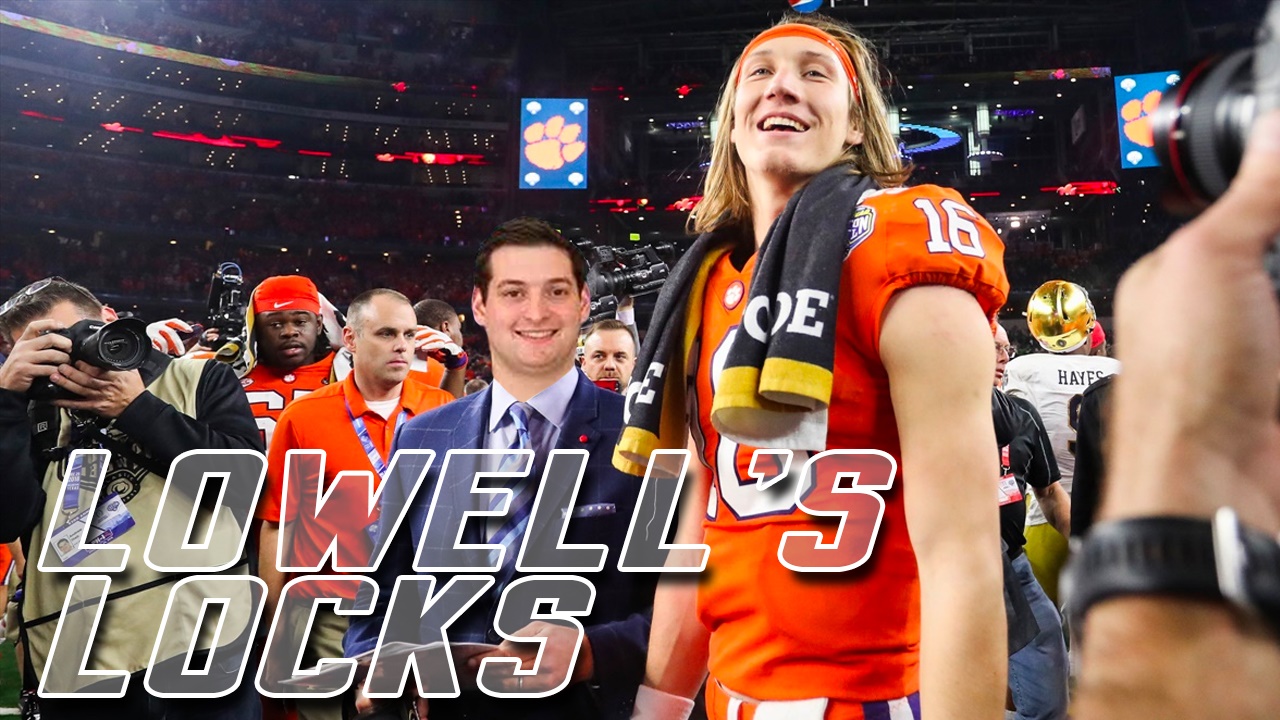 Clemson Football
Lowell's Locks: Week Five
---
Much like the Clemson Tigers, I'm having a little bit of a roller coaster season. My last three weeks have looked like this: 4-2, 2-4, 4-2. Last week pushed me back into winning territory, but this week, it's time to bust out and go on a run! Or...completely tank it and lose the season. Also the Tigers' options this weekend.
The good of last week? I was all over the SMU game, as they ran up and down the field to beat TCU for a second time in a row. The bad? Wisconsin was in a tight game against Notre Dame and had a chance to go up a touchdown. After settling for a field goal, the Badgers were up 13-10 with 14:14 to go. Notre Dame then went on an insane 31-0 run to win it 41-13. The ugly? NC State covered +10 against Clemson...and won in overtime. Yeah, I won the pick, but I'm not happy about it. TIme to find out what this week has in store. Let's go!
Saturday, October 2nd
#8 Arkansas at #2 Georgia (-17):
It goes without saying that Vegas always knows. It is incredibly likely that I'm walking straight into a trap here, but I just don't get the line. Arkansas has been impressive defensively, and they've been able to move the ball pretty well so far this season. In fact, this is the best offense that Georgia will have statistically faced this season (who would have guessed that with Clemson on the schedule?). Don't get me wrong, Georgia is very good and has the ability to win this game by two scores. But three? Count me out.
Lowell's Lock: Arkansas covers +17
Louisville at #24 Wake Forest (-7):
Wake Forest is a quiet 4-0, and is starting to look like a legitimate ACC contender with Clemson having a down season. Their offense has been as explosive as any in the country, and their defense isn't great, but does its job. Louisville is 3-1 and has rebounded nicely after a season opening blowout against Ole Miss. Much like last week against Virginia, though, Wake controls this one for much of the game and gets a statement division win.
Lowell's Lock: Wake Forest covers -7
#7 Cincinnati (-2) at #9 Notre Dame:
This is it for Cincinnati. The college football playoff Cinderella has no true tests the rest of the season, and need this game in the worst way. I think they play like it. Notre Dame keeps teasing like they're not a good team, and then somehow pulling it out in the end. I think the Irish luck runs out this week.
Lowell's Lock: Cincinnati covers -2
#12 Ole Miss at #1 Alabama (-14.5):
Again...probably another Vegas trap that I'm walking straight into. Ole Miss has, in my opinion, the best offense in the country. I think Alabama is going to have some serious issues slowing the Rebels down. Alabama will be able to move the ball and score, but are you sure you want Bryce Young getting into a shootout with Heisman favorite Matt Corrall and Lane Kiffin's offense? I know I wouldn't. I have a hard time envisioning Alabama winning this game by anything more than 10 points (and I think the rebels actually win...but shhh).
Lowell's Lock: Ole Miss covers +14.5
Troy at South Carolina (-6.5):
There won't be many points in this one. Troy has been suffocating this far this season, which bodes poorly for a struggling Gamecock offense. The South Carolina defense has been solid in its own right, and Troy has had its own issues on offense. In a tight, low scoring game, go with the home team to win...but give me Troy to cover.
Lowell's Lock: Troy covers +6.5
Boston College at #25 Clemson (-14.5):
Clemson is a two touchdown favorite in this one, which is wild because Clemson has yet to score 14 points in regulation against power five competition so far this season. Boston College is down its starting quarterback, so look for the Eagles to try and control things on the ground and milk the clock against Clemson. In a game with limited possessions, Clemson really needs to get its offense going...or risks going under .500 for the first time in seven years. The Tigers pull it out at home, but don't cover.
Lowell's Lock: Boston College covers +14.5
Lowell's Locks

Weekly Results
Season Results
Week 1
1-3-1
1-3-1
Week 2
4-2
5-4-1
Week 3
2-4
7-8-1
Week 4
4-2
11-10-1
Week 5
Week 6
Week 7
Week 8
Week 9
Week 10
Week 11
Week 12
Never miss the latest news from Clemson Sports Talk!
Join our free email list