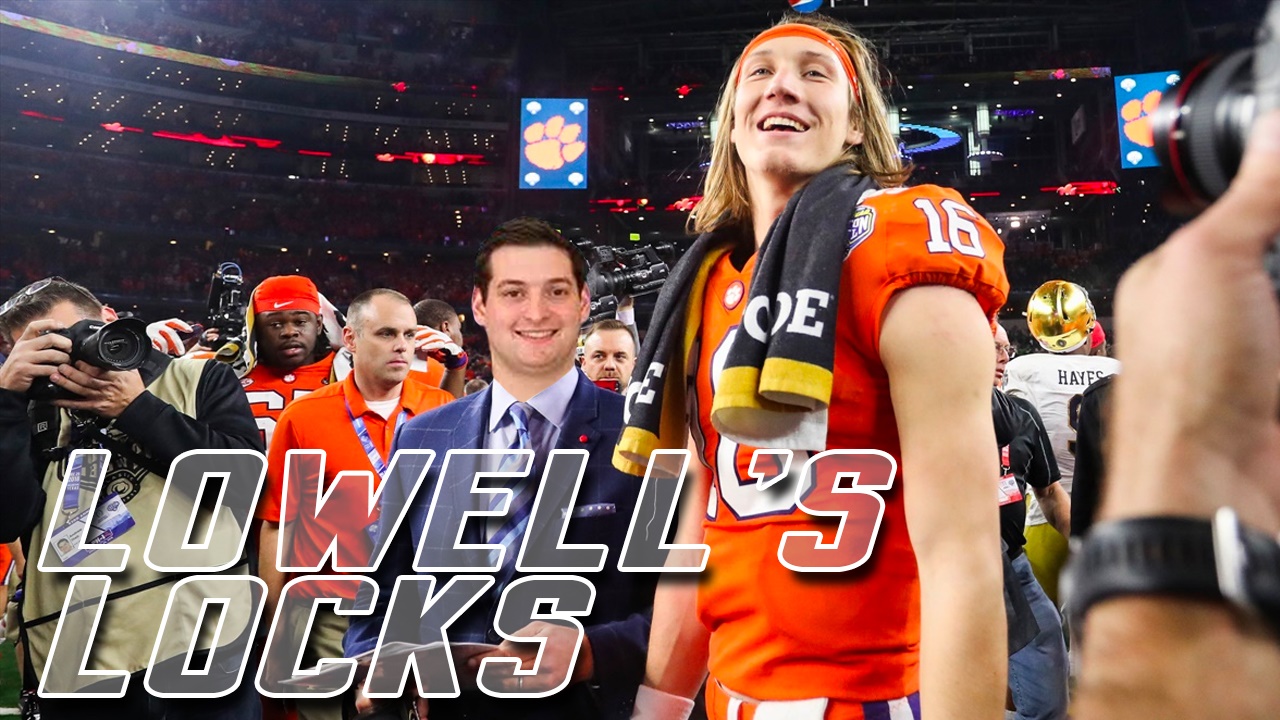 Clemson Football
Lowell's Locks: Week Six
---
The rollercoaster continues. Another 2-4 week has me back under .500 by a couple games, and I'm starting to understand the trends of the season now. First and foremost, fade Clemson. Second, take Georgia and Alabama to cover no matter how enticing the line might look. With that in mind, here are the picks this week. Let's go!
(Quick side note: I was not a math major in college. The season record has been updated to account for human error. The updated record puts me two games under.)
Saturday, October 9th
#6 Oklahoma (-3.5) vs. #21 Texas in Dallas:
This feels like a story of two teams going in opposite directions. Oklahoma is undefeated, but they've felt like they're on the edge of collapse week to week. Texas, meanwhile, has found a different gear on offense since turning the reins over to junior quarterback Casey Thompson following a lopsided loss to Arkansas in week two. Since that game? The Longhorns are averaging an astounding 53 points per game. Oklahoma's defense is a different animal than what they've faced recently, but the blueprint to contain the Sooners' offense is seemingly out there now. Texas finds enough on offense.
Lowell's Lock: Texas covers +3.5
#13 Arkansas at #17 Ole Miss (-5.5):
These are two teams that are licking their wounds after catching beatings from Georgia and Alabama, respectively. Even though they gave up 37 to Georgia, Arkansas still possesses a very good defense and a physical style of play. Ole Miss wasn't able to handle Alabama, but still very much has one of the better offenses in the country. Arkansas is going to lean on its physical run game to keep Ole Miss off the field as much as possible, while Ole Miss is going to look to reestablish Corral as a Heisman candidate. Ole Miss makes a few more mistakes in this one and ultimately Arkansas covers in a tight game.
Lowell's Lock: Arkansas covers +5.5
#2 Georgia (-15) at #18 Auburn:
This one is going to be short, sweet, and to the point. Do you trust Bo Nix against this Bulldogs defense? That's what I thought. Georgia gets no less than 5 sacks and two turnovers on their way to another dominating win.
Lowell's Lock: Georgia covers -15
#4 Penn State at #3 Iowa (-1.5):
There won't be many points to be had in this one. Both of these defense are pretty good. Iowa's, though, has been astounding. Their ability to force turnovers (combined 16 INTs and fumbles forced, first in the country) as well as take care of the ball (four turnovers, 21st in the country) has them sitting pretty with 2.40 turnover margin per game (again, first). The Hawkeyes are going to do what they do and turn quarterback Sean Clifford over a few times to pull this one out in a battle of unbeatens.
Lowell's Lock: Iowa covers -1.5
#1 Alabama (-18) at Texas A&M:
Things are falling apart for Jimbo's squad in College Station. They aren't going to be any better after this one. Jimbo declared that one of these days, A&M is going to beat Alabama. I side more with Saban on this matter, who replied, "In golf?"
The TIde roll on.
Lowell's Lock: Alabama covers -18
South Carolina at Tennessee (-10.5):
It's just hard to trust this South Carolina offense. The defense has held up and done pretty well this season, but I just can't envision them going on the road to Knoxville and suddenly getting better. Tennessee had a little bit of a breakout on offense against Missouri last week. It won't be as easy this week, but they'll score enough and be able to stop a really bad Gamecock offense enough to cover.
Lowell's Lock: Tennessee covers -10.5
BONUS- Bye week at Clemson (-3):
Clemson is only a 3 point favorite because they get bye week at home. Fade the Tigers forever.
Lowell's Lock: Bye week covers +3
Lowell's Locks

Weekly Results
Season Results
Week 1
1-3-1
1-3-1
Week 2
4-2
5-5-1
Week 3
2-4
7-9-1
Week 4
4-2
11-11-1
Week 5
2-4
13-15-1
Week 6
Week 7
Week 8
Week 9
Week 10
Week 11
Week 12
Never miss the latest news from Clemson Sports Talk!
Join our free email list