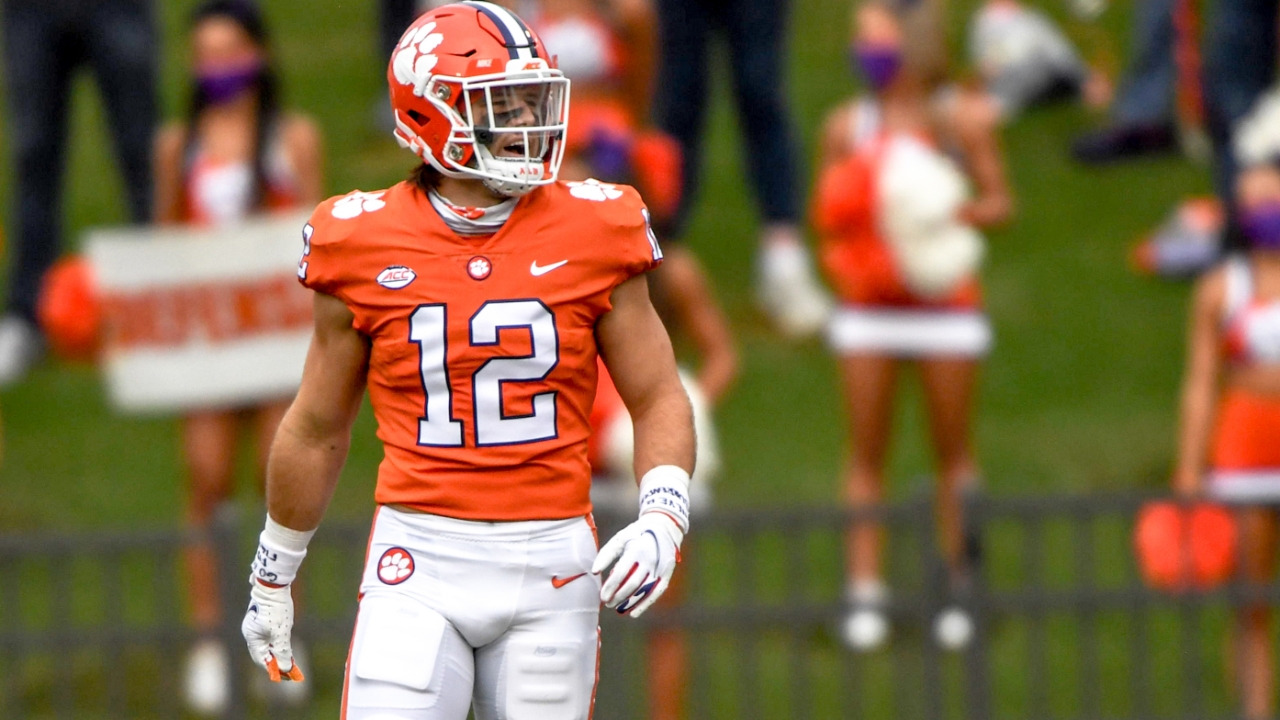 Photo by Courtesy of ACC Media Portal
Brent Venables on celebrating with sons 'just go in the parking lot and have a man hug'
---

Feel the difference - The MOST DIGITAL CONTENT covering your CLEMSON TIGERS! Avoid clickbait and sites bloated with advertising! Support a 100% Clemson-owned business.
---
Clemson defensive coordinator Brent Venables recognizes the challenge the defense will face against No. 22 Pittsburgh (5-1, 2-0 Coastal) on Saturday. For Clemson (4-2, 3-1 Atlantic) to have a chance on the road at Heinz Field, the defense must stop a prolific Panthers offense led by savvy veteran quarterback Kenny Pickett.
In six games, Pickett, a fifth-year, redshirt senior, has completed nearly 70 (69.8) percent of his passes for 1,934 yards with 21 touchdowns and only one interception. He also averages 322.33 passing yards which places him eighth in the nation.
"Well I thought a year ago he had a great year," noted Venables of Pickett. "I see more of the same, very consistent, makes very few mistakes as far as decision making. A great leader. Tremendous feel in the pocket. He's patient. He's confident in his offensive line, and he's got a big arm. He's a dual-threat, so he can extend plays and keeps his eyes down the field, and can really run -- excellent runner, big, strong, fast.
"And he's got a great complement of receivers, a ton of experience around him, but he makes everybody better."
When a No. 2 Clemson team lost 43-42 to the Panthers in 2016, Pittsburgh Steelers offensive coordinator Matt Canada held the same position for the Panthers. In his only year, the offense scored 42 points per game, sixth in the nation. They even scored 76 points in a wild 76-61 victory over Syracuse.
Based on numbers, the offense is even more explosive this season under offensive coordinator Mark Whipple, who is in his third season with Pittsburgh head coach Pat Narduzzi. The Panthers average 48.3 points (3rd) and 530 yards (8th) per game.
In addition to Pickens, a talented group of pass-catchers will put pressure on the Tigers' defense. Receivers Jordan Addison (34 receptions, 9 TDs), Taysir Mack (19 receptions, 2 TDs), and Jared Wayne (21 receptions, 1 TD), and tight end Lucas Krull (17 receptions, 5 TDs) are key players in an offense that thus far emphasizes the passing game more than the run.
What difference has Venables seen in the offense under Whipple?
"I think they emphasize a little more passing now," he said. "There's a lot of pre-snap stuff -- a lot of it's the same in some ways. The deliveries a little different, but I think they would run the running back that year and play-action off of it. Now they're throwing the ball all over the place and have the ability to run it as well - as they showed - they ran for over 200 yards against Virginia Tech last week and really getting the running game going the last few weeks. So, great balance, and again there's a lot going on before the ball snaps. Tremendous tempo, they ran tempo last year. The plays over and they're on the ball, so the fastest operating offense that we've seen. I think they're averaging just under 80 plays a game. So, hopefully, our guys can handle it like they did a year ago."
Last November, the Clemson defense held a Pittsburgh offense, confident after back-to-back scoring outputs of over 40 points in decisive wins over FSU (41-17) and Virginia Tech (47-14), to 17 points in a 52-17 victory.
They roughed up Pickett. He was sacked six times and picked off four times.
On Monday, Venables was also asked about the play of his son, Tyler Venables, against Syracuse in the Carrier Dome. Tyler, from his safety position, intercepted Syracuse quarterback Garrett Shrader and returned it seven yards to the Clemson 13-yard line.
His first career interception came late in the first quarter after Cuse running back Sean Tucker rushed 54 yards to the Clemson 19 giving the home team the opportunity to tie the game at 7.
"Well, obviously, it was a huge play in the game," Venables said, "After having an explosive play to come right back and get a turnover in the red zone is huge. Obviously, very proud. He's earned it. He's still learning how to play safety. He played four years of high school quarterback, so I've seen Tyler just get better and better."
Tyler was an outstanding quarterback for Daniel High (SC). He had 73 passing touchdowns and 38 on the ground. As a senior, he set the school record for passing yards in a season with 3,281 and left as the career passing yardage leader with 6,927 yards.
The 5-foot-10, 200 pounder finished his freshman campaign at Clemson with 24 total tackles and three pass breakups.
On Friday, Tyler made five tackles, the interception, and the first sack of his career to help the Tigers squeak out a 17-14 victory. In the previous game against Boston College, he also made five tackles and broke up a pass, which he nearly intercepted but it slipped through his fingers.
"But no, it was good to redeem himself from a week ago," added Venables. "He felt, even though we won the game, he had the same opportunity a week ago. But as I told him, it's like you haven't been there to do that, and you only gain that is through experience. The more you play, the better you'll get, and you learn through failure and making mistakes. But huge play in the game, for sure."
Tyler and his older brother, Jake, a redshirt junior, give Venables two sons on the roster. Jake has dealt with injuries and hasn't played much this season after starting four times and participating in 542 snaps through 26 games entering 2021.
Venables was asked about coaching his sons and specifically, whether it was difficult to treat them like the other players.
"That part is actually easy for me," stated Venables. "I'm not sure if it's easy for them or not, but you're gonna get what you've earned. You're gonna hold them accountable. I would expect that they would want that. That's how they earn credibility with their teammates, and whether that's in the meeting room or on the practice field or certainly in a game. You don't treat them any different, and probably the hardest thing is to be a dad, during all that process that's not an easy thing to do."
So were Venables and Tyler able to have a father and son moment after the interception?
"No time to celebrate his interception," he explained. "You got to make adjustments and get ready for the next drive. So you really don't have that dad moment."
When pressed further and asked if he waits to celebrate at home, Venables laughed and replied, "Yeah, you wait until you get home or just go in the parking lot and have a man hug."
Never miss the latest news from Clemson Sports Talk!
Join our free email list
PRESENTED BY