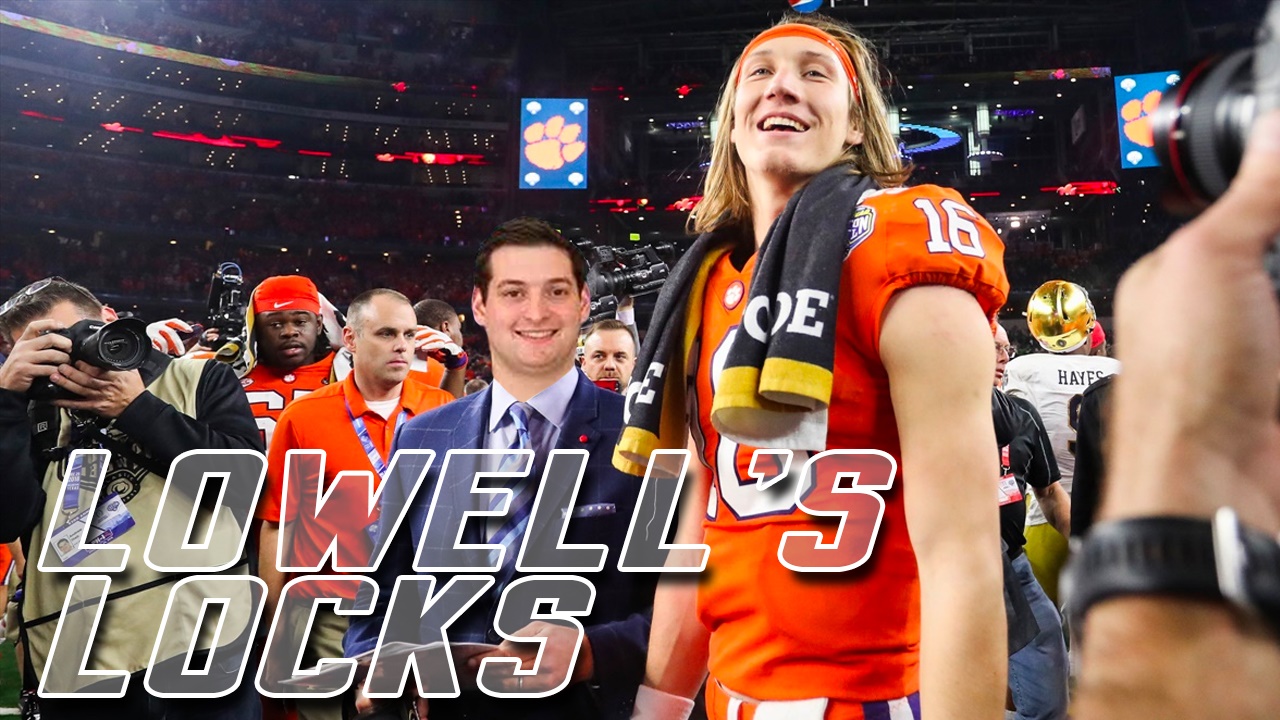 Lowell's Locks: Week Eight
---

Feel the difference - The MOST DIGITAL CONTENT covering your CLEMSON TIGERS! Avoid clickbait and sites bloated with advertising! Support a 100% Clemson-owned business.
---
"It's the streak that never ends. Yes, it goes on and on my friends."
This was the sixth straight week of alternating between 4-2 and 2-4, an unprecedented streak. Had Kentucky not felt the need to punch in a meaningless touchdown, I could have had a 3-3 record and at least gotten out of that trend. But here we are.
The good news is this is my 4-2 week, so you can actually listen to my picks this week! So let's go!
Saturday, October 23rd
#16 Wake Forest (-3) at Army:
I really like this Wake Forest team. I've said it once and I'll say it again, Dave Clawson is the most underrated head coach in the country. Their offense is explosive, their defense gets takeaways. Their one weakness? Run defense. Army gives the Deacs a scare with their grinding running game, but Wake gets a late touchdown and a backdoor cover.
Lowell's Lock: Wake Forest covers -3
#8 Oklahoma State at Iowa State (-7):
There's something really old-school about Mike Gundy's squad this year. They run the ball extremely well, have an ability to control the clock and are strong defensively. I think Iowa State is playing really well as of late, but a touchdown spread is too big for me to bite on here.
Lowell's Lock: Oklahoma State covers +7
LSU at #12 Ole Miss (-8):
There's something to be said for a team that can just play loose. Now that the Tigers now Orgeron is out the door, it seemed like they played with a much more relaxed attitude in their upset of Florida last week. Ole Miss has been playing with fire for a couple of weeks now in wins over Akransas and Tennessee. I don't think it bites them this week...but they get close again.
Lowell's Lock: LSU covers +8
#10 Oregon at UCLA (-1):
This version of Chip Kelly's UCLA is starting to look a lot like those old Oregon squads. They're a smash-mouth football team who runs it incredibly well from the shotgun, and then has the ability to bomb you deep. Oregon hasn't quite looked the same since upsetting Ohio State earlier in the season, but needs a big game to stay in the CFB hunt. In a tight game, the Ducks stay alive.
Lowell's Lock: Oregon covers +1
South Carolina at #17 Texas A&M (-19.5):
Last week is the last time I ever take the Gamecocks in a game this season. They needed a last-second field goal to beat Vanderbilt, one of the worst teams in the country. They're a team who plays okay defense but just horrific offense, and this one gets away from them quickly.
Lowell's Lock: Texas A&M covers -19.5
Clemson at #23 Pittsburgh (-3.5):
Pitt has played very well this year, but it's hard not to discount the schedule. This is easily going to be the biggest test for the Panthers' offense, and I expect Brent Venables to dial up an absolute masterpiece. It would not 100 percent shock me to see Clemson actually pull this one out somehow, but I vowed to never take Clemson against the spread again until they prove it.
Lowell's Lock: Pitt covers -3.5
Lowell's Locks

Weekly Results
Season Results
Week 1
1-3-1
1-3-1
Week 2
4-2
5-5-1
Week 3
2-4
7-9-1
Week 4
4-2
11-11-1
Week 5
2-4
13-15-1
Week 6
4-2
17-17-1
Week 7
2-4
19-21-1
Week 8
Week 9
Week 10
Week 11
Week 12
Never miss the latest news from Clemson Sports Talk!
Join our free email list