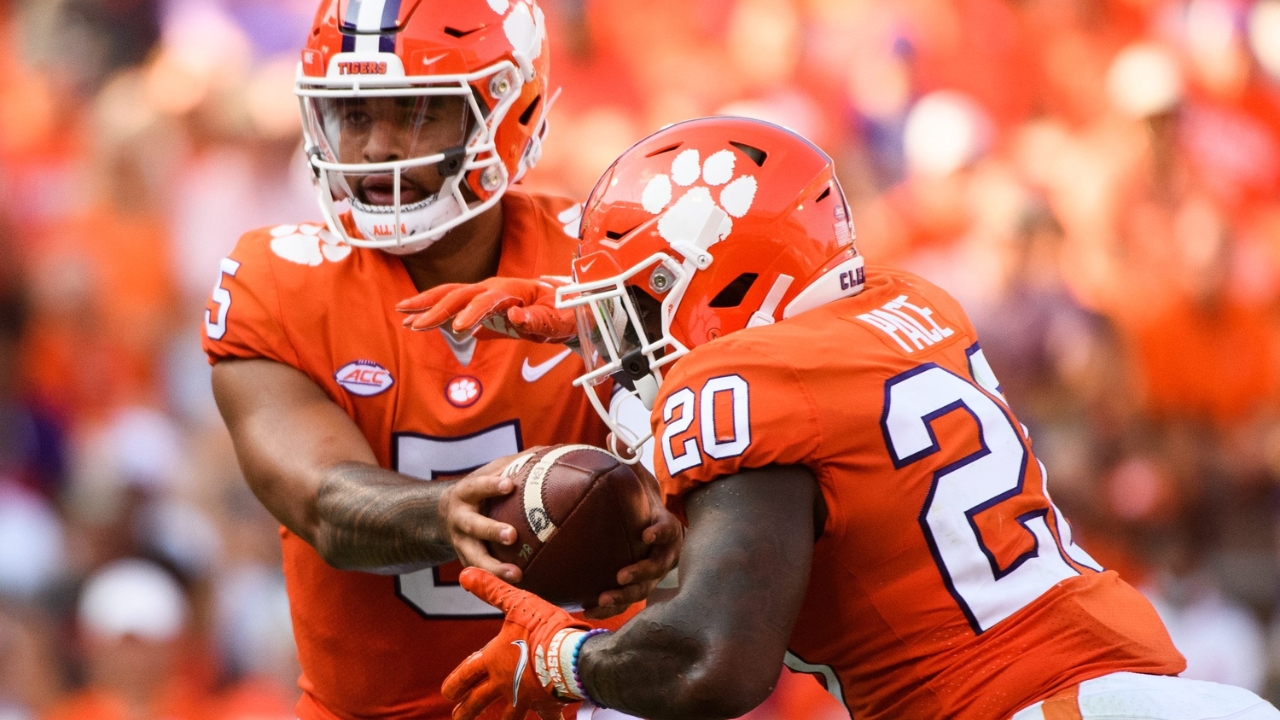 Photo by © JOSH MORGAN/Staff via Imagn Content Services, LL
Clemson Football
Keys to Victory: No. 24 Clemson at No. 23 Pitt
---

Feel the difference - The MOST DIGITAL CONTENT covering your CLEMSON TIGERS! Avoid clickbait and sites bloated with advertising!
---
Each week we give you a look at the game's history, three keys to success, plus Swanny's prediction.
The Match-Up:
No. 24 Clemson (4-2, 3-1 ACC) at No. 23 Pitt (5-1, 2-0 ACC)
Clemson vs. Pitt 2020
Series History:
OVERALL: Series is tied, 2-2
HOME: Series is tied, 1-1
ROAD: First meeting
NEUTRAL: Series is tied, 1-1
LAST MEETING: Nov. 28, 2020 (52-17, W)
STREAK: Clemson, Won 2
Watch the Simulation:
Stat of the Week:
Today's matchup will feature two of college football's marquee units. Clemson enters the contest ranked second in the nation in scoring defense, allowing an average of only 12.5 points per game and trailing only the nation's top-ranked team — No. 1 Georgia — in that category. Pitt, meanwhile, enters the game ranked third in the nation in scoring offense at 48.3 points per game. The Panthers are one of only four teams in the nation averaging at least 45.0 points per game this season.
Chasing History:
Clemson entered 2021 riding a streak of 10 consecutive seasons with 10+ wins. The program's 10th consecutive 10-win season in 2020 made Clemson only the third program in FBS history to produce a "double-double" — double-digit wins in a double-digit number of consecutive seasons. The record for consecutive 10-win seasons is 14, set by Florida State (1987-2000). Alabama is the only other program with an active streak of at least 10 straight 10-win seasons. The Tigers have 17 10-win seasons in school history, with 10 coming under Dabo Swinney.
Since the Tigers are currently 4-2, if they were to lose today, Clemson would most likely be eliminated from the ACC Championship Game, thus leaving just five regular-season games and a potential bowl game on the schedule. If that's the case, Dabo Swinney's squad would have to win out to secure an 11th consecutive 10+ win season.
Key 1: Contain Kenny Pickett
Clemson's defense has been downright stingy the entire season, but in order to knock off Pitt, Brent Venables' squad will have to play their best game since the season opener against Georgia.
Like that game against the Bulldogs, it might take a defensive score-- this one from Clemson-- in order to help a putrid Tiger offense find a way to win at Heinz Field.
Pitt's Kenny Pickett has been incredible all season and Dabo Swinney compared him to Clemson's James Skalski, noting that he's seen everything and that the game has slowed down for the Panthers' playmaking quarterback.
One good note for Clemson is that they've dominated Pickett the two times they've faced him. There is no doubt that the Tigers will have to do that again this afternoon to find an upset in Pittsburgh.
Key 2: Control the Clock
Since Pitt has one of the top-scoring offenses in the country, perhaps the Tigers could employ a strategy used against them recently-- shorten the game. Clemson quarterback D.J. Uiagalelei hasn't become a factor in the run game, but I asked him after last weekend's game at Syracuse if he would like to play a bigger role in the run game.
"Whatever Coach Elliott calls. If he wants me to run, I'll run it. If he wants me to throw the ball, I'll throw it," Uiagalelei said. "Whatever Coach Elliott wants me to do. If he wants me to get out there and run the ball, I'm comfortable running the ball."
If Elliott dials up more running plays for Uiagalelei the Tigers could steal valuable minutes away from an attacking Pitt offense and also give the Clemson defense valuable minutes to rest.
In recent years, Clemson's seen play after play of 20+ yards or more, so much so that it's become the norm. Today, in this match-up, the Tigers should think about putting together smaller, 10-yard series over and over, shortening the game, getting lots of first downs, and staying on the field as much as possible.
Key 3: Take Points
Since Clemson's loss at NC State, I've refused to give Clemson more than 28 points until they kick in that door themselves on the field.
Last week the Tigers could muster just 17 points against Syracuse, continuing a trend of regulation futility against Power Five foes.
After the end of four quarters of action, Clemson's offensive point totals in those games have been 3 (Georgia), 14 (Georgia Tech), 14 (NC State), 19 (Boston College), and 17 (Syracuse) -- that's a grand total of 67 points against FBS teams-- hard to invasion an offensive explosion coming this afternoon at Pitt.
Prediction:
I've tried to figure this team out all year, and it's just not great on offense. I have a tough time believing that these issues aren't seen in practice. In fact, I think they are, and I believe that the coaching staff is doing their best to mask the deficiencies hoping they go away on Saturdays.
As we roll towards kickoff, I cannot buy into improved play at quarterback or wideout given the returns we've seen all season. Even the effort in downfield blocking from the wideouts has been lackluster.
If Clemson wins today, it will be a shocking result given the offense we've seen during the first half of the season.
No. 24 Pitt 31, Clemson 20
Swanny's Predictions:
| | | | |
| --- | --- | --- | --- |
| Date | 2021 Schedule Predictions | Swanny's Prediction | Actual Score |
| 9-4-2021 | No. 3 Clemson vs. No. 5 Georgia | 31-27 Clemson | 10-3 Georgia |
| 9-11-2021 | No. 6 Clemson vs. SC State | 59-7 Clemson | 49-3 Clemson |
| 9-18-2021 | No. 6 Clemson vs. Georgia Tech | 45-10 Clemson | 14-8 Clemson |
| 9-25-2021 | No. 9 Clemson @ NC State | 31-14 Clemson | 27-21 NC State |
| 10-2-2021 | No. 25 Clemson vs. Boston College | 24-21 Clemson | 19-13 Clemson |
| 10-9-2021 | OPEN | | |
| 10-15-2021 | Clemson @ Syracuse | 27-17 Clemson | 17-14 Clemson |
| 10-23-2021 | No. 24 Clemson @ No. 23 Pitt | | |
*Correct predictions in bold
Never miss the latest news from Clemson Sports Talk!
Join our free email list
PRESENTED BY