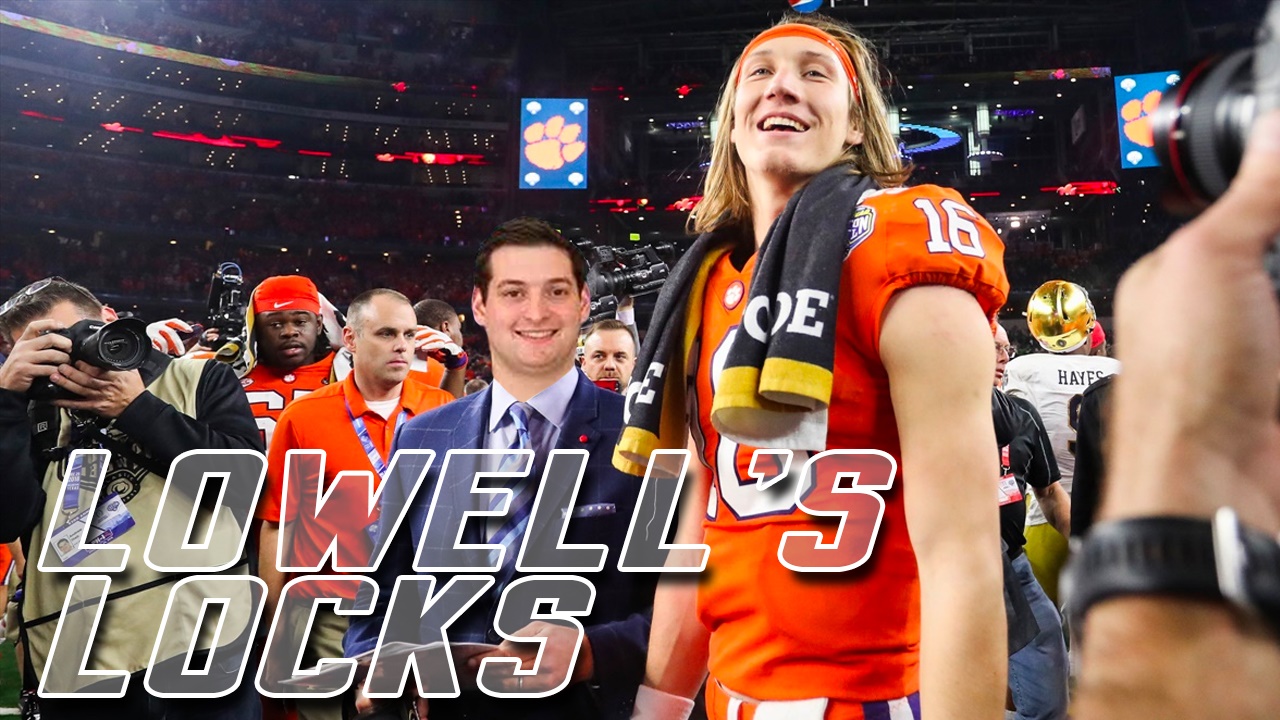 Clemson Football
Lowell's Locks: Week Nine
---

Feel the difference - The MOST DIGITAL CONTENT covering your CLEMSON TIGERS! Avoid clickbait and sites bloated with advertising! Support a 100% Clemson-owned business.
---
Some say it was the greatest streak in all of sports. Some said it would never end. But finally, the streak is over.
After six consecutive weeks of alternating between 2-4 and 4-2, I hit on a huge 5-1 week last week to finally kick out of the cycle and get over .500 for the first time this year. Now with momentum, I'm looking for an Atlanta Braves-esque run to the end of the season. It all starts now. Let's go!
Saturday, October 30th
#6 Michigan (-4) at #8 Michigan State:
I'm not telling you that Jim Haurbaugh is an elite coach now, and it's perfectly fair to not trust him or the Wolverines after the past few seasons. However, Michigan is playing a lot like Haurbaugh's old teams at Stanford did. They run the ball well, play rock solid defense and don't turn it over. Michigan State is a solid team in its own right and Mel Tucker has done a great job, but they're still a team that tends to shoot themselves in the foot too often. They haven't played a team that can make them pay for it...until now. Michigan covers with a late touchdown.
Lowell's Lock: Michigan covers -4
#1 Georgia (-14) vs Florida in Jacksonville:
Things are spiraling out of control for Florida right now. So much so, that there's talk of Dan Mullen being on the hot seat, which seems like an absurd prospect on its face, but he does need to try and get this team back on the right track. That isn't going to be easy against the team that has been the best in the country to date. Florida isn't going to find much room to run against the Georgia defense, and you have to be worried about the Gators' defense after getting gashed on the ground against LSU. The Bulldogs keep the Gators spiraling.
Lowell's Lock: Georgia covers -14
#10 Ole Miss at #18 Auburn (-3):
Get your popcorn ready for this one. There isn't going to be a whole lot of defense played, but Auburn may be able to play defense with their offense by running the ball and keeping the Rebels off the field as much as possible. Tank Bigsby should have a big game for the Tigers, but Ole Miss has one of the best quarterbacks in the country. In a wild and wacky shootout (what's new with an Ole Miss game?), Ole Miss pulls out another one on the road. Let's hope there's no garbage thrown this time.
Lowell's Lock: Ole Miss covers +3
#20 Penn State at #5 Ohio State (-18.5):
This is a story of two teams going in opposite directions. The Penn State offense hasn't been the same since getting bullied against Iowa a few weeks ago, and they managed just 227 total yards in a nine overtime 20-18 loss against Illinois last week. Meanwhile, if you haven't paid attention since Ohio State's early season loss to Oregon, they seem to have worked out their kinks on both sides of the ball. They lead the country in total offense and have not allowed over 20 points since that loss to the Ducks. Just to add some fuel to the dumpster fire that is Penn State right now, James Franklin looks like he has one foot out the door to either LA or Baton Rouge. This one gets ugly.
Lowell's Lock: Ohio State covers -18.5
#19 SMU at Houston (pick em):
This is going to be a fun one. Houston's defense will be the biggest test for an explosive Mustangs offense this season, but the same can be said for Houston's defense against SMU's offense. The winner of this one stays in the hunt for an AAC title, and if it's SMU, they'll potentially set up a showdown with Cincinnati in what would be potentially the biggest game in AAC history. Trust in Sonny Dykes' offense.
Lowell's Lock: SMU wins
Florida State at Clemson (-9.5):
Once again, I refuse to take Clemson against the spread until they prove something. The Tigers are 0-7 against the spread this season, and they now take on a Florida State team who has improved a lot since an embarrassing loss against Jacksonville State. If the Tigers lose this one at home, however, heads will roll. I don't think that happens, but I also don't think they cover.
Lowell's Lock: Florida State covers +9.5
Lowell's Locks

Weekly Results
Season Results
Week 1
1-3-1
1-3-1
Week 2
4-2
5-5-1
Week 3
2-4
7-9-1
Week 4
4-2
11-11-1
Week 5
2-4
13-15-1
Week 6
4-2
17-17-1
Week 7
2-4
19-21-1
Week 8
5-1
24-22-1
Week 9
Week 10
Week 11
Week 12
Never miss the latest news from Clemson Sports Talk!
Join our free email list