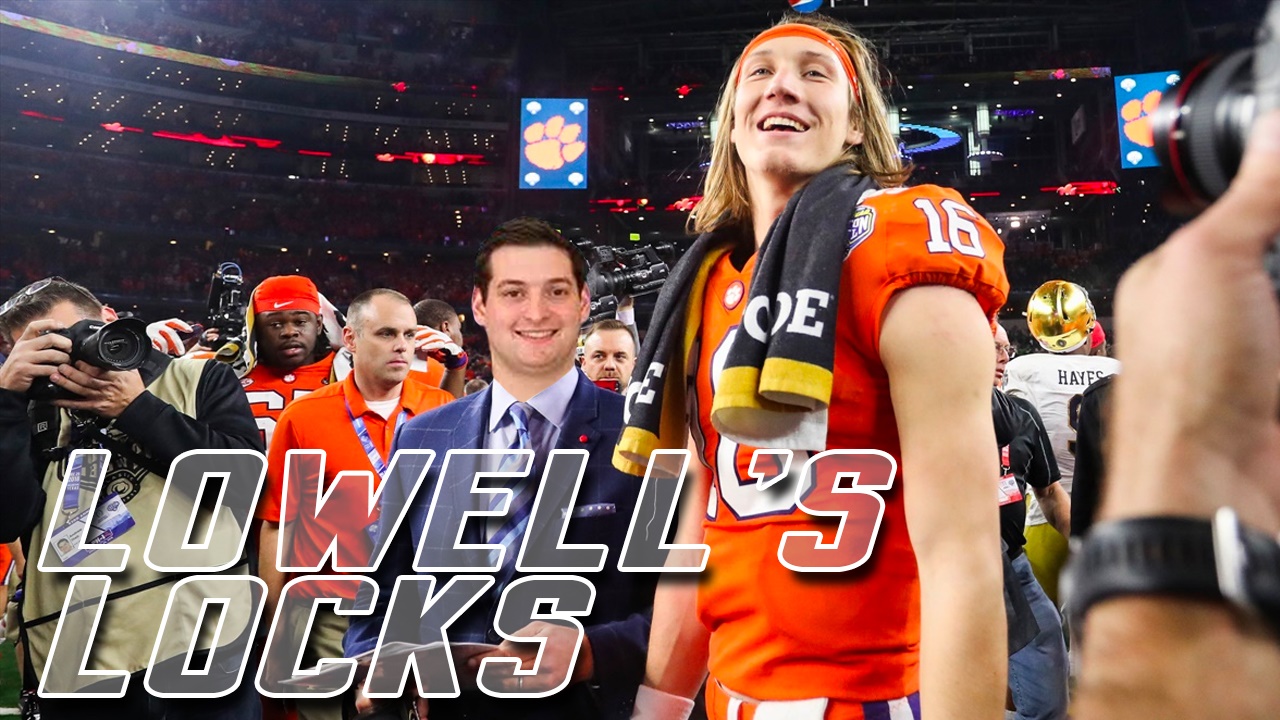 Clemson Football
Lowell's Locks: Week Ten
---

Feel the difference - The MOST DIGITAL CONTENT covering your CLEMSON TIGERS! Avoid clickbait and sites bloated with advertising! Support a 100% Clemson-owned business.
---
Just when I thought I was in the clear with a 5-1 week, breaking the 4-2/2-4 curse, it appears another curse may have fallen into place. Thanks to a late Clemson defensive touchdown against FSU, giving them their first cover all season, I went 1-5 last week.
The good news is that means this will be my good week, so lay your bets with confidence. Let's go!
Saturday, November 6th
#9 Wake Forest at UNC (-2.5):
You read that correctly. Wake Forest, 8-0 for the first time in program history, is a 2.5 point underdog at North Carolina. While this game doesn't matter in terms of the ACC standings (it's a non-conference game, allegedly) it still matters for Wake Forest as they try to climb up the playoff standings. This should be a wild shootout, but I expect the Deacons to take over with their run game in the second half to pull it out.
Lowell's Lock: Wake Forest covers +2.5
#3 Michigan State (-3) at Purdue:
This is an interesting matchup, mostly because Purdue's defense doesn't really give up a ton on the ground, and Michigan State is coming off an emotional win over Michigan. The Spartans come out sloppy, Purdue gets an early lead, but Michigan State once again finds a way. That's just what they do.
Lowell's Lock: Michigan State covers -3
#13 Auburn at #14 Texas A&M (-4.5):
I picked against Auburn and the magic of Bo Nix last week and got burned. Am I ready to do it again?
Yes, I am. A&M should be rested and should be able to move the ball on the ground against Auburn's defense, and should get just enough through the air to be able to put up points. Meanwhile, the A&M defense will get enough pressure on Nix to force a turnover or two to put it away late.
Lowell's Lock: A&M covers -4.5
#17 Mississippi State at Arkansas (-4.5):
Arkansas has been a little bit unlucky the past few weeks. They had Ole Miss on the ropes and had a second half collapse against Auburn, but this is still a solid football team. Mississippi State will still pass for a ton of yards, because that's what Mike Leach teams do, but I think Arkansas is able to get a couple of interceptions and control the time of possession at home.
Lowell's Lock: Arkansas covers -4.5
Florida (-18) at South Carolina:
If there was ever a "get right" game for Florida, it's this one. South Carolina has seemingly given up on the season. The defense started out well, but with no support from the offense, they've slowly cracked more and more each week. Florida is looking to get the offense rolling, and should get plenty of opportunities as the Gamecocks go three and out over and over again. Mullen cools his seat a bit with this one.
Lowell's Lock: Florida covers -18
Clemson (-4) at Louisville:
Clemson finally covered a spread last week, and I am going to break my rule of not picking them to cover. Clemson has found something on offense with Will Shipley breaking out in a huge way last week, and I think that leads to bigger plays through the air against a Cardinals team that gives up a ton of them. Louisville's offense has quietly come on as the season has progressed, and they'll still score some, but it won't be enough against one of the best defenses in the country. It won't always be pretty, but Clemson covers for the second week in a row.
Lowell's Lock: Clemson covers -4
Lowell's Locks

Weekly Results
Season Results
Week 1
1-3-1
1-3-1
Week 2
4-2
5-5-1
Week 3
2-4
7-9-1
Week 4
4-2
11-11-1
Week 5
2-4
13-15-1
Week 6
4-2
17-17-1
Week 7
2-4
19-21-1
Week 8
5-1
24-22-1
Week 9
1-5
25-27-1
Week 10
Week 11
Week 12
Never miss the latest news from Clemson Sports Talk!
Join our free email list