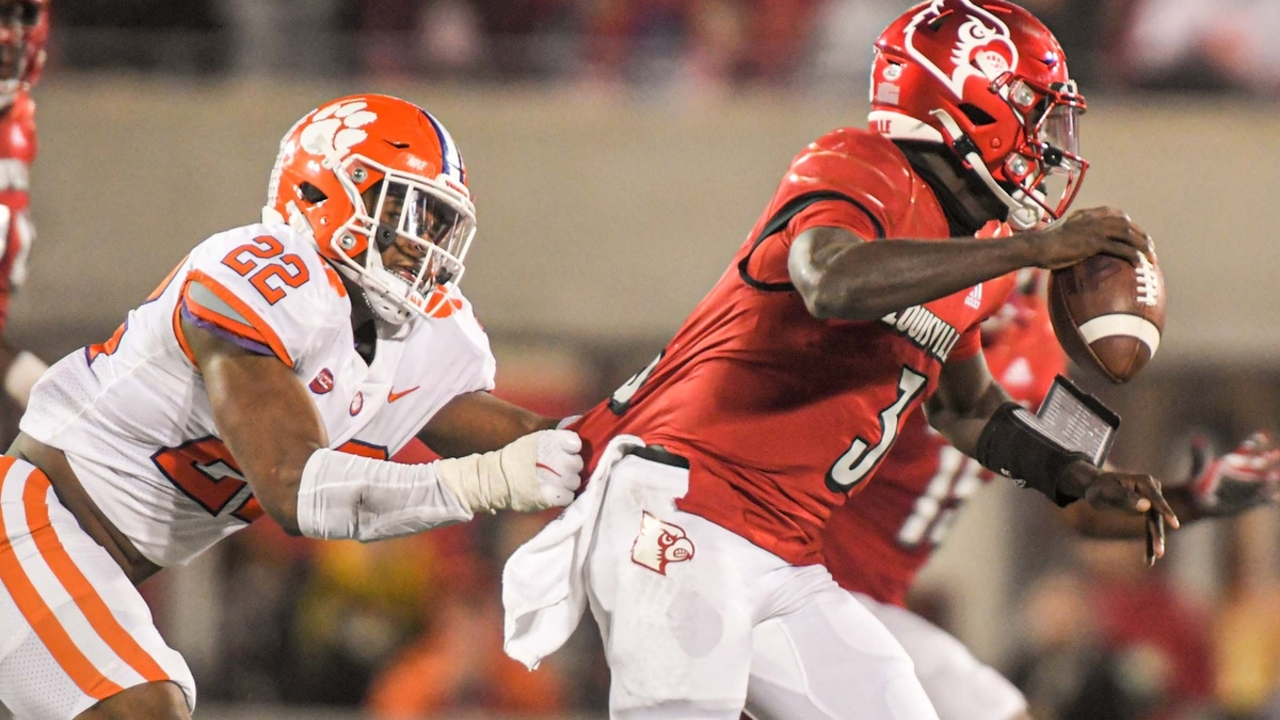 Photo by © Ken Ruinard-USA TODAY Sports
Clemson Football
Brent Venables: 'Fundamentals show up' during Clemson's red zone defense
---

Feel the difference - The MOST DIGITAL CONTENT covering your CLEMSON TIGERS! Avoid clickbait and sites bloated with advertising! Subscribe to our site and YouTube Channel today!
---
Tony Elliott
On running fewer RPOs this past weekend:
"Structurally with Louisville watching them, they were kind of the tale of two different parts of the season, the last three games, they had been heavy pressure playing a lot of different multiple coverages-- rolling coverages, trap corners, things that kind of talk you out of that stuff, just because, they have better angles. So a lot of it was more designed runs, there were some RPOs in it, but it was more designed runs and designed pass, and then some play-action stuff."
On D.J. Uiagalelei making the right read:
"It neutralizes things. It balances them out. It allows you to be multi-dimensional, and they have to figure out a plan have what they want to stop. It was good to see D.J. too from a confidence standpoint, pull the ball-- had some good runs, made a safety miss in the hole-- those things are huge. Really what it does, it just keeps us ahead of the chains. So if we have a play call where maybe they're set up to play it, you have that one element with your quarterback being able to make you right and they may not be accounting for him on that particular defensive call."
On UConn:
"Well, what's impressive is that they're in a similar situation as us with a lot of adversity. Their coach (got fired) the second week of the season, I believe, and the kids are still playing hard. Structurally they're very sound and what they do, they're not very multiple. Now the challenge is, I don't think they've played in three weeks, so they've had some time just to prepare for Clemson. So they could come out and have something that uh, that we hadn't seen on tape. They've done some odd stuff earlier in the season, not as much, but they play hard."
On the jumbo package:
"We work it every week. We get good work on it on Wednesdays and Thursdays those are the days where we focus on some of our goal line packages and short yardage. So had confidence-- expected to score. That's why we call it. We all knew that that was gonna be the lead call, in that situation. One yard-- we got our heavy boys in there, we got are biggest running back we got, and we just got to win on one on one matchups. We had a little bit of leakage on the backside. We didn't quite win at the left tackle spot which created some penetration, which actually turned into a wall, and it was hard for Phil-- he didn't have enough space to go over the top-- and that wall was solid he couldn't bust through it."
Brent Venables
On the upperclassman's appreciation of the game:
"A group of those guys that have played a lot of football, they're very invested-- very committed to this program and the process to playing college football. It is a difficult process-- very demanding. But as they mature, I think they have even more of an appreciation. They can see the end and in many ways, although they're ready to move on, I do think that they want to kind of grab a hold of it and slow it down. There are just two more opportunities to play here in Death Valley-- and they recognize that."
On the difficulty in getting a big stop inside the five-yard line:
"You've got to play physically tough. You've got to play with good fundamentals. You've got to really understand how you're defending things-- where your help is. The margin for error is dramatically shrunk. We always talk about a five-yard game down there's like a 25-yard gain out in the middle of the field. I think you look at the percentages, they are not in our favor to keep people out of the endzone. There's a lot to it mentally and structurally. I think that the most important element though is belief, and attitude, and toughness, and fight-- physicality. The fundamentals show up under pressure down there for sure."
On Trenton Simpson's opportunity next year:
"Trenton is somebody that will have a lot of experience out of that group coming back, as far as I'm starting games and whatnot. So certainly, you want to be able to promote that and lean on that. But there are other guys too, that have been preparing and working like Trenton has, they just haven't had as much opportunity. The reason I say that with my guard up, it sounds like, it's just because I count on a lot of guys, whether it's LaVonta (Bentley), Keith (McGuire), or it's Kane (Patterson). Barrett Carter's coming, Sergio Allen-- Jeremiah Trotter-- we've got a really good group of guys that are coming up that have been working everybody's hard."
Never miss the latest news from Clemson Sports Talk!
Join our free email list
PRESENTED BY