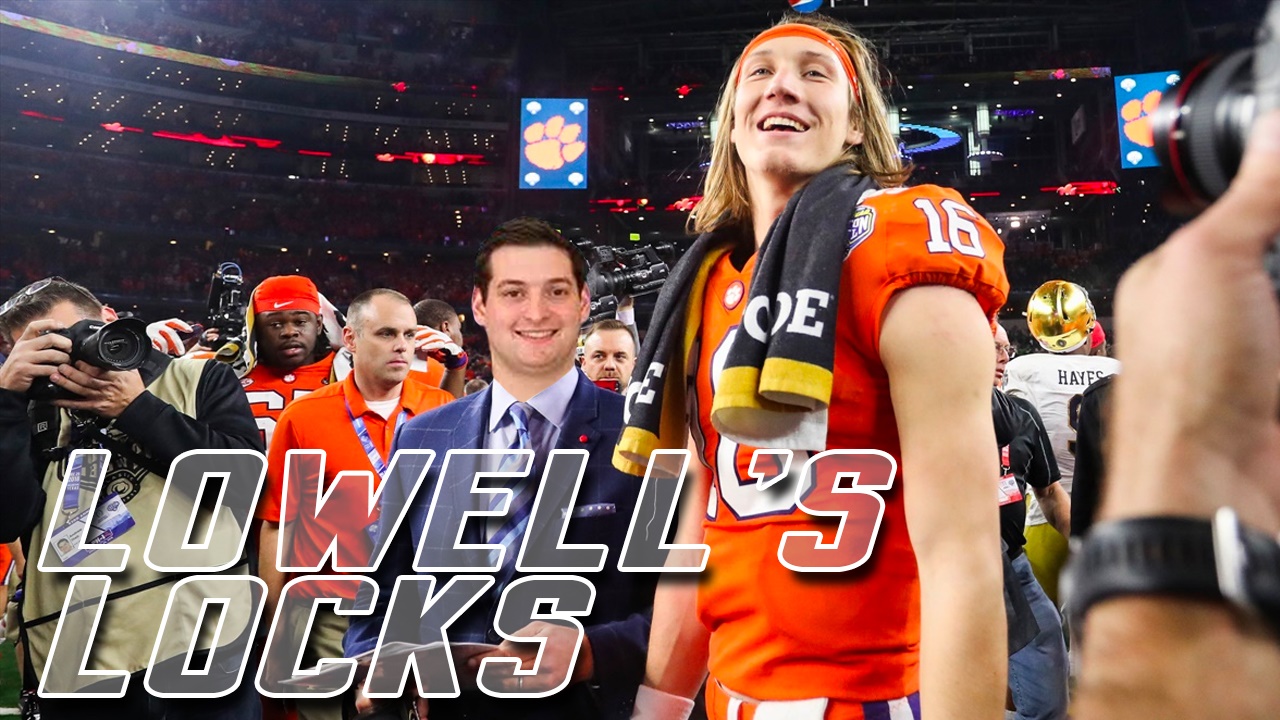 Clemson Football
Lowell's Locks: Week Eleven
---

Feel the difference - The MOST DIGITAL CONTENT covering your CLEMSON TIGERS! Avoid clickbait and sites bloated with advertising! Support a 100% Clemson-owned business.
---
Back to back poor weeks have ruined what was a tremendous week eight. With all positive momentum dead, this is now a salvage operation to try to get back above .500 by season's end. I'm not feeling too confident about this week's slate of games, but we don't quit around here. Let's get to it.
Saturday, November 6th
#6 Michigan (-1.5) at Penn State:
Michigan lost to Michigan State two weeks ago to halt their positive momentum, but they still have plenty to play for as just a one loss team. Penn State has bounced back offensively since an ugly game against Illinois, but did so against a suspect Ohio State defense and Maryland. Michigan is likely to be the best defense they see all season not named Iowa, and the Wolverines have enough offensively to get it done against a Penn State defense that's been leaky at times.
Lowell's Lock: Michigan covers -1.5
#8 Oklahoma (-5.5) at #13 Baylor:
Oklahoma has been an inconsistent team this season, but in the three games since Caleb Williams took over, they have averaged 46.3 points per game and won by at least two touchdowns in all over them. Baylor has been a solid but unspectacular team in most aspects this season, and certainly does not have the firepower to hang with these Sooners right now.
Lowell's Lock: Oklahoma covers -5.5
#16 NC State at #12 Wake Forest (-2):
The formula is simple for both of these teams: Win out and you're in the ACC Championship. Unfortuntely for them, one of them has to lose this one. The Deacons are a walking 600 yard team, and are going to do it again against a solid Wolfpack defense. However, the Wake defense has been porous this year, and the NC State passing attack has quietly been cranking up over the past few weeks. This should be a thriller, but NC State takes it on a late field goal.
Lowell's Lock: NC State covers +2
#11 Texas A&M (-2.5) at #15 Ole Miss:
If you want to beat Ole Miss, you need to be able to control the clock and have a defense that is strong enough to get a few key stops. While the Aggies won't be able to shut down the Rebels completely, they have a good enough defense to slow them down, and the run game to keep the Ole Miss offense on the sideline. Isaiah Spiller has a big day as the Rebels lose for the second time in three games.
Lowell's Lock: Texas A&M covers -2.5
South Carolina (-1) at Missouri:
South Carolina came out of nowhere to stomp a mudhole in Florida and walk it dry, and now gets a Missouri team that features one of the worst defensive lines in the country. After a staggering performance on the ground against the Gators, the Gamecocks should have a field day running the ball in this one.
Lowell's Lock: South Carolina covers -1
UConn at Clemson (-41):
Clemson has covered two weeks in a row and now gets to play UConn, arguably the worst FBS team in the nation over the past three seasons that they've actually played. This is going to be a scrimmage and tune up for Clemson's game against Wake Forest next week, so I expect Clemson to try to work on a few things and play a lot of guys. Clemson gets up huge by half, the subs come in, and the Tigers cruise to the finish without the cover.
Lowell's Lock: UConn covers +41
Lowell's Locks

Weekly Results
Season Results
Week 1
1-3-1
1-3-1
Week 2
4-2
5-5-1
Week 3
2-4
7-9-1
Week 4
4-2
11-11-1
Week 5
2-4
13-15-1
Week 6
4-2
17-17-1
Week 7
2-4
19-21-1
Week 8
5-1
24-22-1
Week 9
1-5
25-27-1
Week 10
2-4
27-31-1
Week 11
Week 12
Never miss the latest news from Clemson Sports Talk!
Join our free email list