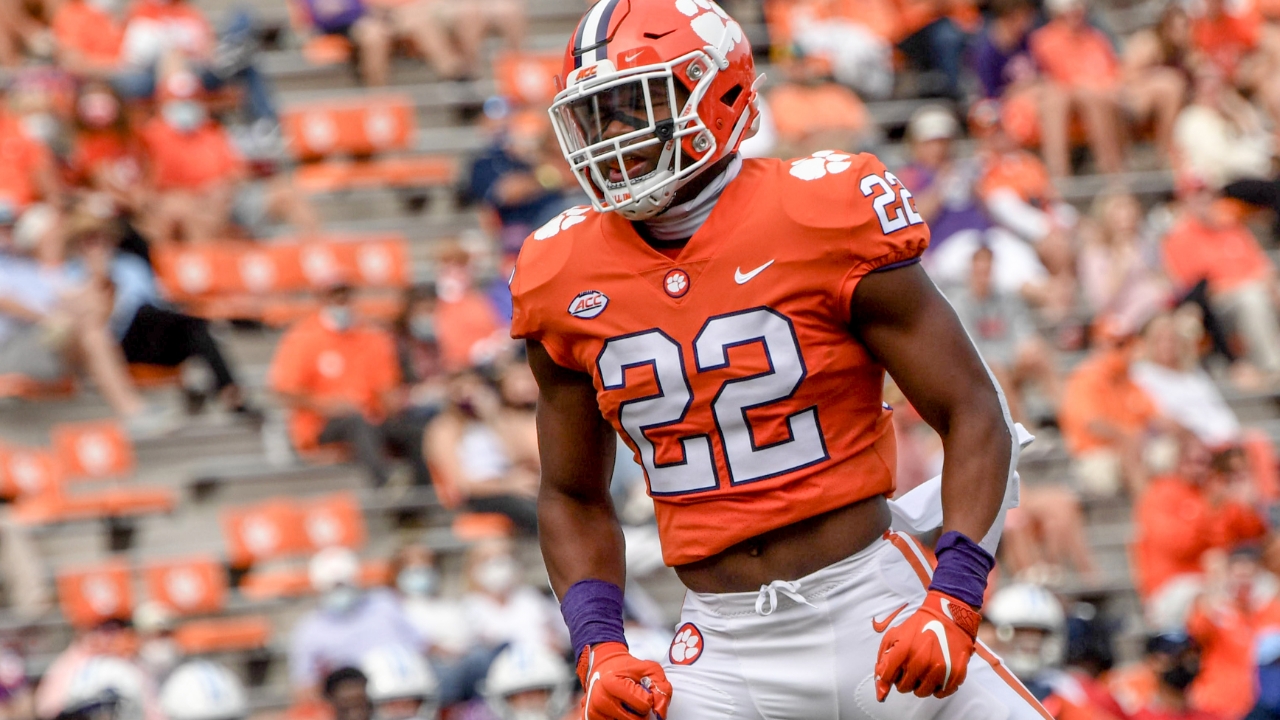 Photo by Courtesy of ACC Media Portal
Clemson Football
Keys to Victory: Clemson vs. No. 10 Wake Forest
---

Feel the difference - The MOST DIGITAL CONTENT covering your CLEMSON TIGERS! Avoid clickbait and sites bloated with advertising! Subscribe to our site and YouTube Channel today!
---
Each week we give you a look at the game's history, three keys to success, plus Swanny's prediction.
The Match-Up:
Clemson (7-3, 5-2 ACC) vs. No. 10 Wake Forest (9-1, 6-0 ACC)
Clemson is attempting to win its 13th consecutive game against Wake Forest, dating back to 2009. It would mark Clemson's second 13-game winning streak in series history, trailing a 15-game streak from 1977-91. Clemson's current 12-game winning streak against Wake Forest is the Tigers' longest active winning streak against an ACC foe.
Clemson at Wake Forest 2020
Series History:
OVERALL: Clemson leads series, 68-17-1
HOME: Clemson leads series, 39-7
ROAD: Clemson leads series, 26-10-1
NEUTRAL: Clemson leads series, 3-0
LAST MEETING: Sept. 12, 2020 (37-13, W)
STREAK: Clemson, Won 12
Stat of the Week:
After an atypically slow start to the season, Clemson's pass rush has awakened in recent weeks. Clemson posted 17 sacks in the season's first seven games but has since posted 15 sacks in its last three. Clemson entered the year having reached the 40-sack mark in all seven previous seasons of the College Football Playoff era, the only team in the country to do. Clemson has recorded 32 sacks this season with two regular-season games (plus postseason) still remaining and needs eight more sacks to extend the 40-sack streak.
Chasing History:
This year's seniors will attempt to finish 26-0 at home in the last four years and would become the second straight senior class to go undefeated at home in a four-year span. The 2020 and 2021 seniors would be the first to post back-to-back undefeated home records over four years since the 1940 and 1941 Clemson seniors who played home games at Historic Riggs Field before the opening of Memorial Stadium in 1942.
Key 1: Move the Mesh
The entire week has been focused on Wake's ability to take advantage of Sam Hartman's ability to ride the mesh point creating conflict for defenses this year to the tune of 44.7 PPG offensively. That's a huge number-- especially when you compare it to Clemson's paltry 24.4 PPG heading into the eleventh game of the season.
If the Tiger defense can push the line of scrimmage back-- it will shorten the time that Hartman has to make his reads.
Key 2: Force an Early Turnover
Looking back at Clemson's 2018 National Championship win over Alabama got me thinking about the third play from scrimmage for the Crimson Tide-- A.J. Terrell's pick-six-- if that play doesn't take place, how does the game unfold?
Imagine if the Tide rolled down the field and picked up a quick touchdown-- how would Clemson have responded?
That pick-six set the tone for the entire game, and Clemson immediately stated to Alabama that they weren't just going to cruise to another national title-- the Tigers stole the Crimson Tides' will that night.
In my estimation, that's another thing Clemson needs to do to win this game-- shake the Demon Deacons' confidence early, narrowing the gap between the two offenses.
Key 3: Confidence at QB
D.J. Uiagalelei has been a mess all season, and there aren't enough excuses out there to clear the poor performances from the former five-star quarterback. The only way that narrative will change is when "Big Cinco" starts playing well.
The Tigers have looked like a shell of the team we've watched for seven seasons and most of the issues start at the top of the offense with Uiagalelei. It seems like the playbook has been stripped back-- the coaching staff has said that was done since Clemson couldn't execute the easy plays-- but I believe it's really about D.J.'s inability to run the full offense at this stage of his career-- and that's okay-- his still young.
That being said, he's got to play his best game and let his hair down this afternoon. Just have fun. It's one thing to seem "loose" or "too cool" in postgame interviews-- it's another thing to play that way.
Prediction:
One year ago, Clemson's season opener took place against Wake Forest, and the Tigers dominated the line of scrimmage defensively, which feels like one of the keys to today's game in Death Valley.
The Tigers haven't had a breakout performance on offense this season, and given the Demon Deacons' ability to point up points, it might be necessary if Clemson's going to hold on to a thread of hope for a trip to Charlotte.
Last year Trevor Lawrence scored Clemson's first two touchdowns, and it would undoubtedly help today if D.J. Uiagalelei can get into the endzone on the ground a few times. If not, I'm hopeful that we see Wildcat with Will Shipley, Phil Mafah, and Kobe Pace getting plenty of carries.
The Tigers have been tough to predict all season, and my confidence level in this one is slim-- but looking for 34 straight at home plus a passionate fan base will lift Clemson and keep their hopes alive for an ACC Championship Game berth.
Clemson 27, Wake Forest 23
Swanny's Predictions:
| | | | |
| --- | --- | --- | --- |
| Date | 2021 Schedule Predictions | Swanny's Prediction | Actual Score |
| 9-4-2021 | No. 3 Clemson vs. No. 5 Georgia | 31-27 Clemson | 10-3 Georgia |
| 9-11-2021 | No. 6 Clemson vs. SC State | 59-7 Clemson | 49-3 Clemson |
| 9-18-2021 | No. 6 Clemson vs. Georgia Tech | 45-10 Clemson | 14-8 Clemson |
| 9-25-2021 | No. 9 Clemson @ NC State | 31-14 Clemson | 27-21 NC State |
| 10-2-2021 | No. 25 Clemson vs. Boston College | 24-21 Clemson | 19-13 Clemson |
| 10-9-2021 | OPEN | | |
| 10-15-2021 | Clemson @ Syracuse | 27-17 Clemson | 17-14 Clemson |
| 10-23-2021 | No. 24 Clemson @ No. 23 Pitt | 31-20 Pitt | 27-17 Pitt |
| 10-30-2021 | Clemson vs. Florida State | 27-23 Clemson | 30-20 Clemson |
| 11-6-2021 | Clemson @ Louisville | 31-17 Clemson | 30-24 Clemson |
| 11-13-2021 | Clemson vs. UConn | 49-14 Clemson | 44-7 Clemson |
| 11-20-2021 | Clemson vs. Wake Forest | 27-23 Clemson | |
*Correct predictions in bold
Never miss the latest news from Clemson Sports Talk!
Join our free email list
PRESENTED BY