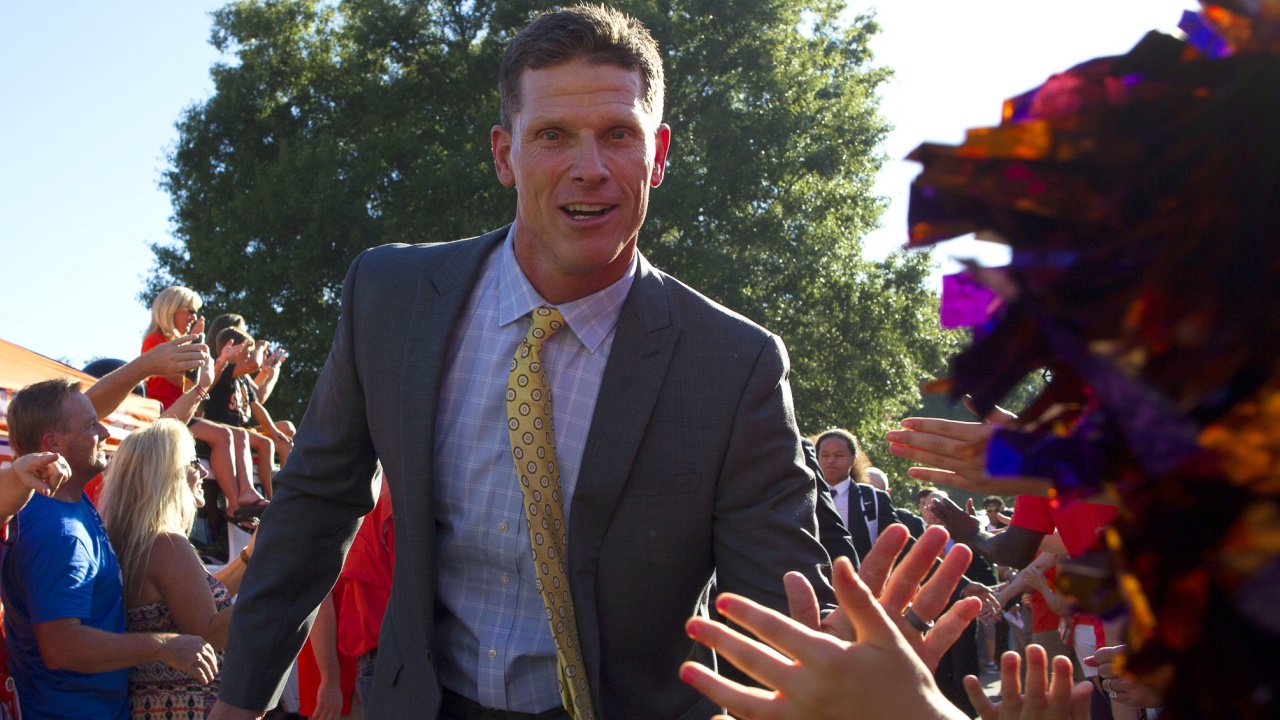 Photo by © Joshua S. Kelly-USA TODAY Sports
Clemson Football
Brent Venables on South Carolina: 'As a football junkie-- I love how they run the ball.'
---

Feel the difference - The MOST DIGITAL CONTENT covering your CLEMSON TIGERS! Avoid clickbait and sites bloated with advertising! Subscribe to our site and YouTube Channel today!
---
On facing Jason Brown:
"Big, long, stands tall in the pocket. The dual-threat ability he's made some terrific plays with both his arms and his legs. Throws the ball well on the move. Getting more and more comfortable takes a lot of pressure (away). The way those running backs run the football takes pressure off of them. They do a nice job again of complimenting between Josh Vann and their tight ends and their backs and then again, the quarterback that's learning on the fly. I've been really impressed with what they've been able to do with them."
On performance against Wake Forrest:
"Super pleased-- proud of our guys. Just fantastic effort in so many ways and just you know again a really good win against a really good opponent. As far as game control really had control of the game for most of the game, whatever that means you felt like that, but I also felt like we made it more interesting."
"I talk about layups all the time and its coaching cliché to some degree but I'm talking about being in a really good call an advantageous call but you still have to execute it you still it has to be precision you still got to line up, have good eyes, good technique, (and) know where your help is. A few times we're either two-deep or we're in a man under too deep or we're in a vice call where we got the guy they want to throw the ball we got him doubled and we let him."
On South Carolina's offense:
"As just a football junkie-- I love how they run the ball. They run with attitude. They run with toughness They run with desperation. They can catch the ball well in space, run through trash, can really accelerate, and they can take the top off the defense, so those guys are playing really well and have been all year when they've been healthy. It's a really good complimentary group."
On South Carolina-Clemson Rivalry:
"That's part of Thanksgiving and certainly in this state it's a huge deal and the alliance one side or the other, the loyalty, the hate, all of that is very real. So certainly missed it and it's as intense and emotional and means as much as any rivalry in college football, it's a big deal and one that again as I'm sure you've heard it's a whole season of its own."
On Jason Brown's improvement:
"Well, making plays, throwing the ball on the move, just getting more comfortable because you don't have a lot of data to evaluate him. I know in high school, he's the same guy that could hurt you with both his arms and his legs. The more he plays, the more comfortable he's getting. The staff is learning new ways to take advantage of his strengths, protect him from whatever weaknesses he might have, put him in position to be successful in their offense. It's no different than me understanding Skalski or Spector and trying to play to their strengths and I think they're doing a really good job, being the third-team quarterback, it's a very difficult position for any staff to be in and I think they're doing a really nice job. Again, I think he's probably exceeding everyone's expectations because I like what I've seen from him."
Never miss the latest news from Clemson Sports Talk!
Join our free email list