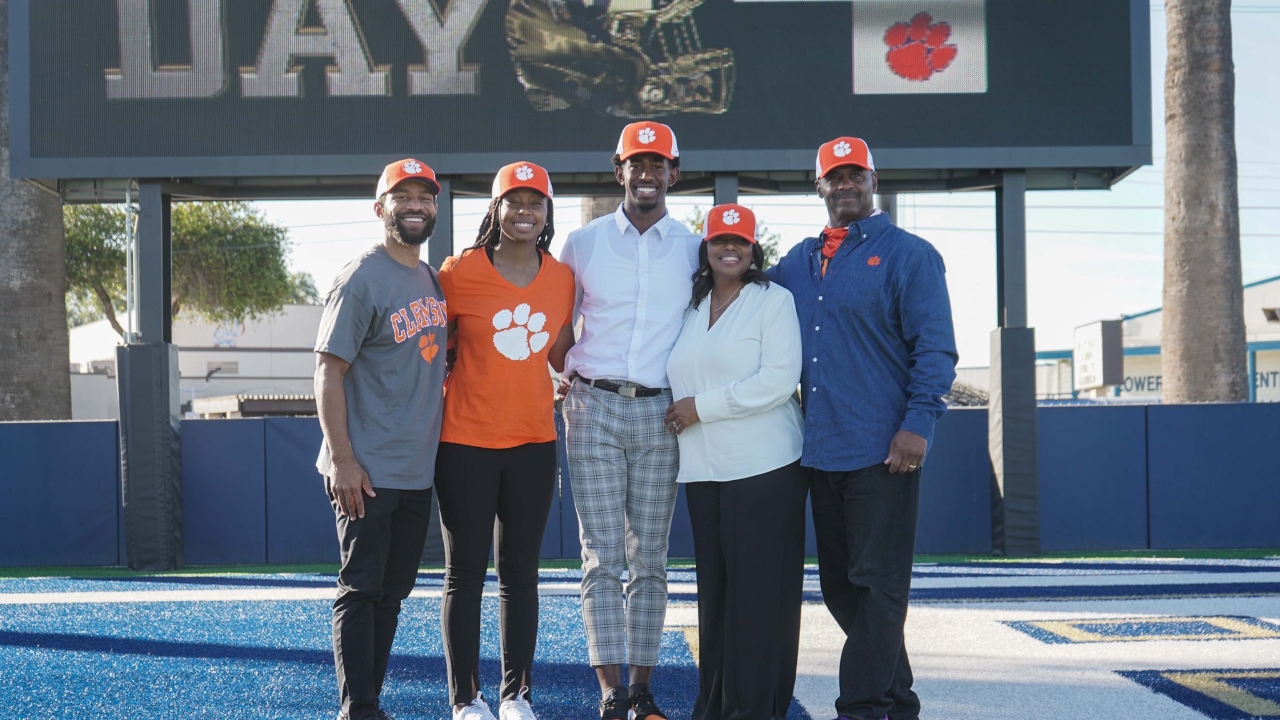 Photo by D'Andre Collins
Clemson Football
West Coast Connection: How Beaux Collins' family embraced his freshman year at Clemson
---

Feel the difference - The MOST DIGITAL CONTENT covering your CLEMSON TIGERS! Avoid clickbait and sites bloated with advertising! Subscribe to our site and YouTube Channel today!
---
Beaux Collins wasted no time making an impact in his first season on the Clemson football team in 2021. In 11 games, the 6-foot-3 freshman receiver caught 31 passes, second on the team, for 407 yards with three touchdowns.
His performance was not surprising to anyone close to the Clemson program or anyone within an earshot of head coach Dabo Swinney. In October, Swinney called Collins 'advanced' and 'natural' as a receiver. He also said the California native's understanding of route running was on par with senior Justyn Ross and former Tiger and Baltimore Ravens starter Sammy Watkins.
His 31 catches and 407 yards placed him in the company of Ross and Watkins on the list of freshmen receivers with at least 30 catches and 400 yards in their first season under Swinney. DeAndre Hopkins, Artavis Scott, Hunter Renfrow, and Deon Cain, all phenomenal players, are on the list as well.
Collins was able to have such a great start to his Clemson career despite missing his senior year of football at St. John Bosco because the state of California delayed the 2020 football season until the spring of 2021 due to Covid-19.
"I can't imagine my senior year, not being able to play football, not to have a prom, and not to go to a dance," Collins' father, D'Andre Collins, an educator in California told Clemson Sports Talk. "The whole year became online classes, shutting down and then going to the school just to work out. What a serious change of routine."
Collins' routine was altered and with that came a decision.
Should he become an early college enrollee?
"It became the plan. It wasn't originally," recalled D'Andre on why Collins enrolled at Clemson in January. "I saw the chance for him to get a head start in college. He could get there when it's not football season and adjust academically and athletically."
The plan yielded positive results immediately. Collins was recognized for his academic achievements in February and caught a touchdown pass from quarterback D.J. Uiagalelei to give the Orange team the early 7-0 lead in April's Orange and White Spring Game.
"It was a pretty easy transition coming here and missing the season," recalled Collins. "I didn't feel like I missed out on too much except for the good memories of a senior year, things like that, but just being able to get ahead on my development, college was more important to me at the moment."
Being so far away from home, Collins, like most college students, also had to adjust to his new surroundings but having Uiagalelei, a sophomore and former teammate at St. John Bosco, in Clemson made the move from Los Angeles easier.
"It helps a lot. On and off the field, it helps," explained Collins of Uiagalelei's presence on campus. "Being able to have a friend, off the field, that I've known for a while now. And then on the field, just having a good quarterback that I've played with, know how he throws the ball, know his tendencies and things like that. It's helped a lot in the process."
Collins also relied on his family back in The Golden State.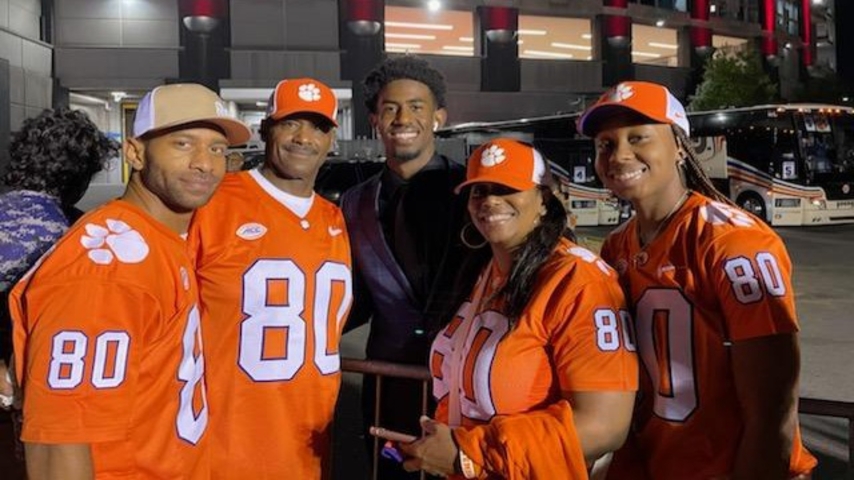 D'Andre Collins/Twitter
"My mom, growing up, she really instilled that foundation of having faith -- given thanks to God all the time," he said. "She really pushed me I would say more off the field than on the field. And my dad, he played defense [in college], so he has a different mentality than I do. He's more of like a fired-up dude -- and just having a good balance of both was really good to have growing up."
D'Andre, a former linebacker at New Mexico State with coaching experience on the prep level, had more than football on his mind when discussing his son's transition to college.
"It's costly," said D'Andre, referring to the expenses and logistics attached to having a child in collegiate sports more than 2,300 miles away. "If it didn't cost us anything, I believe everybody would do it more. Once you take those trips, then it becomes -- how to get from here to here? What if he needs something? What if something occurs? It takes a lot of planning."
D'Andre was ready to go back to Cali the moment Collins was on campus.
"I wanted to do a turnaround. Just drop him off and come home," he said with a sheepish grin. "My wife looked at me. Man, you would have sworn I was getting a divorce. My wife said, 'What are you talking about? We are going to stay.'"
"Thank God for FaceTime," he added. "Being able to see versus just talk. And thank God for my wife because things I may not think about or talk about with him she does."
April, D'Andre's wife and Beaux's mom, said the family is connected to Collins, and in addition to her and D'Andre, older siblings, Cam (brother) and Tyler (sister) communicate with him regularly.
"So, I think he has a pretty tight group to where he hears from us on Facetime, calls, or texts," April said. "He talks to me, his dad, his brother, and sister. I don't think he will have a problem. He's the type of person that just has his mind set on what he wants to do, and he knows this is a part of the process."
Part of the process also involved him getting his first start against Pittsburgh and five consecutive to close out the season. Those starts were aided by a rash of injuries at receiver and led to Collins, normally flanked outside, getting some snaps at the slot position.
Collins started six games and had two 100-yard receiving games. The first, a six-catch 104-yard performance at Louisville, which earned him offensive player of the game honors and 137 yards on four catches against No. 13 Wake Forest.
"It's really a dream come true," Collins said after his performance against Louisville. "I never thought I would be able to start this fast. And just being able to play at a school like Clemson is just off the charts in my mind and I know my parents are proud of me. Everybody back home is proud, and I'm just really thankful for the opportunity."
Next season, barring injury, Collins should get plenty of reps with the movement at wideout-- Ross is off to the NFL, Ladson will suit up for the Hurricanes and Ajou Ajou joins Jeff Scott at USF. In 2022, the sophomore will have even more opportunities as he becomes one of the most experienced receivers in Tiger Town.
Beaux's family was able to travel to Charlotte. NC for the Top 5 clash with Georgia, each home game, and The Cheez-It Bowl victory over Iowa State in Orlando, FL.
So what if the family is not able to attend as many games in year two? How would that affect Collins?
"You got to let your kid grow up," noted D'Andre. "I would love to be at every game, but I don't have to [be]. Beaux is independent. He doesn't need a lot of attention. He's not that type of kid," he continued. "So that's why he's able to thrive at Clemson with our support. And honestly, I think he's comfortable where he's at."
Never miss the latest news from Clemson Sports Talk!
Join our free email list
SPONSORED BY