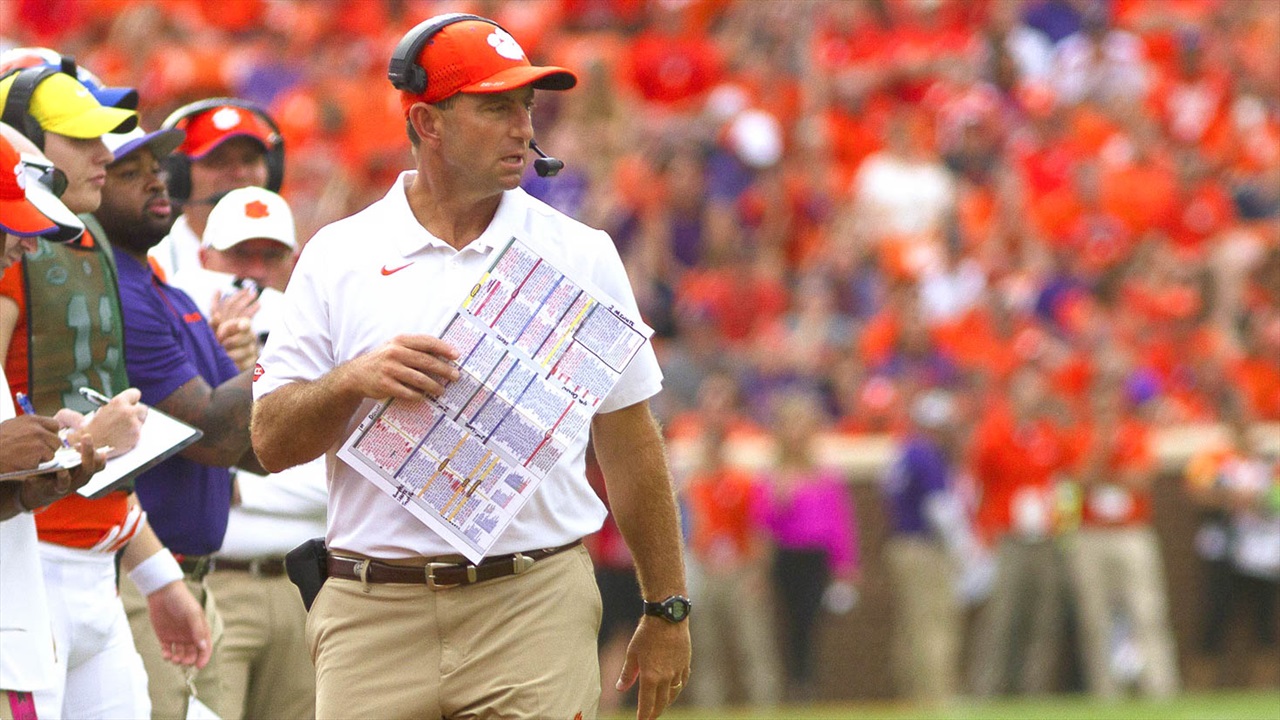 Photo by © Joshua S. Kelly-USA TODAY Sports
Clemson Football
THE ROAR: Tampering, Reining in NIL, Millie Shines
---

Feel the difference - The MOST DIGITAL CONTENT covering your CLEMSON TIGERS! Avoid clickbait and sites bloated with advertising! Get THREE MONTHS of coverage for just $1.
---
We are excited about the return of THE ROAR and our lead writer Trey Stewart coming back to the team after a brief stint in Wyoming! In fact, we are so excited about Trey's return we are running a brand new deal-- call it the "Trey Special" if you will-- THREE MONTHS of coverage for just $1. We hope you will take advantage of the deal and then stay on board as loyal supporters of our site!
LISTEN. Take a moment to check out yesterday's show. Clemson Sports Talk can be heard around the world on the iHeart Radio App or streamed online. Listen to Fox Sports Radio 1400 from 4-6 PM daily!
TAMPERING. First off I'm not a huge fan of NIL and the transfer portal, but when you put the two in play at the same time with little to no regulations and I absolutely despise them. I'm for players making money. I'm for players being allowed to transfer, but I am 100% against what it appears we are seeing with Pitt wideout Jordan Addison.
Addison, the reigning Biletnikoff winner was rumored to have offers in place for him to leave Pitt to join Lincoln Riley at Southern Cal. Some have said the deal could be a seven-figue one, but the biggest issue at hand in this situation is that Addison wasn't in the portal. That fact alone seems to signal that someone got into the Panther wideout's ear.
Tuesday we found out Addison is officially in the portal-- while he could still return to the Panthers it certainly feels like the dominoes are falling and it's just a matter of time until he's playing for Darth Riley's Trojans.
REINING IN NIL. On the NIL front, it sounds like the NCAA is going to try and rein things in a bit-- so it's not all bad news on the name, image, and, likeness front.
According to reports, there is a group that has been put together to evaluate how collectives that have been put together by big boosters around the country are impacting college sports. Many view these collectives as "pay for play" deals that even stretch into recruiting future prospects to campus.
One could argue that enhancing a program has never been easier. If boosters are indeed using NIL in this way, it would certainly be a violation-- or at least would go against the purpose of NIL. If donors are promising recruits money in advance of their arrival on campus, which is not how this was supposed to work, those schools need to be stopped.
The good news for Clemson's current collective Tiger Impact, the goal appears to be to create purpose-driven NIL deals for players already enrolled. Tiger Impact's website states that it is, 'Clemson's purpose-driven NIL Collective developing student athletes to positively impact others through community charities.' It sounds like things are being done the right way with Tiger Impact-- as for other schools, all bets appear to be off.
Hopefully, the NCAA will be able to rein things back in a bit. Honestly, it's been just a few months, but it's fairly obvious that NIL has gotten completely out of hand.
MILLIE SHINES. Left-handed pitcher Millie Thompson has been named the ACC's Pitcher of the Week, it was announced Monday by the league office. This is Thompson's first ACC weekly honor of her career and the second of the season for the Tigers after Marissa Guimbarda earned Co-Weekly Player of the Week on April 5.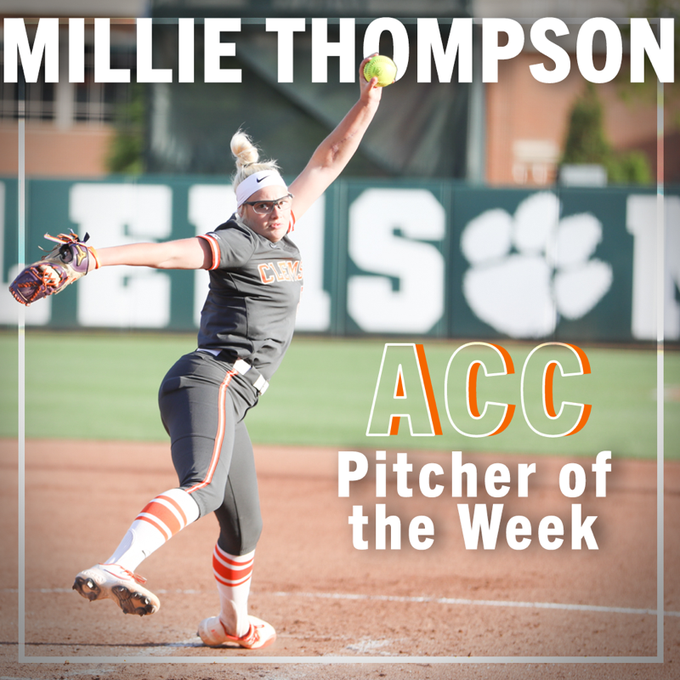 Thompson compiled a perfect 3-0 record in the circle last week for the Clemson Tigers. The Bedford, Va. native allowed just one earned run in 13 innings pitched to post a 0.54 ERA on the week. She picked up 12 strikeouts while allowing only two walks and held opponents to a .196 batting average. Thompson began the week last Wednesday throwing three innings of shutout relief against East Tennessee State. The sophomore followed that with the series opener on Friday night start against Georgia Tech where she threw her sixth complete game of the year. She pitched three, no-hit innings with four strikeouts on Sunday to lift Clemson to the series sweep over the Yellow Jackets.
Clemson is off this week after concluding the regular season last Sunday at McWhorter Stadium. The Tigers are currently awaiting seeding for the ACC Championships that run May 11-14 in Pittsburgh, Pa.
SONG OF THE DAY. Perhaps I'm becoming the "Get off my lawn" guy, but with NIL and the transfer portal having a negative impact on college sports, I want it known that I didn't start this problem. I've been against it from Day 1.
- "We Didn't Start the Fire" - by Billy Joel -
OFF THE PATH. The first reviews are in for Doctor Strange and the Multiverse of Madness, Marvel's first theatrical output since Spiderman: No Way Home back in December.
And while the critics have mostly nice things to say about the Sam Raimi-directed film, it got us thinking. Which two Clemson stars would you like to pull through the Tiger "multiverse" and have them play together?
Trevor Lawrence running a read-option with C.J. Spiller? Woody Dantzler scrambling and finding Nuk Hopkins in stride for a 70-yard touchdown? Maybe try a different sport entirely. How about K.J. Mcdaniels setting Larry Nance up for an alley-oop?
An entertaining thought to ponder on your Wednesday morning commute, no question!
As always, thanks for catching up with us on THE ROAR.
See y'all tomorrow!
---
Let us know what you think about THE ROAR! If you liked it, make sure you SHARE! Don't forget to sign up for our special! Get THREE MONTHS of coverage for just $1.
Never miss the latest news from Clemson Sports Talk!
Join our free email list
PRESENTED BY