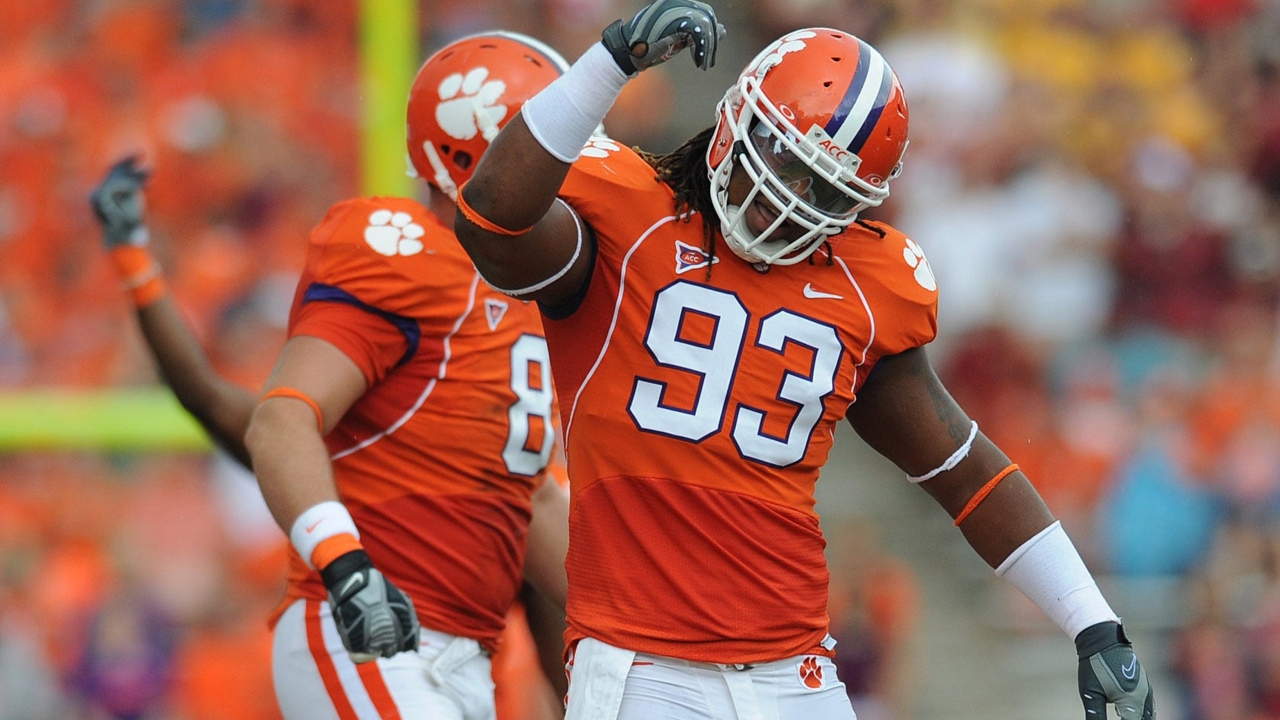 Photo by © BART BOATWRIGHT, The Greenville News via Imagn
Clemson Football
THE ROAR: Hall of Fame, Chief Ross, Toot Toot
---

Avoid clickbait and sites bloated with advertising!
---
LISTEN. Take a moment to check out yesterday's show. Clemson Sports Talk can be heard around the world on the iHeart Radio App or streamed online. Listen to Fox Sports Radio 1400 from 4-6 PM daily! Subscribe to our podcast if you enjoy the show!
HALL OF FAME. Clemson Athletics Hall of Fame committee on Monday announced a record-tying 11 former Clemson greats for induction this fall. The class of 2022 is composed of 10 former student-athletes and a former Clemson coach, representing nine different sports. It is the largest class since 2016 when Clemson also inducted 11 new members. The 2022 class will be honored at the NC State game in Memorial Stadium on October 1.
Former teammates Da'Quan Bowers and Dwayne Allen are members of the 2022 class in just their third and second years of eligibility, respectively. Bowers won the Bronko Nagurski Award as the National Defensive Player of the Year in 2010, while Allen won the John Mackey Award as the nation's top tight end in 2011.
Jacoby Ford is an inductee as a two-sport athlete. Ford was a productive wide receiver for the Tigers under Tommy Bowden and Dabo Swinney between 2006-09 and was a National Champion on Clemson's track team during the same era.
Kyle Stanley, a full-time member of the PGA Tour, won the Ben Hogan Award as the top amateur golfer in the country in 2009 under Larry Penley's guidance.
Brad Miller, the ACC Player of the Year on the baseball diamond in 2011, has more career home runs in the Major Leagues than any other former Tiger in history.
Patricia Mamona was a national champion in the triple jump, an academic All-American and won silver in the 2021 Olympic Games for her home nation of Portugal.
Wesley Russell won the NCAA Championship at the 1993 Indoor meet in the 400 meters and was named to the ACC 50-Year Anniversary Track team in 2002.
Oguchi Onyewu was named to the men's soccer ACC 50-Year Anniversary team in 2002. He only played for the Tigers for two years, but he was one of the top defenders in the nation. He was a finalist for the 2001 Hermann Trophy and went to play for the United States National team in the 2006 and 2010 World Cups. He serves an analyst for CBS Sports.
Joey McKenna was the only three-time ACC Champion in wrestling at any weight class over his career that spanned 1983-86. He finished fourth in the 150-pound division at the NCAA Meet his final year.
Suzanne Van Fleet was an All-American on Clemson's rowing team in 2008 and was a big reason Clemson Varsity 8+ advanced to the NCAA Championships. She was a three-time Academic All-ACC selection as well.
The only coach in the 2022 Clemson Hall of Fame Class is former swimming coach Bob Boettner. Between 1977 and 1991, Boettner was a six-time ACC Coach of the Year, four for the women's program and twice for the men. He won four ACC Championships, three with the women and once with the men. He led the Clemson women to three straight top 10 finishes between 1987-89.
CHIEF ROSS. I cannot lie, it's great to see Justyn Ross running routes in a Chiefs uniform. I've made my opinion on his decision quite clear, but there is no doubt that it had to be a tough decision to leave Clemson given his final season and the lack of productivity he showed in his return.
One thing seems certain at this point though-- if Ross can make the team, he'll land with a team that's set up to make a run at the conference championship and potentially the Super Bowl over the next few years.
After practice, Ross noted that he was excited to play with Kansas City according to CBS Sports.
"Just having Patrick Mahomes, great quarterback, Andy Reid, great coach," Ross said Sunday at Chiefs rookie minicamp. "The receiver room, it feels like a family here. I've only been here for like a day, but they treat me like family."
Ross looked crisp running several routes and the rookie said after practice that he was looking to prove everyone who doubted him wrong:
"Of course I'm ready to prove everybody wrong. I'm just trying to feel my spot and play my part on the team. I'm just trying to fill my role and trying to get all the way I was."
TOOT TOOT. If you are a fan of our work, you know that we aren't ones to toot our own horn, but TOOT! TOOT!
We'd be lying if we said we weren't just a little bit proud to make USA Today's list of the Top 15 Clemson Twitter accounts to follow. If you count from the top, including @ClemsonFB, we checked in at No. 4 on the list-- not bad at all!
In fact, we love the description, and personally, I think it captures exactly what we want to be for Clemson fans around the world.
"Twitter account for an excellent multimedia Clemson publication that has articles, radio, podcasts and more."
That's to everyone who supports us and has helped us grow! That was quite an honor for the site!
SONG OF THE DAY. Speaking of Toot Toot-- how about this throwback? I used to laugh when this one came on at the pool.
- "Don't Mess with my Toot Toot" - by Denise LaSalle -
OFF THE PATH. In preparation for his upcoming album, Mr. Morale and the Big Steppers, which releases this Friday, Grammy-award winning rapper Kendrick Lamar dropped his first lead single on Sunday in over 1,500 days.
The song, titled "The Heart Part 5" premiered with a music video in which Lamar deepfaked his own face with icons such as Will Smith, Kobe Bryant, Kanye West and Nipsey Hussle.
The video released late Sunday evening, and as of early Tuesday morning had already amassed over 12 million views on Youtube.
Safe to say, hip-hop fans are ready for the long-awaited return of Lamar.
Have a great Tuesday, everyone!
---
Let us know what you think about THE ROAR! If you liked it, make sure you SHARE! Don't forget to sign up for our special! Get THREE MONTHS of coverage for just $1.
Never miss the latest news from Clemson Sports Talk!
Join our free email list
PRESENTED BY