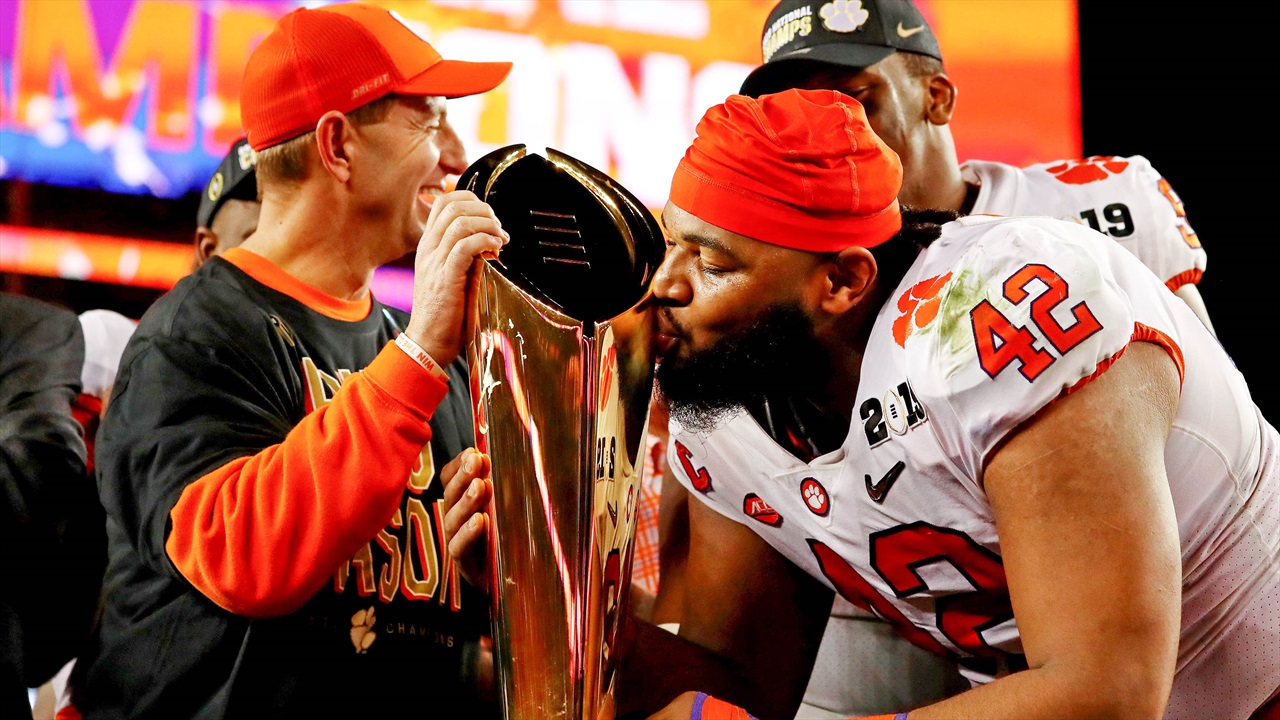 Photo by © Matthew Emmons-USA TODAY Sports
Clemson Football
THE ROAR: Getting a Shot, Super Rematch, Ditching the NCAA
---

Avoid clickbait and sites bloated with advertising!
---
LISTEN. Take a moment to check out yesterday's show. Clemson Sports Talk can be heard around the world on the iHeart Radio App or streamed online. Listen to Fox Sports Radio 1400 from 4-6 PM daily! Subscribe to our podcast if you enjoy the show!
GETTING A SHOT. Former Clemson running back Darien Rencher has received a mini-camp invite, per his twitter account.
Rencher was a former walk-on for the Tigers, so he's no stranger to earning his spot. During his career with the Tigers, Rencher rushed 93 times for 437 yards and three touchdowns. More importantly, he was a critical locker room leader for the Tigers, and won the Disney Spirit Award in 2020 as college football's most inspirational individual.
SUPER REMATCH. The NFL slate was released, and arguably the biggest game on the docket will come in week four when the Kansas City Chiefs travel to the Tampa Bay Buccaneers in what will be a rematch of Super Bowl LV.
The game will mark the sixth meeting between Mahomes and Brady and will air on NBC's "Sunday Night Football." Brady is 3-2 in the games against Mahomes; he has played three as a member of the New England Patriots and two with the Buccaneers.
The Bucs beat the Chiefs 31-9 in Super Bowl LV behind three touchdown passes from Brady, who was named the game's MVP and won his record seventh career title. Mahomes struggled in the Super Bowl loss, throwing two interceptions.
This may be the last chance for Mahomes to even his record against Brady, as Brady reportedly has a massive contract in place with Fox Sports to be an analyst as soon as he officially retires. At age 45, that day isn't far off.
DITCHING THE NCAA. ACC Commissioner Jim Phillips is a fan of the idea of FBS football moving away from the NCAA.
"I'll just say this," Phillips said. "I think it's time to look at alternative models for football."
To an extent, college football already is run distinctly from other NCAA sports in that its championship and bowl system are not under the NCAA umbrella, whereas the NCAA runs the championships for its other sports.
His suggestion followed a comment made last week made by Ohio State athletic director Gene Smith to ESPN that the 10 FBS conferences operate under the direction of the College Football Playoff.
Asked if that was what Phillips had in mind, he responded, "I would say we've had a lot of conversations, I think, inside the ACC and outside the ACC of what you just described."
College football is at a bit of a crossroads with NIL and the transfer portal running wild, and this may be the opening the power five needs to pull away from the NCAA, at least in terms of football. That leaders of two FBS conferences or programs have spoken up within the past few days tells me that there have been internal conversations about this already.
SONG OF THE DAY. Swanny says the weather is beautiful where he is. That must be nice. As for me, I've been going fully Nelly whenever I've been at home.
"Hot In Here" -Nelly
OFF THE PATH. Have you ever had fantasies of being a hero in a high-pressure situation? One man got his opportunity when the pilot of the plane he was on became incapacitated- and he seized his moment.
Air Traffic Controller Robert Morgan, a certified flight instructor, was on a break when the call came in from the plane, headed out from the Bahamas.
"I rush over there and I walk in and the room is really busy ... and they're like, 'Hey, this pilot's incapacitated. The passengers are flying the plane. They have no flying experience," Morgan told CNN's "New Day" on Wednesday.
"I said, 'Oh boy.'"
Morgan learned the passenger on the line had never flown a plane -- but had been around aviation and seen other pilots fly.
"He was really calm," Morgan said. "He said, 'I don't know how to fly. I don't know how to stop this thing if I do get on the runway.'"
Morgan had never flown this model Cessna. He pulled up a picture of the instrument panel's layout and started guiding his new student step-by-step.
"Try to hold the wings level and see if you can start descending for me. Push forward on the controls and descend at a very slow rate," the air traffic controller can be heard telling the fledgling pilot in LiveATC audio.
"Try to follow the coast either north or southbound. We're trying to locate you."
Morgan made the key decision to guide the aircraft to the area's biggest airport, helping the passenger-turned-pilot position his aircraft 8 miles out from Palm Beach International, "just so he could just have a really big target to aim at."
Together, they got the Cessna to touch down on the runway, footage obtained by CNN affiliate WPBF shows -- something that takes about 20 hours to learn with typical flight instruction.
The landing rated 10-out-of-10, in Morgan's view.
"I felt like I was going to cry then, because I had so much adrenaline built up," Morgan said. "I was really happy that it worked out and that nobody got hurt."
This is something out of a movie, and Daren Harreson got to live it. He saved the day, the passengers, and got to go home to his pregnant wife at the end of the day. Talk about a hero.
See y'all tomorrow!
Let us know what you think about THE ROAR! If you liked it, make sure you SHARE! Don't forget to sign up for our special! Get THREE MONTHS of coverage for just $1.
Never miss the latest news from Clemson Sports Talk!
Join our free email list