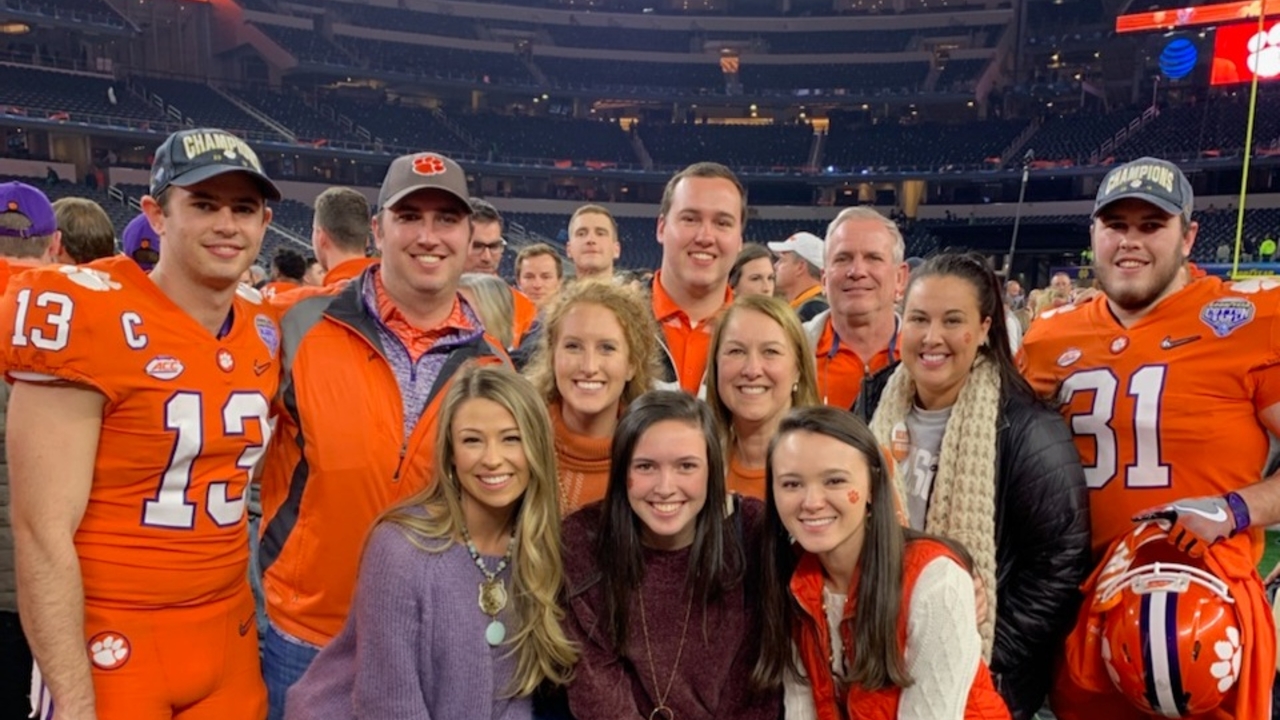 Photo by Tim Renfrow
Clemson Football
Hard work, Faith, and Family, all led to Hunter Renfrow's extension with Raiders
---

Avoid clickbait and sites bloated with advertising!
---
Former Clemson receiver Hunter Renfrow signed a two-year, $32 million contract extension on June 10 with the Las Vegas Raiders after leading the team in receptions (103), yards (1,038), and touchdowns (nine) in 2021.
His reception total was also tied for ninth overall in the NFL and is second all-time in franchise history by a receiver, behind Hall of Famer and Heisman Trophy winner Tim Brown's 104 in 1997.
"It feels amazing," Renfrow said about the new deal on the Raiders podcast. "I think gratitude is the first thing that pops up in my mind. Gratitude to my family. Gratitude to my former coaches, former teammates, people who raised me, Raider Nation. Just a whole different level of gratitude and just so honored to be a part of Raider Nation and to carry the tradition and to try to go win as many games as we can and each day just get better."
Hunter expressed "gratitude" to his "family" of eight, which includes brothers, Jordan, Ayres, and Cole, sisters, Chelsea and Joy, and of course, "the people that raised him," his parents, Tim and Suzanne.
Tim and Suzanne have been there throughout his journey from Myrtle Beach, SC to Las Vegas, NV. Tim is in his second year of retirement from Socastee High, where he was the athletic director and spent time as the head football coach, and Suzanne retired in June from her position as the school's guidance counselor.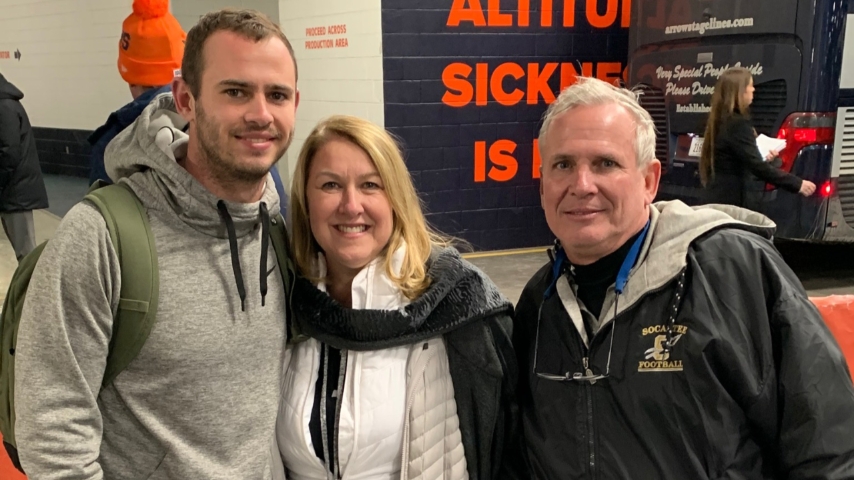 "We're really proud of Hunter and we are excited for him," said Tim, who coached Hunter from 2010-2012. "He really loves playing and that's what we hope he'll still be able to do."
Hunter spurned scholarship offers to play football at Appalachian State, Charleston Southern, Furman, Gardner Webb, Liberty, Presbyterian, and Wofford, Tim's alma mater and where he resides in the football and baseball Hall of Fames, to walk on at Clemson, his dream school and Suzanne's alma mater.
The 5'10, 155-pound former option quarterback had to learn a new position, wide receiver, in a redshirt year (2014) at Clemson before being awarded a scholarship in 2015. He was also a fifth-round selection, a round along with the fourth, sixth, and seventh, where only 28.2 percent of the draftees are retained at the end of their first contract.
Nothing was ever assured for the 2018 Bulworth Trophy winner (the trophy given to the nation's most outstanding player who began his career as a walk-on).
Not even year 1, 2, or 3 of his four-year, (non-guaranteed) rookie contract.
"Hunter's a very persistent, determined person," Tim said. "He's always been since he was little and when he sets his mind on something, he's going to exhaust everything to reach that goal."
Family Travels
Hunter won two national titles at Clemson and left college as arguably one of the most decorated walk-ons in college football history.
Whatever goal accomplished or dream realized, the Renfrows were typically there to see it.
First collegiate reception, a 4-yard pass from quarterback Nick Schuessler against Wofford (Tim's alma mater) at Memorial Stadium on Sept. 5, 2015.
First touchdown reception, a 32-yard pass from quarterback Deshaun Watson against the Louisville Cardinals in Louisville, KY on Thursday, Sep. 17, 2015.
The momentum-changing, diving 16-yard touchdown reception at Jordan Hare Stadium against Auburn on Sept. 3, 2016.
The game-winning two-yard touchdown reception at Raymond James Stadium in Tampa, FL against Alabama on January 9, 2017 (2016 National Championship Game).
First NFL reception, a three-yard pass from quarterback Derek Carr at RingCentral Stadium in Oakland, CA against the Denver Broncos on Sept. 9, 2019.
First touchdown reception, a 65-yard catch and run against the Houston Texans at NRG Stadium in Houston, TX on Oct. 27, 2019.
On Feb. 6, they were also inside the Raiders venue, Allegiant Stadium, to watch Hunter make a toe-tapping 6-yard touchdown reception for the AFC squad in the 2021 Pro Bowl.
He finished the game with a game-high five receptions (tied with AFC teammate Mark Andrews and NFC leader Justin Jefferson), 43 yards, and a touchdown in the AFC victory.
Not bad for his first Pro Bowl.
"We enjoyed the game," said Tim. "It's different. They basically don't tackle, so you have to get over that part of it. But it was fun."
Whether it's the Pro Bowl, NFL playoffs, College Football Playoffs, National Championship games, Los Angeles, Phoenix, or Las Vegas, the Renfrow family has seen a few 'firsts' during Hunter's career.
"We've gone a lot of places we'd never been able to go to, visit, and see him playing ball," Tim noted. "Our whole family has been able to do a lot of things. It's been fun and we've been blessed as well."
He also blessed them with another first.
"Yeah, our first grandchild," said Tim. Hunter, the fourth child, is married to high school sweetheart Camilla. "We have two now but she's our first, his little girl, Collins. She's sweet as can be. I had heard about grandparents, and I'm now getting to experience being a grandparent."
Reaping a Harvest
Hunter is one of the most reliable pass-catchers in the NFL and his nickname, "3rd and Renfrow" proves it.
"He always said that his mama would be out there throwing the ball with him all the time and she was not a real good passer, so he would have to dive to catch the ball," Tim recalled with a grin. "So, he attributes him learning to watch the ball and catch the ball with his mom throwing to him."
Moreover, his routes have turned heads, ankles, and are 'grab your popcorn' worthy.
However, despite the notoriety, the Socastee alum takes it all in stride, as he, a little know freshman, did when he scored two touchdowns against Alabama in the 2015 National Championship Game.
That humility is undoubtedly attributed to his family's faith. Tim and Suzanne are devout Christians active in worship and fellowship. The retirees are now working with the Fellowship of Christian Athletes serving schools in Dillon, Marion, and Georgetown counties.
"Let us not become weary in doing good, for at the proper time we will reap a harvest if we do not give up." Galatians 6:9
The Bible verse is familiar to the Renfrow family and is Hunter's favorite.
To "reap a harvest" is defined as you benefit or suffer from the results of your past actions or of someone else's past actions.
Hunter's hard work and faith in himself and God are why he has a new contract with $21 million guaranteed over two years, a $9,180,000 signing bonus, and $14,500,000 guaranteed at signing.
"The thing that I kept going back to was I love my teammates, I love Raider Nation, we love Vegas," explained Hunter, additionally, on the Raiders podcast. "And so that for me personally, I felt like God was pushing me back to Vegas, and I'm so glad that we got it done."
Never miss the latest news from Clemson Sports Talk!
Join our free email list