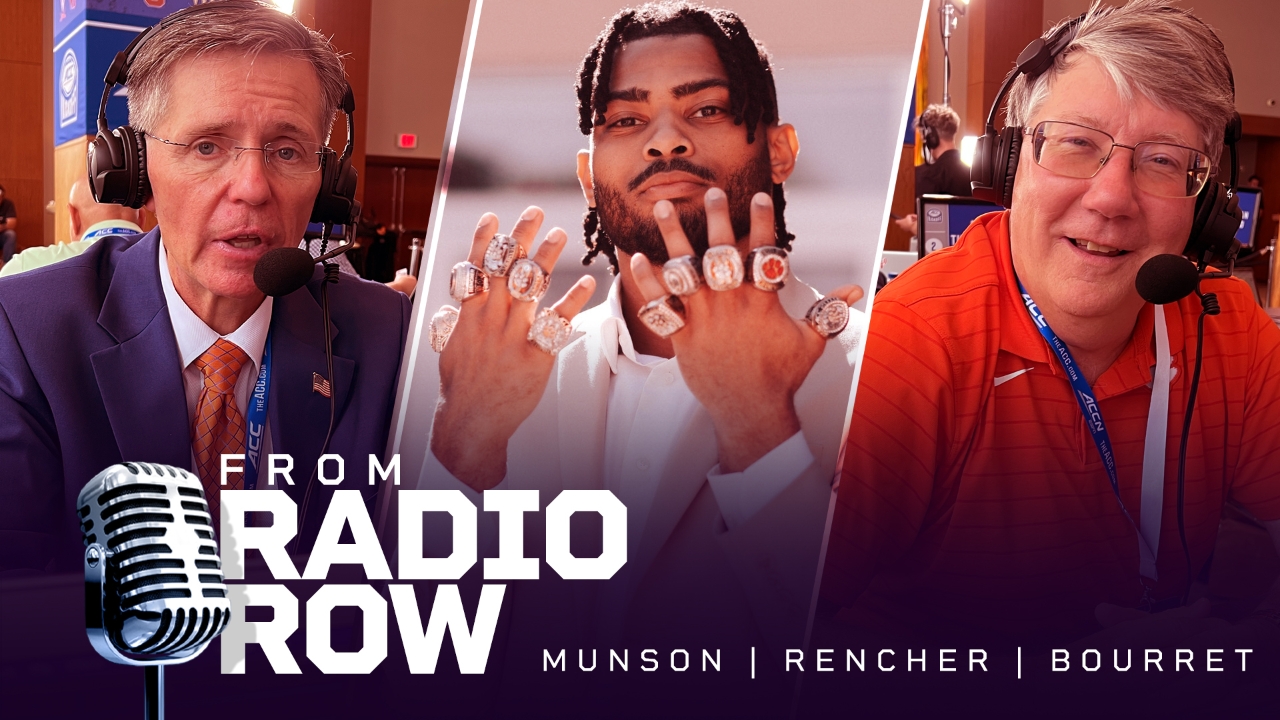 Don Munson
Darien Rencher
Tim Bourret
Clemson Football
Munson says a more confident Uiagalelei can lead Clemson 'to the Promised Land'
---

Avoid clickbait and sites bloated with advertising!
---
At the ACC Kickoff, we sat down with Don Munson, Darien Rencher, and Tim Bourret to discuss many issues surrounding the Clemson Tigers this offseason. Listen to each interview or read over some quick UNEDITED notes from Charlotte.
Don Munson
On Clemson's Expectations:
"I have high expectations for Clemson, I expect Clemson to be back in the playoffs, to be perfectly honest with you. If you get to the playoffs, that means you have an opportunity to win it all. I would love to see them go to Los Angeles, I'd love to see D.J. lead this team back to his hometown in L.A. to play for a national championship. I've been blessed to call four national championship games. I would love for an opportunity to get to my fifth and go 3-2 in national championships."
On Notre Dame joining the ACC:
"Notre Dame is under contract now to the league till 2036. If they're going to join a league, they're contractually obligated to join the ACC. I think that's the other thing that has gotten completely overlooked, that is totally separate from the grant of rights. That contract they have with Notre Dame, I think that's got Notre Dame a little bit in a pickle. Now, obviously, what we've been reading the last couple of days, Notre Dame wants $75 million for their media rights when they have to rework the deal in 2025. That's fine for them, but still, if they want to play football in a conference until 2036, it's going to be with the Atlantic Coast Conference."
On Clemson getting back to the ACC Championship Game:
"I would say they stay healthy that's going to happen. I think that talent level is just different from Clemson to what else is available. Obviously, NC State got a bunch of guys coming back defensively, they got their quarterback coming back, and they've got good wide receivers. That game is going to be though in Clemson. I think that's an advantage from that standpoint, but NC State, probably the other team that you look at on the Atlantic side, is the threat. There will be somebody unknown, it always happens in both divisions. There's going to be somebody that's just totally unexpected to rise up, but that's college football. I like Clemson's schedule, I like the way that it sets up this year. I think it's obviously a little bit easier coming right out of the gate than it was last year. Once we get to that point in October and into the championship phase of the season, like coach likes to say in November, I think Clemson is gonna be primed and ready."
"If does what he thinks he can do, and builds his confidence, from play to play and game to game, then I think that D.J. can lead them to the Promised Land."
On if there is a significant amount of pressure on D.J. Uiagalelei right out of the gate:
"I think from the from us in the media from fans standpoints everybody's going to answer that question as 'yes.' But if your DJ, the answer has to be 'no.' You can't control the expectations of others, all you can do is control you. That's all you can control. So if he goes down and controls himself and does what he thinks that he can do. Builds his confidence from play to play and game to game, then I think that the D.J. can lead them to the Promised Land. Now it's not to say that Cade isn't going to play in the first game I guarantee you that Cade Klubnik, in game one against Georgia Tech on that Labor Day night, he's probably gonna come in and play the third or fourth series-- almost guaranteed that that will happen. Coach Swinney hasn't told me anything, but I can almost guarantee that will happen. So Cade is going to get early opportunities and D.J. he needs to perform, and he knows that. He's a big guy and as he's been around here, he's been openly answering that question that way, he knows that he has to go out and perform and be a big part of what this team hopefully can be offensively."
On who wins the ACC Coastal
"The Coastal is like trying to read tea leaves? There was only 1 person in this entire group last year that voted Pitt to win the Coastal out of 155 votes. You just never know. Pitt can be a threat to repeat, even though they lost their quarterback. Miami certainly is going to be there in that mix. North Carolina's got an opportunity they may be the most overlooked team that's over there on the coastal side of things. It'll be interesting to see how it plays out when Miami comes rolling into Clemson there in November to me, that probably will be a big game for Miami to try to get back to Charlotte hopefully to see Clemson there again."
---

Avoid clickbait and sites bloated with advertising!
---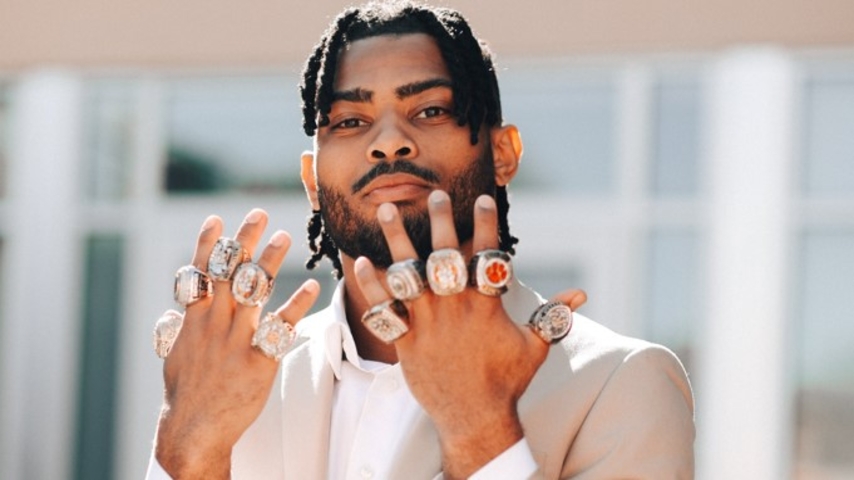 Clemson Sports Talk
Darien Rencher
On finding out he was going to be a dad:
"It's been a season of making plans, but some things are unexpected, people-- and that is life in itself. But here we are. Count it all as a blessing. Yeah, daddy to be-- crazy."
On the Palmetto Cat Crew:
"So people are familiar with Aaron Murray, former quarterback at Georgia, he's come a good friend of me and Ben (Boulware). They did this at Georgia. Basically, they saw NIL become a thing, players can now get paid. They've always seen the fandom around the Georgia Bulldogs and they obviously had a great season. So after the Natty, him and a couple of former teammates came out with my idea like how can we make kind of make a marriage between those two things? They had this idea like, 'hey, people love access to the players,' let's give fans a more enhanced experience of Georgia football. Let's help the players get paid, and so people bought these membership passes for $200. They sold a good bit of them to where it was a super successful project. So they approached Clemson Bama, Texas, Tennessee, UNC, Florida, Oklahoma, and LSU."
On players' time being valuable:
"We approached some guys and they didn't want to do it, which is cool. I think we got a good strong marquee group-- I think it's gonna be a great value to the fans. Honestly, it's not going to be more so formal like this. Which I think fans will appreciate it'd be laid back-- like uncut, kind of raw, very personable. It's not a lot of work it's something they would do anyway, they tweet, they Instagram chat, and now you actually get paid for it because there's value there you provide fans."
On D.J. Uiagalelei:
"I think he's very self-motivated. I think he sees it, but I think for him, he just wants to compete against himself. Honestly, knowing how he moves, I just feel like he knows his potential just like everybody else does. I feel like he wants it to be, and I feel like if he taps into that this year, man, it could get real scary. That's what I'm hoping. Even to see coach Swinney support-- like nobody has ever questioned his commitment. That quarterback room is only going to push him to be better."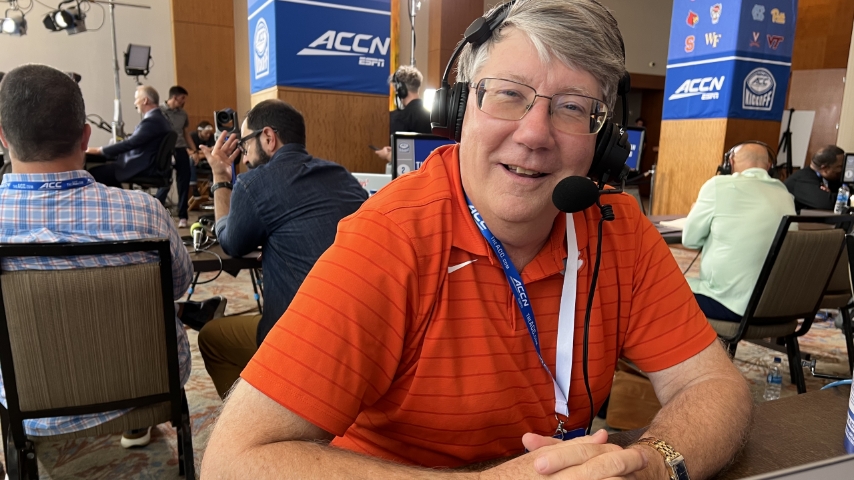 Clemson Sports Talk
Tim Bourret
On Conference expansion and evolution:
"When I came to Clemson in 1978, there were seven teams in the ACC, now we have 14 that play football, so double it. You had Notre Dame and all the other sports, you got 15. So, you know, there's been a lot of change a lot of evolution. I know, everybody says we're headed towards something totally different, but I don't know, we'll see."
On Clemson's foundation:
"Clemson has a steady and firm foundation. We've been in the Top 20 in attendance every year since 1981, even when we had some down years in the '90s. The last losing season was 2010. We've always still been pretty strong during those times. So if you look at your overall-- support is key. I still think the ACC is on firm ground. A lot of people have maybe criticized Commissioner Swofford for doing the grant of rights because it limits on paper or in courtrooms it limits what you can make as far as your TV deal, but at the same time, I think it's also going to keep the league together."
On Notre Dame's preseason activities:
"Oh, they have their own media day on campus, which is similar to what Clemson had yesterday. That's the way it's been since I was a student in 1973. We would just kind of have a general announcement to people that cover Notre Dame."
On NIL deals:
"It's a different time. I think the unintended consequences of the NIL that's happened-- the problem is, it's really being used in the recruiting process. Different schools use it at different levels. Clemson has actually hired a full-time person who's going to oversee that aspect of it-- kind of the NIL Coach, so to speak. They're expanding the indoor facilities, they're gonna have a nice facility there for it. But it's designed to work with the current student-athletes in all aspects of it. I think it's great stuff. I mean, whether it be teaching you the economics of things. How you're going to pay your taxes and all that kind of stuff is going to be important. You're going to have to do it when you get out of school anyway, so I think that aspect of it is good. Obviously, the issue that a lot of the coaches are having is they're promising prospective recruits about money they can make or NIL deals or whatever. Then it's being used in his inducement to get kids to transfer to your school, apparently."
On DJ Uiagalelei's expectations this season:
"Certainly physically, I think he's lost a lot of weight, and I think that's a really good thing, I think he's going to be a more well-rounded quarterback because of it. I mean, when you just think of it logically-- if you're more of a threat to run-- they have to bring another guy into the box. It's going to open up things on the perimeter of the defense, and in theory, you're going to have more holes to throw passes."
Never miss the latest news from Clemson Sports Talk!
Join our free email list