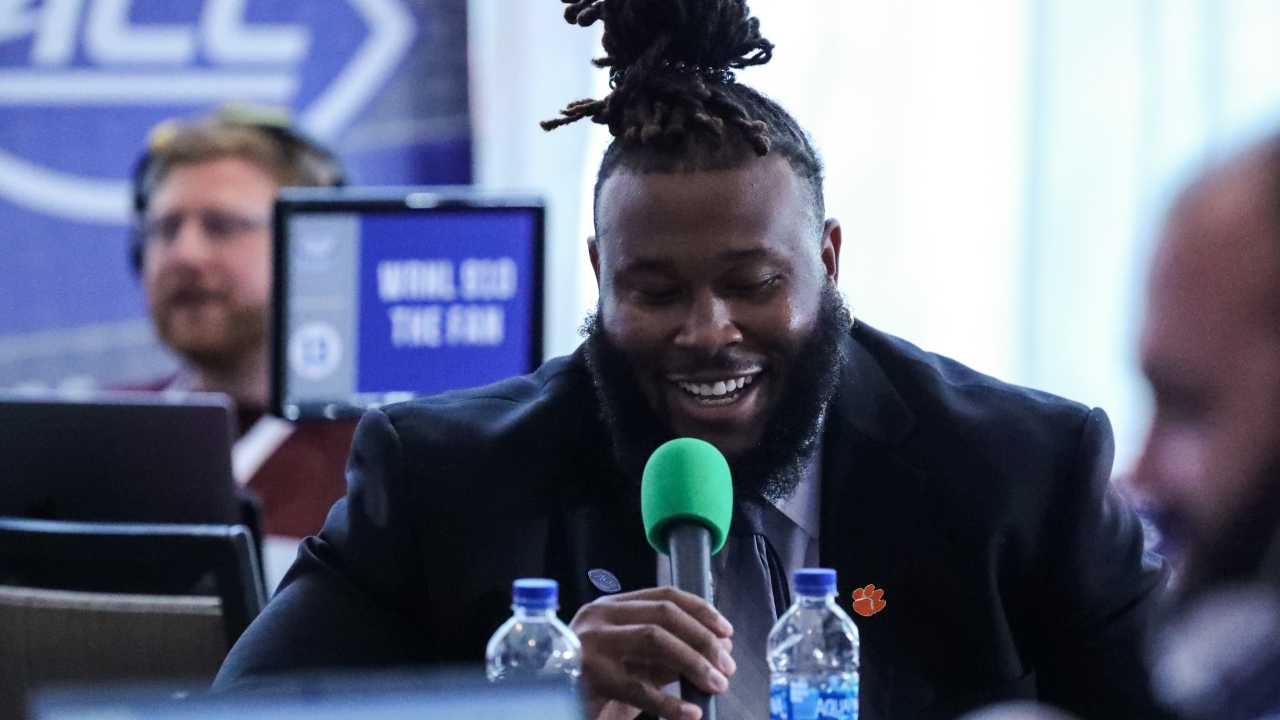 Photo by Jaylynn Nash/ ACC
Clemson Football
'He's showing what it takes': Jordan McFadden leading by example in his fifth season
---
CHARLOTTE, N.C. — Clemson offensive tackle Jordan McFadden was all smiles, cracking jokes during his exclusive interview with Clemson Sports Talk at ACC Media Day on Wednesday.
"My plan is just to make everyone around me today feel protected," McFadden said with a laugh, referencing his mammoth 6-foot-2, 300-pound build. "If I can do that, I'm doing a good job."
It was McFadden's first rodeo at an ACC Media Day as the redshirt senior heads into his final year at Clemson. Player representatives at the event are hand-selected by head coach Dabo Swinney each year. This go-around, McFadden led a group of Tigers into Charlotte that consisted of quarterback D.J. Uiagalelei, defensive end K.J. Henry, and himself.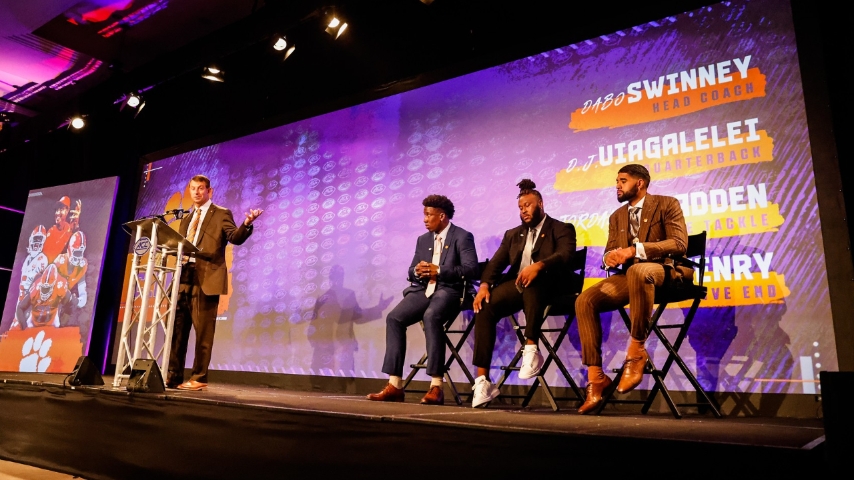 Jaylynn Nash/ ACC
McFadden spoke about the honor of being chosen by Swinney to represent the Tigers on a grand stage.
"I was super excited and grateful when I found out I was coming," McFadden told Clemson Sports Talk. "I have a lot of respect for Coach Swinney and what he does. For him, his staff, and the rest of my team to feel like I earned this moment was truly a blessing and something I was really grateful for."
McFadden will anchor the Tiger offensive line this season, a unit that struggled uncharacteristically last year following several key All-ACC departures from 2020.
Those struggles made it no easier for sophomore quarterback D.J. Uiagalelei to find footing. In turn, the Tigers suffered through their worst offensive showing since 2010, averaging just over 24 points a game.
McFadden doesn't foresee that being the case in 2022. He was quick to shower his signal-caller with praise when Uiagalelei came up.
"I know for a fact D.J. is a great person," said McFadden. "He cares for people, and he loves people. And he's a great teammate. He wants to be successful. A lot of people want to bash him for his play last year but don't know the full story. He was banged up. As an offensive line, and the offense in general, we didn't really support him well. There's so much that went into last season, and I hate that he had to take most of the blame for it."
Even amid slander from the media and, at times, disdain from Tiger fandom, Uiagalelei kept his head up and kept working, Mcfadden said. And that perseverance earned the admiration of his teammates.
"Through all of that criticism, he didn't crumble. He stayed positive and kept a level head. And I think that speaks for what kind of character he has. And speaking about D.J. now, he's lost a ton of weight. He's so confident; he looks great. I know without a doubt this will be a great season for him."
© Ken Ruinard / staff / USA TODAY NETWORK
As for the offensive line room? McFadden couldn't hide his jubilation when speaking about some of the guys he'll be in the trenches with this season.
"There's tons of excitement in our room," he said. "With some of the guys coming in and the guys returning that'll have another year under their belts, it's exciting."
McFadden made specific mention of new offensive line coach Thomas Austin.
"Coach Austin is genuine. He brings a lot of energy and really cares about his players. I'm super excited to play under him. He's been in the NFL, been where I want to be. He's accomplished a lot of things. So getting that knowledge from him has been amazing, and I think the whole offensive line will be ready to go."
Austin shared similar sentiments about McFadden — a graduate of Dorman High in Roebuck, S.C. — at Clemson's media day.
"Jordan's from an hour away in Spartanburg, so he knows Clemson," explained Austin. "He believes in Clemson. He's been in our program for five years, so he's very committed. He's very consistent and shows up every day. People don't talk about it, but he got 'stingers' and bruises and even dislocated his finger during the season, and he just keeps playing."
Austin mentioned just how "invaluable" having someone with McFadden's seniority and experience has been for the rest of his offensive lineman.
"Jordan is a guy who doesn't just lead by example. He brings other guys with him. So if he's going in on Saturday to put in some extra work or going to the castle for recovery, he's bringing other guys with him. He demonstrates to our other guys what it takes to be a great player."
In his final season, McFadden is determined to make the most of the time he has left. But perhaps more importantly — and true to his top-class character — he's laying the groundwork for those who will take the reins once his time at Clemson comes to a close.
Never miss the latest news from Clemson Sports Talk!
Join our free email list
PRESENTED BY