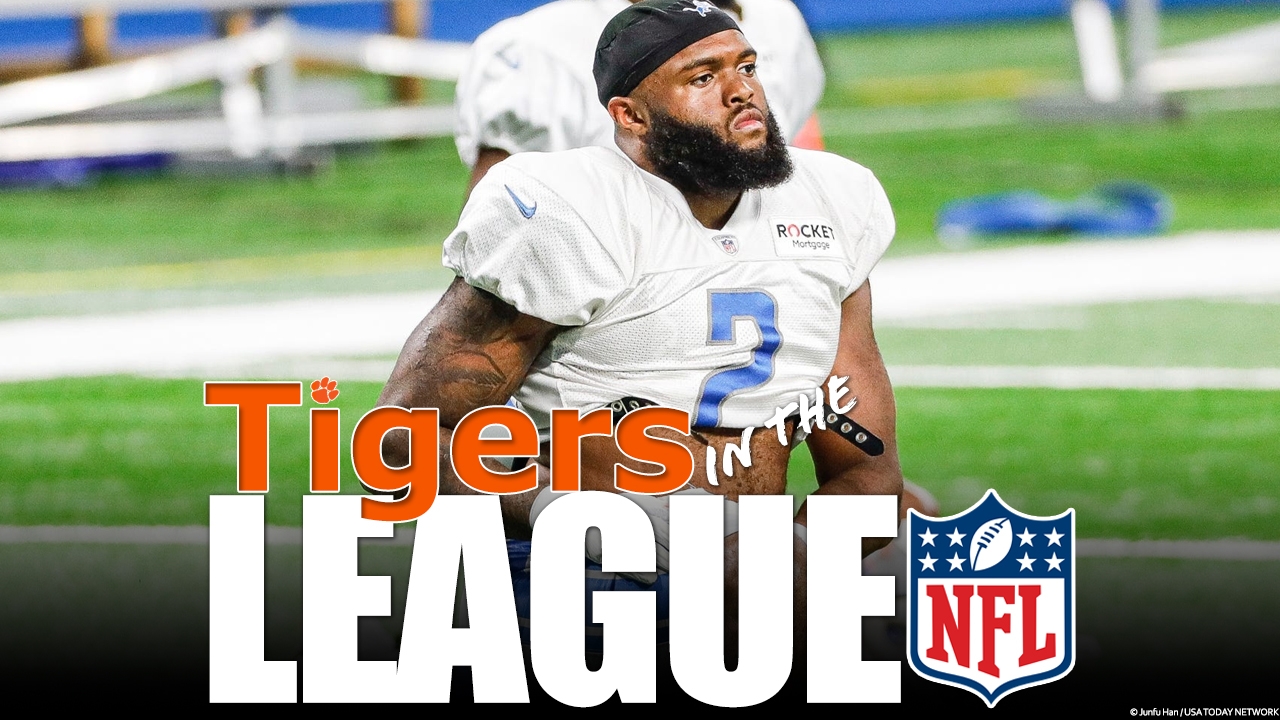 Photo by © Junfu Han / USA TODAY NETWORK
Clemson Football
As the NFL cuts rosters to 53, here's the latest on Clemson Tigers in the league
---

Avoid clickbait and sites bloated with advertising!
---
The NFL preseason came to an end on Sunday. The regular season starts on Thursday, Sept. 8 when Super Bowl Champs, the Los Angeles Rams, takes on the Buffalo Bills but first rosters will be trimmed down from 80 to 53 on Tuesday.
The roster cuts have to be completed by 4:00 p.m. ET. Each team had 90-man rosters and cuts to 85 and 80 occurred on August 16 and August 23, respectively.
So which former Clemson Tigers may be a bit nervous on Tuesday?
Let's first start with the rookies.
Andrew Booth Jr. is the only lock of the five players. The Minnesota Vikings second round pick missed the final game after injuring an ankle in the first half of the second game. According to head coach Kevin O'Connell, the injury was never thought to be serious.
"It was kind of that same ankle, he's kind of dealt with. Sounds like it's a positive thing from a standpoint of, you know, just an aggravation of an injury that we kind of know about already. He's worked his way through that throughout camp and then ultimately what it'll be is just how that thing looks the rest of the week. Early on, we'd love to get him support, obviously throughout this week as we continue to prep. So, we'll see where he's at."
Booth also missed much of the offseason after sports hernia surgery. However, despite his injury, he is expected to be ready for the season opener.
Booth shared All-ACC first-team cornerback honors at Clemson with Mario Goodrich in 2021. Goodrich was not drafted despite the conference accolade and rave reviews at the Senior Bowl in Mobile, AL.
The undrafted free agent is not expected to make the Philadelphia Eagles roster. The best case scenario for him would be to land on the practice squad but that may not be attainable based on reported opinions.
| | |
| --- | --- |
| | Clemson Sports Talk |
Linebacker Baylon Spector had eight tackles on Sunday to finish as the team leader for each preseason contest. The seventh-round selection entered training camp against the odds, sixth and seventh rounders picks have only a 30-35 percent chance of making final cuts, but it appears he will beat the odds and provide depth at linebacker and on special teams.
His "Bruise Brother" James Skalski, who was signed as an undrafted free agent, looks like a practice squad candidate for the Indianapolis Colts. The linebacker accumulated 10 tackles in the three games.
Safety Nolan Turner like Spector was steady throughout camp and even drew two starts in three games.
Did he do enough to earn a spot on the opening day roster?
He likely did but the numbers are just against him. Tampa Bay Buccaneers head coach Todd Bowles said Turner is always where he is supposed to be and called him a 'very smart player.' Starting safety Antoine Winfield Jr. echoed the same when asked about Turner.
"He's very smart, very cerebral," he said during the preseason. "He picked up things fast. He's out there running with the ones, running with us."
The Buccaneers are set with four safeties but could Bowles add a fifth? "Yet to be determined," Bowles told the media at the beginning of this month. "Whether we carry a fifth safety or not depends on how they play on [special] teams, how they come along [and] if we trust them [to] doing the right things."
Turner has spent time on the special teams as well.
The veterans who needed a good camp and preseason were linebacker Tanner Muse, safety K'von Wallace, receivers Cornell Powell and Deon Cain, and defensive end Austin Bryant.
Powell spent his rookie season on the Kansas City Chiefs practice squad and after a consistent camp performance, unfortunately, he's projected to the practice squad again. The Chiefs have revamped their receiving corps, losing Tyreek Hill, Bryon Pringle, and Demarcus Robinson and adding JuJu Smith-Schuster, Justin Watson, and Daurice Fountain.
Schuster, a former Pittsburgh Steeler, will be a starter when fully recovered from a knee injury, and Watson and Fountain have special team value.
After multiple seasons on practice squads, including 2021 with the Eagles, Cain was trending towards a change for 2022. He's been a standout this summer but with the Eagles more vested in Jalen Reagor, a disappointing former first round selection, and others more suitable for special teams snaps, he may be on the outside of the 53-man roster. However, a move or two at receiver via trade, etc could change his fortunes.
Former Clemson safeties Wallace and Muse shared two seasons as starters in college and are heading into questionable third years as professionals.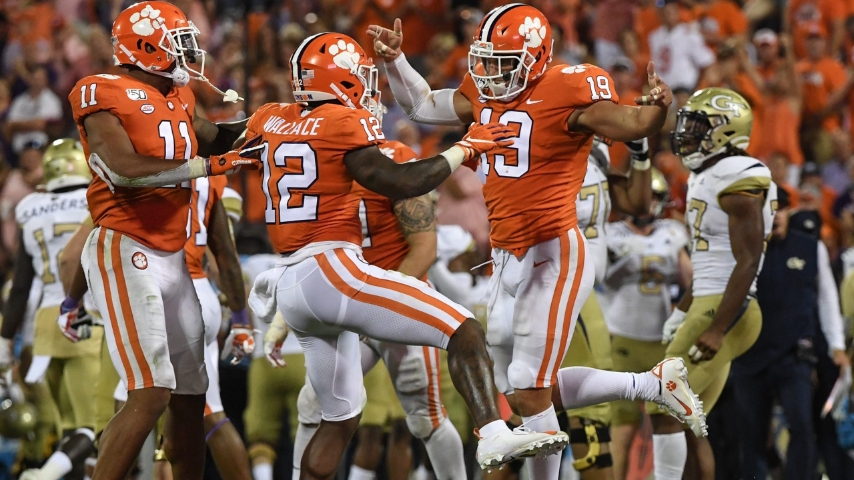 © Ken Ruinard / staff, The Greenville News via Ima
The question for both is not whether they will be on their respective teams – both are expected to be -- but will they remain on game-day rosters.
Wallace's play has been up and down in the NFL. Since being drafted 127th overall (4th round) in 2020 by the Philadelphia Eagles, he has played mostly on special teams. There were also six starts in 18 games.
Muse missed his entire rookie season with a toe injury. The former third-round selection (100th overall) of the Las Vegas Raiders was waived by them on Sept. 6, 2021, and then quickly signed to the practice squad of his current team, the Seattle Seahawks. He was later added to the active roster in December.
The Eagles are too invested in Wallace to let him go despite his uneven summer play while Muse may have played well enough (combined stats of nine tackles and a sack) in the last two preseason games to make the roster.
Neither player is a lock either way.
Bryant was finally healthy last season after battling injuries for two years as a Detroit Lion. The 2019 fourth round, 117th overall selection, missed only three games in 2021 including sitting out the final game. In 14 games, including five starts, he finished with 31 tackles, 4.5 sacks, five tackles for loss, and six quarterback hurries.
In back-to-back starts before sitting out the final game, Bryant averaged three tackles, a sack, and a quarterback hurry. He remained healthy this summer and his momentous play continued through the preseason.
Bryant has been impressive throughout the Lions' camp. In his second preseason game versus Indianapolis, he made four tackles, a sack, and added a quarterback hit, and to conclude the season, he had a tackle for loss and blocked a field goal against the Steelers.
He needed a big offseason, especially with the Lions drafting Michigan defensive end Aidan Hutchinson, the Heisman Trophy runner-up and winner of both the Ted Hendricks and Lombardi awards. In my opinion, Bryant is a lock to make the roster. He wasn't before training camp.
Other players of note:
Wide receiver Justyn Ross (Kansas City) and cornerback Mackensie Alexander (Miami Dolphins) are on injured reserve, which makes them ineligible to play in 2022.
Ross, an undrafted free agent, had foot surgery and Alexander, a seven-year veteran, injured his groin after participating in one preseason game.
Never miss the latest news from Clemson Sports Talk!
Join our free email list