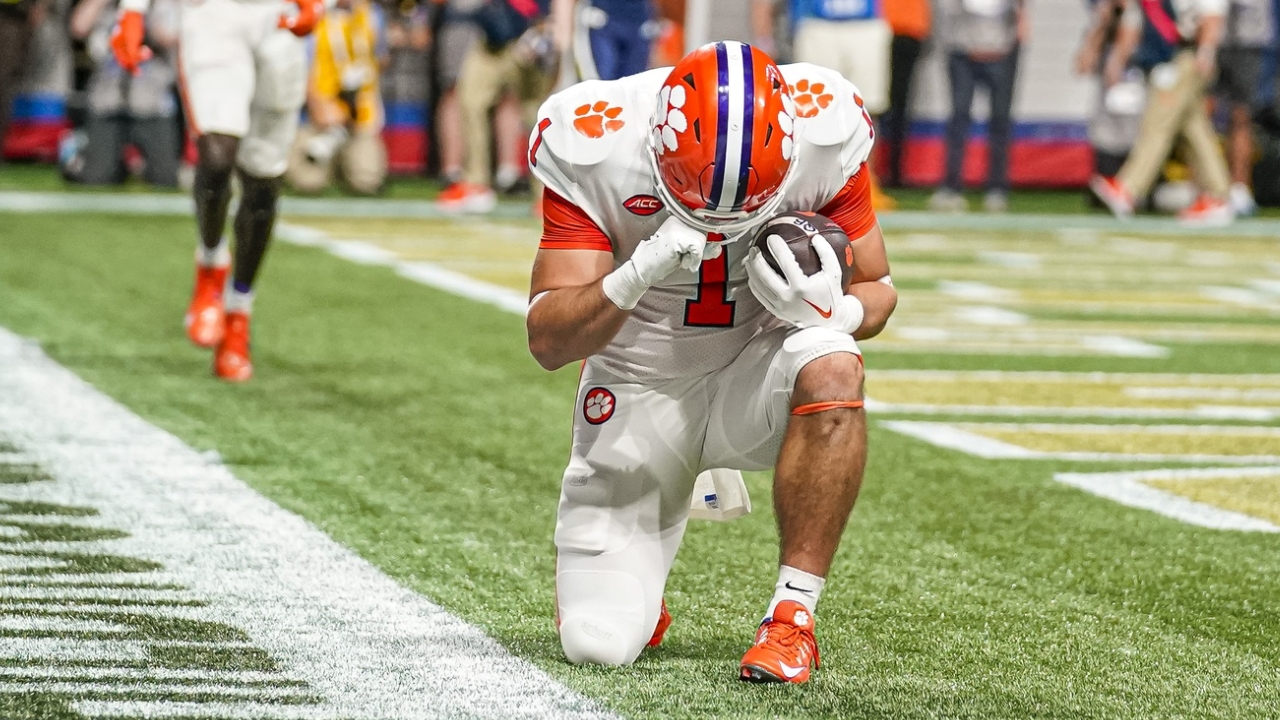 Photo by © Dale Zanine-USA TODAY Sports
Clemson Football
Heard in the Press Box: No. 4 Clemson 41, Georgia Tech 10
---

Avoid clickbait and sites bloated with advertising!
---
The Tigers extended their streak to eight consecutive victories over Georgia Tech after a 41-10 win in Atlanta. Take a sneak peek into the press box to find out what the chatter was during the Tigers' season opener.
Heard in the Press Box:
The first half:
- "GT has kept Shipley under control- and he is what we were most worried about." - Georgia Tech reporter.
- "The Clemson offense has been slow. When they have been at their best under Dabo, they've moved much faster." - Clemson reporter.
- "That was a riveting first half, eh?" (sarcastically stated). - Georgia Tech reporter.
- "The Clemson defense is exactly what we thought it was, which is good. " Clemson reporter.
The second half:
- "The backup quarterback is always a fan favorite." - Clemson reporter.
- "That pass interference call on Georgia Tech was the turning point. If that doesn't give Clemson the first down, Georgia Tech would have gotten the ball down four, with a chance to take the lead in the second half." - Clemson reporter.
- "I'm sure this will be an exciting press conference." (sarcastically stated) - Georgia Tech Reporter.
Rumbled: The Clemson defense opened the season with a strong performance, holding the Yellow Jackets to 238 yards of offense and only 10 points.
The defensive unit opened the night on a good note when Andrew Mukuba snagged his first career interception on the opening play. After that, the Tigers stopped Georgia Tech on five straight possessions before they missed a field goal and came up empty on their sixth drive.
As expected, the defense displayed impressive speed and strong defensive line play. KJ Henry posted the best individual performance of any Clemson defender, with seven tackles, 2.5 tackles for loss, one sack, and one forced fumble in the first three quarters of play. He looked like a drastically improved player and made his mark on the game early and often. If he continues this fast and physical style of play, he will quickly rise on NFL draft boards throughout the season.
Stumbled: Clemson's run game was unimpressive and stagnant at times. The team averaged less than three yards per carry and failed to generate explosive plays. The longest run of the night was 12 yards. The offense overall did not have a play longer than 29 yards in the game. Georgia Tech limited Will Shipley- but the sophomore does deserve credit for scoring two touchdowns in the red zone.
Turning point: With 1:18 remaining in the third quarter, D.J. Uiagalelei‍ dashed nine yards for the touchdown to give Clemson a 24-10 advantage. This play pushed the Tigers to a two-score lead and gave the team crucial momentum heading into the final quarter. After this touchdown, the Tigers would never look back. They followed this drive with a field goal and two touchdowns in the fourth quarter.
Unsung hero(s): The game's unsung heroes are Clemson's punt team. Carson Donnelly blocked a Georgia Tech punt attempt in the first half, and Brannon Specter recovered it. The punt block set Clemson up in opponent territory on a drive that eventually led to the Tiger's first touchdown.
In the second half, Wade Woodaz blocked a punt that Lavonta Bentley recovered. Later in the drive, Will Shipley scored a rushing touchdown that helped the Tigers seal the game.
This is the first time since 2007 that Clemson has blocked multiple punts in one game.
Key stat: Clemson rebounded with a strong effort in the second half after a rough start. The Tigers closed the game on a 27-0 run and moved to 112-0 when they led by more than ten points heading into the fourth quarter under head coach Dabo Swinney.
Scoring Summary:
Second-Quarter:
- 09:53 CLEM - Shipley 1 yd run (29 kick). 7 - 0.
- 03:52 CLEM - Collins 6 yd pass from Uiagalelei (29 kick). 14 - 0.
- 01:15 GT - Kelley 45 yd field goal. 14 - 3.
---
Third-Quarter:
- 09:47 GT - Jenkins 13 yd pass from Sims, J. (Kelley kick), 14 - 10.
- 05:41 CLEM - Potter 29 yd field goal. 17 - 10.
- 01:18 CLEM - Uiagalelei 9 yd run (29 kick). 24 - 10.
---
Fourth-Quarter:
08:45 CLEM - Potter 32 yd field goal. 27 - 10.
- 06:27 CLEM - Shipley 3 yd run (29 kick). 34 - 10.
- 01:35 CLEM - Taylor 3 yd pass from Klubnik (38 kick). 41 - 10.
---
Follow us on Twitter for more on Clemson's win over Georgia Tech: @ClemsonSports.
Never miss the latest news from Clemson Sports Talk!
Join our free email list
PRESENTED BY