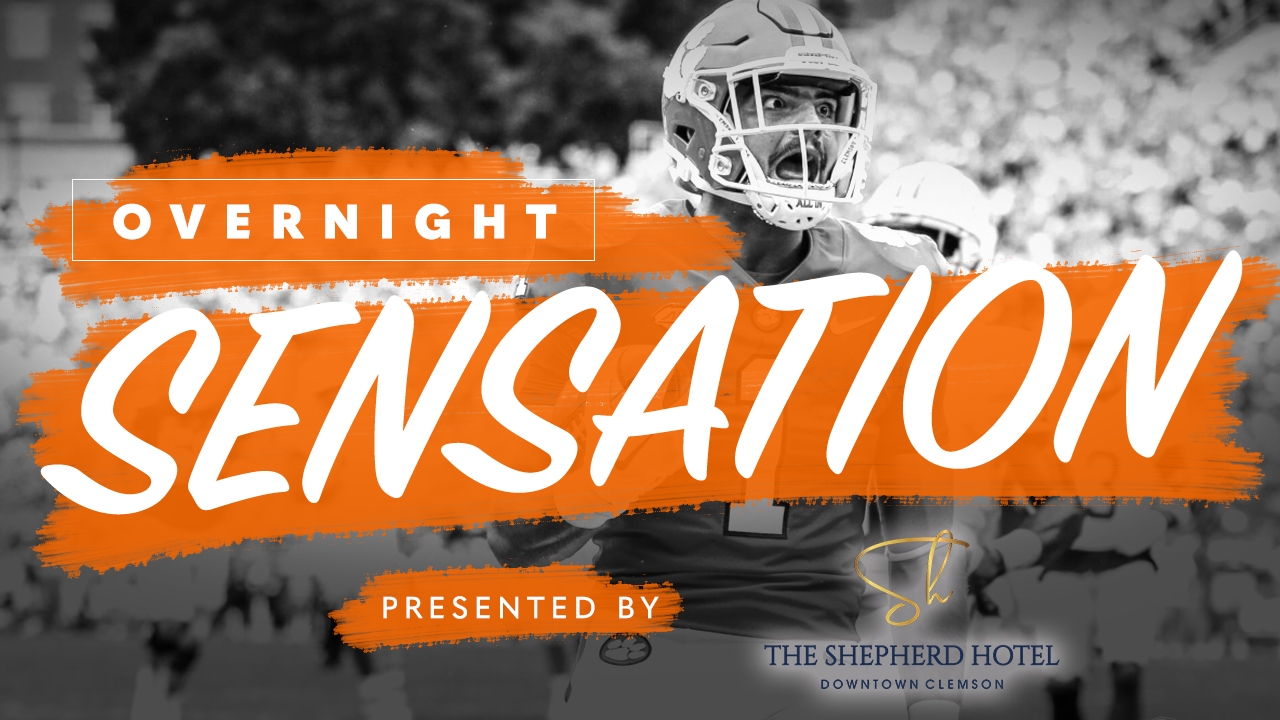 Clemson Football
Overnight Sensation: Will Shipley
---
The Shepherd Hotel Downtown Clemson | Where Southern Hospitality Meets Clemson Family
Welcome to a warm boutique experience in the heart of downtown Clemson. At The Shepherd Hotel, every room is curated for comfort, every event features a backdrop of spectacular views, and every guest is invited to experience the heartfelt hospitality of our team.
---
When in doubt, Will Shipley seems to know how to lead the Tigers to success-- all while making history, and that's why he's our Overnight Sensation this week following Clemson's 48-20 win over La. Tech.
The sophomore running back from Matthews, NC, had an explosive weekend breaking out for 139 yards on just 12 carries and two touchdowns. In doing so, Shipley became the first Clemson running back since 1950 to rush for multiple touchdowns in his first three games of a season.
What was perhaps most impressive was Shipley's 11.6 yards per carry in the contest. The Tigers running game hadn't been a strength this year, possibly saving some tread on the tires for more challenging competition, but when needed this past weekend, Shipley delivered.
The former five-star back became the first Clemson player to average at least 10 yards per carry on at least ten attempts since Travis Etienne accomplished the feat in the 2020 ACC Championship game against Notre Dame.
Clemson offensive coordinator Brandon Streeter took notice of Shipley's capability to have continued success on the offensive side.
"He's an animal. That guy gives 110% every single time he's out there," Streeter said. "He's such a tough, hard-nosed guy, and he has shown through his experience and maturity how he can make all the different types of runs."
In addition to his job on the ground, Shipley added 14 yards on two receptions showcasing his versatility given his limited touches.
"Whether it's zone or counter, just a bunch of different ways to get him the ball whether we're throwing it to him on the screen or a quick bubble pass or something," Streeter said. "I mean, he's just a guy that you can depend on."
In a post-game interview, Shipley commented on how he thinks the 2022 Tigers have been performing-- and he assesses that it's far from perfect.
"We've got things to clean up, but it's things that you can watch the film, and if you're coachable, you can get in practice and get ready for the game on Saturday," Shipley noted. "I believe that's what it comes down to is being coachable. I think we've got a bunch of guys on the offense who want to learn and get better throughout the year. So, I'm very comfortable with where we are right now."
Up next, No. 5 Clemson heads to No. 18 Wake Forest this upcoming Saturday at noon on ABC. Who will become our Overnight Sensation next week? Stay locked on ClemsonSportsTalk.com to find out!
Never miss the latest news from Clemson Sports Talk!
Join our free email list