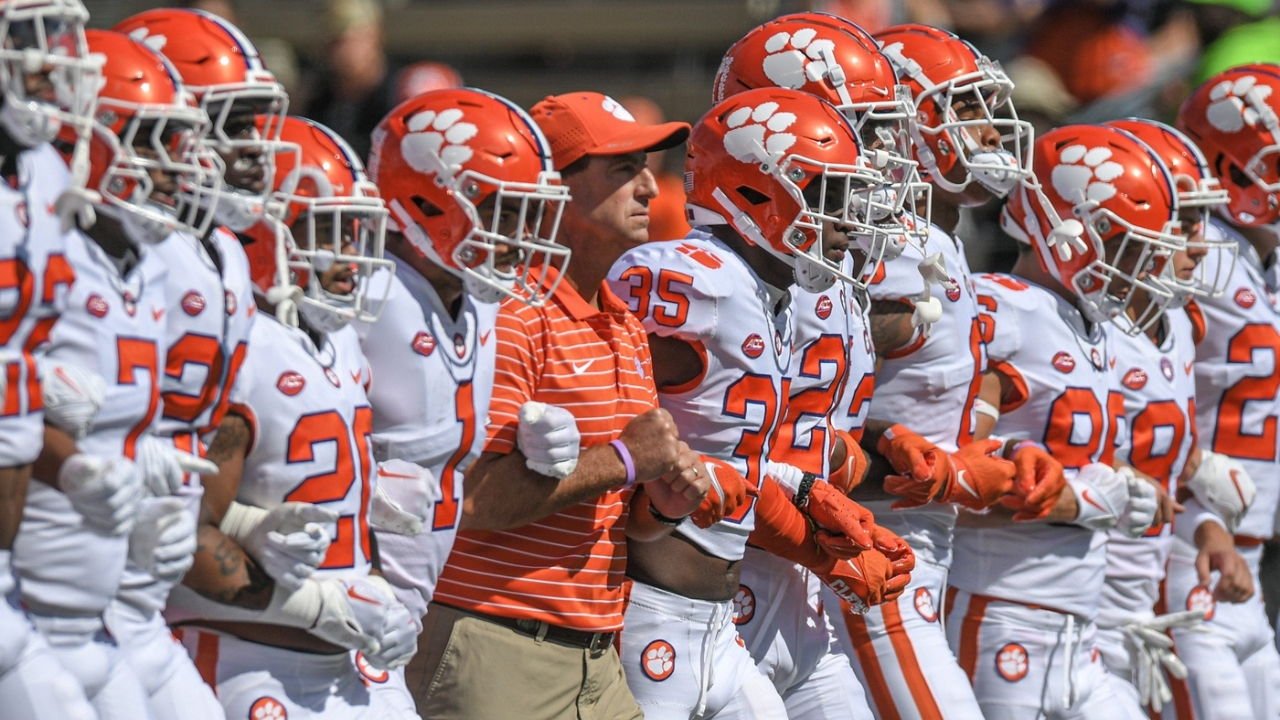 Photo by © Ken Ruinard / staff / USA TODAY NETWORK
Clemson Football
With the Win: No. 5 Clemson 51, No. 21 Wake Forest 45 (2OT)
---
Clemson won its 10th consecutive game to extend the nation's longest active winning streak.
Clemson posted the 11th winning streak of 10 or more games in program history and its first since its school-record 29-game winning streak across the 2018-19 seasons.
Clemson improved to 70-17-1 all-time against Wake Forest. Wake Forest became the second opponent against which Clemson has won 70 games all-time, including its 72 all-time wins against South Carolina.
Clemson won its 14th consecutive game against Wake Forest, dating to 2009. It marks Clemson's second 14-game winning streak in series history, trailing a 15-game streak from 1977-91.
Clemson extended its longest active winning streak against an ACC foe (14 straight vs. Wake Forest).
Clemson defeated an ACC Atlantic Division opponent for the 43rd time in its last 45 opportunities. Those figures include games against traditional Atlantic opponents in a divisionless season in 2020.
Clemson improved to 32-4 in true road games since 2015.
Clemson earned its seventh straight road victory against Wake Forest, dating to 2010. Clemson's last loss in Winston-Salem came in 2008, leading to Dabo Swinney being named Clemson's Interim Head Coach four days later.
Clemson has now recorded a seven-game road winning streak against a single opponent for the sixth time in school history. It matches Clemson's seven-game streak at South Carolina from 1934-40 for the fifth-longest road winning streak in school history.
Clemson improved to 25-7 against AP Top 25 teams since 2015.
Clemson improved to 29-1 all-time against Wake Forest in games in which the Tigers are ranked in the AP Top 25. Clemson's only loss to Wake Forest while ranked was in 1945. Ranked Clemson teams have now won 29 consecutive games against the Demon Deacons spanning the 1948-2022 seasons.
Head Coach Dabo Swinney improved to 14-0 as a head coach against Wake Forest. Wake Forest is one of five ACC schools against which Swinney is undefeated as head coach, a list that also includes Duke (3-0), Louisville (7-0), Virginia (5-0) and Virginia Tech (6-0).
The win was Swinney's 100th against ACC competition. He is now 93-19 against ACC teams in regular season play and 7-1 in ACC Championship Games.
Swinney improved to 33-3 all-time against teams from the state of North Carolina. The victory was his 26th win against a North Carolina-based team in his last 27 opportunities since 2012.
Clemson led 20-14 at halftime. The Tigers have now won 100 of its last 102 games, including each of their last 63, when leading at halftime.
Clemson is now 58-2 when having a 100-yard rusher since 2011.
Clemson improved to 29-2 in September games since 2015.
The victory evened Clemson at 8-8 in overtime games all-time and represented Clemson's third overtime win under Dabo Swinney.
Clemson earned its first overtime victory since Oct. 15, 2016, a 24-17 win against NC State.
Clemson is now 33-7 in one-possession games since 2011, the highest winning percentage in the country in one-score games in that span (82.5 percent).
Never miss the latest news from Clemson Sports Talk!
Join our free email list