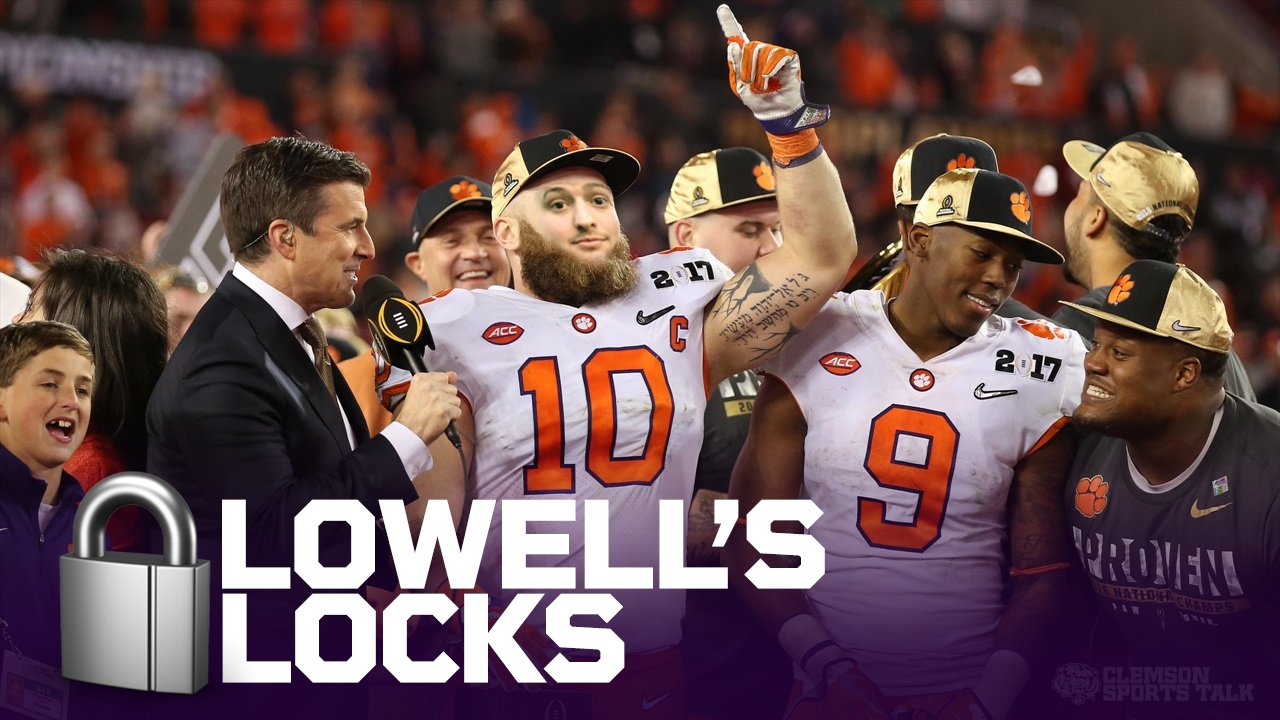 Clemson Football
Lowell's Locks: Week Five
---

Feel the difference - The MOST DIGITAL CONTENT covering your CLEMSON TIGERS! Avoid clickbait and sites bloated with advertising! Support a 100% Clemson-owned business.
---
It's now been three straight 3-3 weeks, and something has to give. There was some unfortunate luck in the Clemson-Wake game as Clemson could not get a two points conversion in double OT to cover the -7, Tennessee allowed a late touchdown to Florida to ruin their -10.5, and USC struggled to put away Oregon State, just missing the -5.5. Kansas, Arkansas, and South Carolina managed to salvage the day for me. I have a good feeling about this week, so let's go!
(Disclaimer: This article was written prior to South Carolina moving their game up to Thursday from Saturday. The pick of South Carolina -38 is accurate.)
Saturday, October 1st
#4 Michigan (-10.5) at Iowa:
This is one of those games where I would advise you to also take the under. This should be a low-scoring slobber knocker. The Wolverines have the better offense by far but haven't faced a defense like Iowa's. As good as the Iowa defense is-- the offense is equally bad. Michigan doesn't turn the ball over, and that's what Iowa thrives on (and where most of their points come from). Expect Michigan to pound away and pull away late for the cover.
Lowell's Lock: Michigan covers -10.5
#2 Alabama (-17) at #20 Arkansas:
This one is a tough call, but that's why I make the big bucks. KJ Jefferson and the Hogs offense should be able to do enough to hang around and make this thing interesting for a while, but it's hard to trust one of the nation's worst pass defenses. Expect Bryce Young to hit on enough big plays and to put this on ice in the second half.
Lowell's Lock: Alabama covers -17
#22 Wake Forest at #23 Florida State (-7):
This one should be fun. I'm not sure if either team can stop the other. Hartman was absolutely on fire against the Clemson defense last week, and I don't expect that to change here. I'm not sure Jordan Travis can keep up with Hartman through the air, but the Seminoles do have a significant ground advantage and ability to control the clock. Expect a late, time-consuming drive from the Seminoles to potentially to the lead, but expect the Deacs to cover.
Lowell's Lock: Wake Forest covers +7
#7 Kentucky at #14 Ole Miss (-6.5):
The second of three 4-0 vs. 4-0 games on this list, this is a battle of who's running game can come through the most. The Ole Miss defense has been improved, but consider the competition. Kentucky is getting their stud Chris Rodriguez back in the backfield this week following a suspension, and I expect him to help the Wildcats tremendously in this one. I don't, however, see this being more than a touchdown game in either direction.
Lowell's Lock: Kentucky covers +6.5
SC State at South Carolina (-38):
For the second straight week, the Gamecocks get a tuneup. Expect the Gamecocks to sling it around to continue to try to work out the kinks with Rattler, and a hapless SC State won't have much of an answer. The real schedule for the Gamecocks begins next week at Kentucky.
Lowell's Lock: South Carolina covers -38
#10 NC State at #5 Clemson (-7):
It's been a while since Clemson got to host a game of this magnitude in Death Valley. Sure, the Hurricanes in 2020 were ranked #7, but no one really believed in them as being that good, and the COVID restrictions killed the crowd. That issue won't exist this week, with a sold-out crowd and college gameday on hand.
The Wolfpack have been, in a word, underwhelming on the offensive side of the ball this season. They're averaging just 36 PPG against a schedule that features ECU, Charleston Southern, Texas Tech, and UCONN. That average is with them putting up 55 on Charleston Southern. The Tigers, for their part, are in the top 15 in the country in scoring, putting up 43.8 PPG, including scoring 51 at Wake Forest last week.
On the defensive side of the ball, the Tigers have had struggles. They do rank 8th in rushing defense but are all the way down at 108 in passing defense. Whether that is due to injuries or not does not matter-- and is something defensive coordinator Wes Goodwin will need to get right this week against State quarterback Devin Leary. The Wolfpack have been good defensively, ranking in the top 10 in rushing defense and top 25 in passing defense, but they haven't faced anyone that will stress them like the Tigers will.
This one may come down to special teams, where the Tigers have one of the best weapons in the country at kicker in BT Potter. Neither team is stellar at punting, but the Tigers have blocked a couple of punts this season.
With everything on the line, plus the Tigers having this circled as a revenge game, expect Clemson to come out fired up and take care of business under the lights. A rare score prediction: 31-20 Clemson.
Lowell's Lock: Clemson covers -7
Lowell's Locks

Weekly Results
Season Results
Week 1
4-2
4-2
Week 2
3-3
7-5
Week 3
3-3
10-8
Week 4
3-3
13-11
Week 5
Week 6
Week 7
Week 8
Week 9
Week 10
Week 11
Week 12
Never miss the latest news from Clemson Sports Talk!
Join our free email list