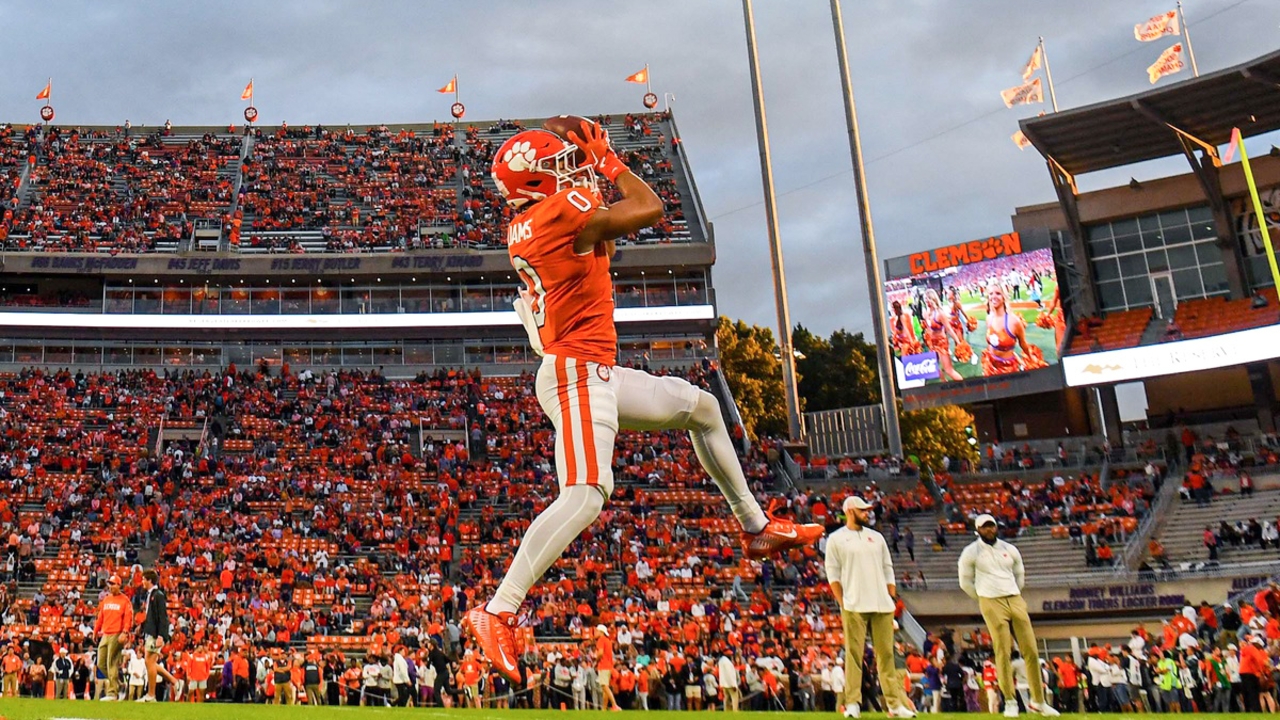 Photo by © Ken Ruinard / staff / USA TODAY NETWORK
Clemson Football
Keys to Victory: No. 5 Clemson vs. No. 14 Syracuse
---

Feel the difference - The MOST DIGITAL CONTENT covering your CLEMSON TIGERS! Avoid clickbait and sites bloated with advertising! Subscribe to our site and YouTube Channel today!
---
Each week we review the game's history, three keys to success, and Swanny's prediction.
The Match-Up:
No. 5 Clemson (7-0, 5-0 ACC) vs. Syracuse (6-0, 3-0 ACC)
For the first time in the 81-season history of Memorial Stadium, Clemson will host a matchup of two undefeated teams with records of 6-0 or better when the No. 5 Tigers (7-0) host the No. 14 Syracuse Orange (6-0) on Saturday, Oct. 22. After three straight weeks in the ABC prime-time window, kickoff on ABC at Death Valley this Saturday is set for noon ET.
Clemson vs. Syracuse (2021)
Series History:
OVERALL: Clemson leads series, 8-2
HOME: Clemson leads series, 4-0
ROAD: Clemson leads series, 4-1
NEUTRAL: Clemson trails series, 0-1
LAST MEETING: Oct. 15, 2021 (17-14, W)
STREAK: Clemson, Won 4
Roster:
Clemson's roster will be put out two hours before kickoff. We will update this article when it's released.
Stat of the Week:
Clemson is in search of its fifth victory this season against teams that enter games with no losses, including wins against 0-0 Georgia Tech, 1-0 Furman, 3-0 Wake Forest and 4-0 NC State. The 2022 squad would join national championship squads from 2016 and 2018 as the only teams in school history to earn at least five wins against teams with no losses and no ties. Clemson was 5-0 against undefeated teams in 2016 (0-0 Auburn, 1-0 Troy, 3-0 Georgia Tech, 4-0 Louisville and 14-0 Alabama) and 7-0 against undefeated teams in 2018 (0-0 Furman, 1-0 Texas A&M, 2-0 Georgia Southern, 4-0 Syracuse, 5-0 NC State, 12-0 Notre Dame and 14-0 Alabama).
Chasing History:
Clemson enters the game on a 37-game home winning streak and will attempt to take sole possession of the longest home winning streak in ACC history, as a win would allow the Tigers to surpass the Florida State Seminoles' 37-game streak from 1992-2001. Clemson would tie the 1919-27 Notre Dame Fighting Irish (38) for the 10th-longest home-winning streak in FBS history. Those Irish teams, under the guidance of College Football Hall of Famer Knute Rockne, were a combined 78-7-3 at all venues in the seasons comprising that streak.
Key 1: Combo Busters
This Syracuse duo of QB Garrett Shrader and RB Sean Tucker is as legit a combo as the Tigers have faced this season. While the Orange haven't faced the stiffest competition thus far, including five of six games being played at home, the Tigers will have to handle business on the defensive side of the football in order to slow the talented duo.
Shrader, a Mississippi State transfer, has matured in his two seasons at Syracuse and enters the game with 1434 yards passing along with 12 TDs and three interceptions. If there were an award for the most improved quarterback in the ACC, he'd be in the mix along with D.J. Uiagalelei-- there is no doubt about that.
As for Tucker, he's a workhorse, similar to Will Shipley in his style of play. Tucker's racked up 6 TDs and 644 yards so far, and I'd expect the Orange to 'juice' the clock as much as possible by keeping the ball on the ground.
Key 2: Blow the Roof Off
Clemson's offense is loaded with playmakers, but they've yet to really put together a complete game on offense. The Wake Forest battle was close, but even still, the fluidity Tiger fans are accustomed to seeing hasn't existed since Trevor Lawrence departed for the NFL>
As the Tigers enter the back end of the schedule, it's becoming more and more important that they begin to look like a championship team-- and while racking up a 7-0 record isn't easy-- they simply haven't looked the part.
The offensive line is coming together in both the rushing and passing game, which is significant given the issues they had last season. With a huge size advantage, they should win the trenches, open up gaps and allow Uiagalelei and crew plenty of opportunities to strike.
This afternoon, Clemson's offense needs to deliver early and often, showcasing themselves on the scoreboard as a Top 5 team.
Key 3: Don't Let Up
What would have been an impressive win at Florida State slipped through Clemson's fingers-- literally-- as 24 missed tackles littered a less-than-stellar defensive performance after taking a commanding lead.
Clemson's got an opportunity to beat a Top 15 team to a pulp on national television, and to be honest; they need a performance like that.
The Tigers need to start looking the part, and even if they get up big, I think they need to put the pedal to the metal. It's time for both sides of the ball to start looking elite and elite teams put teams away-- then steal their will to fight. This group hasn't done that yet, and they need to.
Prediction:
Color me impressed that Syracuse made it this far unblemished. I've said it all week, if you had asked me in Charlotte at The ACC Kickoff to predict a coach that would be fired this year in the Atlantic Coast Conference, Dino Babers would have topped my list, but here we are.
While Clemson is the far superior team, Babers' teams have found a way to a testy bunch for the Tigers over the years. A part of that comes down to his belief in discipline and the military mindset that was instilled in him as a young man. Those characteristics are the reason the Orange will believe they can enter Death Valley and walk out with a win.
As for the Tigers, this could have easily been a game they'd look past, but with a zero in the loss column, Syracuse should have Clemson's attention. If Dabo Swinney's crew plays up to their standard, this one won't be close.
Clemson 43, Syracuse 13
Swanny's Predictions:
Date
2022 Schedule Predictions
Swanny's Prediction
Actual Score
✅ or

❌

9-5-2022
No. 4 Clemson @ Georgia Tech
31-14 Clemson
41-10 Clemson
✅
9-10-2022
No. 4 Clemson vs. Furman
55-7 Clemson
35-12 Clemson
✅
9-17-2022
No. 4 Clemson vs. La. Tech
38-13 Clemson
48-20 Clemson
✅
9-24-2022
No. 5 Clemson @ No. 21 Wake Fores
38-17 Clemson

51-45 Clemson (2OT)

✅
10-1-2022
No. 5 Clemson vs. No. 10 NC State
34-20 Clemson
30-20 Clemson
✅
10-8-2022
No. 5 Clemson at Boston College
42-17 Clemson
31-3 Clemson
✅
10-15-2022
No. 4 Clemson at Florida State
34-14 Clemson
34-28 Clemson
✅
10-22-2022
No. 5 Clemson vs. No. 14 Syracuse
43-13 Clemson
❓
❓
*Correct predictions in bold
Never miss the latest news from Clemson Sports Talk!
Join our free email list