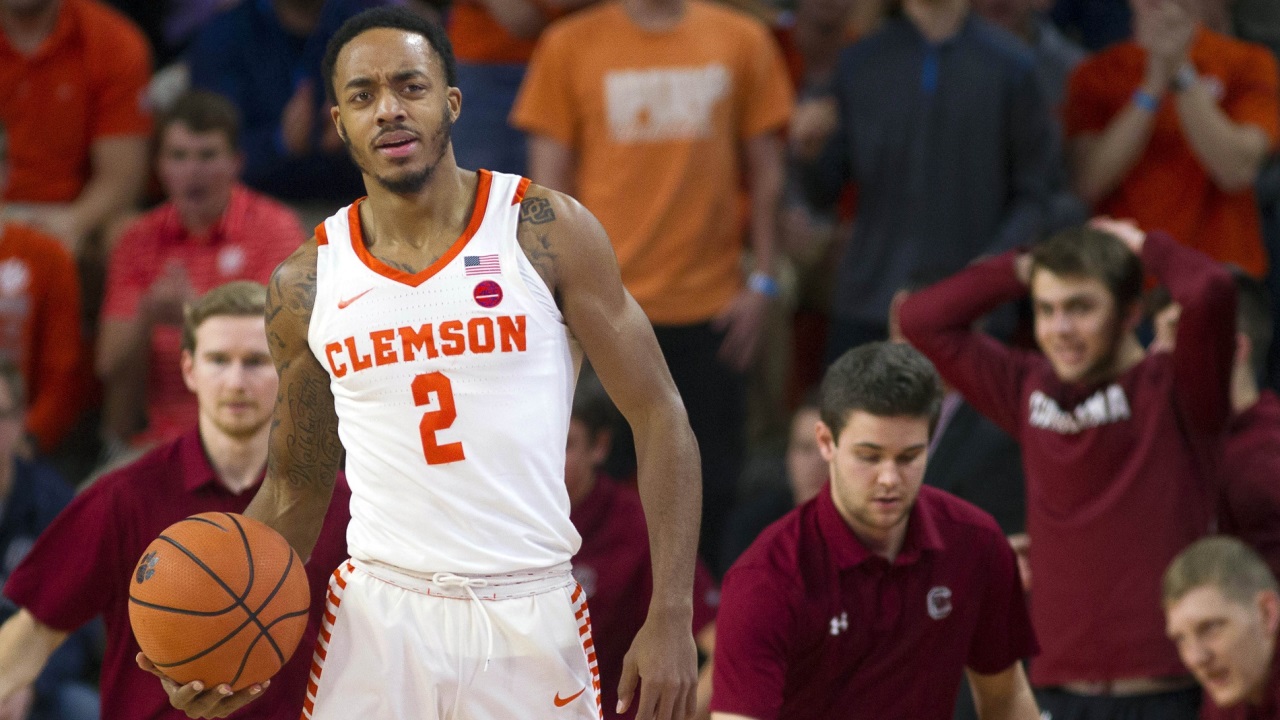 Photo by © Joshua S. Kelly-USA TODAY Sports
Clemson Basketball
From Overlooked to Leading Scorer: The Story of Marcquise Reed
---
Join Clemson Sports Talk today for just $1. Be a part of the only Clemson website with a two-hour daily radio show (Monday-Friday) dedicated to the Tigers. Enjoy enhanced coverage of your Clemson Tigers, plus the best look and feel of any Clemson website on your mobile device.
---
In 2014, Brad Brownell and the Clemson coaching staff brought in two recruits: a four-star small forward Donte Grantham, and the ninth-ranked player in the state of North Carolina, Gabe DeVoe.
While Grantham and DeVoe had four and three stars respectively, Marcquise Reed was not even ranked nationally. A 6'3 shooting guard, weighing 180 pounds soaking wet, possessed electric speed and great athleticism but only received one college offer.
© Steve Mitchell-USA TODAY Sports
As a senior at Capitol Christian Academy, Reed averaged 31.2 points and 4.6 rebounds per game. Five times his senior season, he notched 40 points or more.
Everyone in college basketball overlooked Reed, except for Robert Morris University.
In just his second career game, Reed began to make his mark, dropping 24 points in Chapel Hill against North Carolina. Reed displayed his explosive athletic ability, proving that he could play at an elite level against ACC competition.
In his first and only season with the Colonials, Reed appeared in 35 games, averaging 15.1 points and shooting 49% from the field and 41% from beyond the arc.
In his first and only season with the Colonials, Reed appeared in 35 games, averaging 15.1 points and shooting 49% from the field and 41% from beyond the arc.
To go along with his sensational shooting, Reed totaled 67 steals. He also delivered in clutch situations and shot 78% from the line. Reed's scoring, shooting, and defensive efforts earned him the Northeast Conference's Rookie of the Year award.
It was his performance against Brad Brownell's team that drew interest from Clemson.
On December 30th, 2014 facing off against the Tigers, Reed tallied 21 points, shooting 9-14 from the floor in a 64-57 losing effort.
Reed played well for the remainder of that season, lifting Robert Morris to an NCAA tournament berth.
He totaled 19 points in a "First-Four" win before facing off against another member of the ACC's elite, No. 1 seed Duke. Coach Mike Krzyzewski's squad went on win the national title, but not before Reed posted 22 points against the Blue Devils.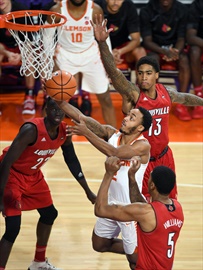 © Bart Boatwright-USA TODAY Sports
Following his freshman year, Reed wanted a change of scenery and Brownell welcomed him with open arms.
The guard left Robert Morris for Clemson and sat out the 2015-16 season due to NCAA transfer rules.
Last season, Reed averaged 9.5 points and 2.4 rebounds per game while shooting over 43 percent from both the field and beyond the arc. Reed was in the right place, yet veteran guards like Avry Holmes limited his opportunities.
Coming into this season, Brownell had a promising team returning, but the losses of Holmes, Sidy Djitte, and the versatile Jaron Blossomgame were problematic.
The Tigers returned Shelton Mitchell, Grantham, and DeVoe who came in during the 2014 season. Plus, a more experienced Elijah Thomas gave Clemson a big presence in the middle.
Opening up the offense and playing "small ball" has allowed a more mature Reed to be a catalyst for Clemson's success.
Now the shooting guard from Upper Marlboro, Maryland that none of basketball's top tier programs wanted is playing on a top 25 team in the Atlantic Coast Conference.
Clemson (14-1, 3-0) is rolling and Reed, a redshirt junior, has been a driving force behind the Tiger's ten consecutive wins. He's averaging a team-high 15.9 points along with 4.6 rebounds to pair with 47 assists and 26 steals.
Reed's free-throw shooting is what sets him apart from other players in clutch situations.
Clemson has a long history of shooting poorly from the line. Free throws win and lose close games, and Reed has hit 59-70 from the charity stripe, an 84% average. While some avoid the ball late in games, Reed wants the chance to deliver victory.
With a slew of tough ACC games ahead, Coach Brownell and staff will count on the kid that almost every team in America counted out.
Never miss the latest news from Clemson Sports Talk!
Join our free email list