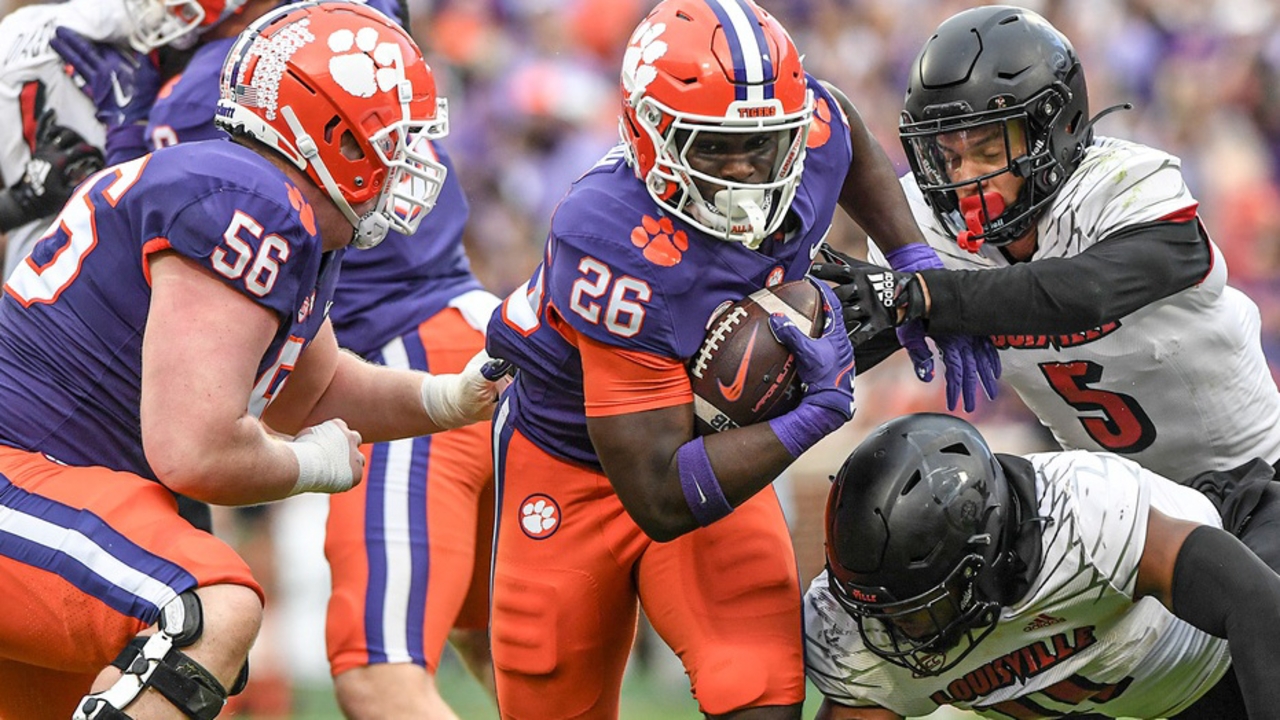 Photo by © Ken Ruinard-USA TODAY Sports
Clemson Football
Heard in the Press Box: Clemson 31, Louisville 16
---
The Tigers improved to 9-1 after a 31-16 win over Louisville in Death Valley. Take a sneak peek into the press box to find out what the chatter was during the Tigers' season opener.
Heard in the Press Box:
- "It's been a sloppy game. Clemson didn't earn any style points tonight." – Clemson reporter.
- "It felt like the Furman or Louisiana Tech game. Clemson was always in control; they were always going to win. But it dragged at times." - Clemson reporter.
- "I don't think we've seen Clemson play a four-quarter game all season. But they did enough to win again at home." - Clemson reporter.
Rumbled: With Trenton Simpson out for the game, Clemson's linebacker group stepped up in grand fashion. Jeremiah Trotter Jr. had a dozen tackles and a forced fumble, while Barrett Carter played his best game of the season. Carter had eight tackles, a pass breakup, two sacks, and an interception.
Carter is a former five-star recruit from North Gwinnett High School in Georgia. After showing flashes of potential in his freshman year, Carter is enjoying a breakout in his sophomore season. His game speed and relentless approach make him stand out as one of the top linebackers in the ACC- and a likely NFL draft prospect after the 2023 season, when he will first be eligible for the draft.
Stumbled: Clemson's offense produced another +30-point performance, but it wasn't pretty. The team lost three fumbles, the play calling was vanilla at times, and Clemson got stuck in long third-down situations throughout the game.
The team did not fare well on third downs and converted just four of thirteen opportunities- a worse clip than they posted against Notre Dame. The Tigers have been 13-39 on third downs in the past three games (Syracuse, Notre Dame, and Louisville). It's a mark that must improve for the Tigers to beat quality opponents down the stretch.
Key moment: This one is easy- the Will Shipley hurdle is a Clemson play-of-the-year candidate. If you somehow haven't seen it yet, here you go:
Unsung hero: In the absence of Kobe Pace, sophomore running back Phil Mafah has stepped up for the Tigers. In the fourth quarter, he scored the game-sealing touchdown to put Clemson up 31-10. Mafah picked up his first +100 rushing game in his collegiate career and has run for +90 yards in back-to-back home games. The tandem of Shipley and Mafah is intriguing, with Mafah serving as the "bruiser" in the offense. While his touchdown run was a significant moment in the game, this run might have been even more impressive:
Key stat: Clemson's defense has been a driving factor behind the team's success this season. The unit has recorded 79 tackles for loss this year, which is fifth in the nation. The squad's ability to push teams behind the chains was displayed against Louisville when the Tigers wracked up four sacks and nine tackles for loss.
Never miss the latest news from Clemson Sports Talk!
Join our free email list