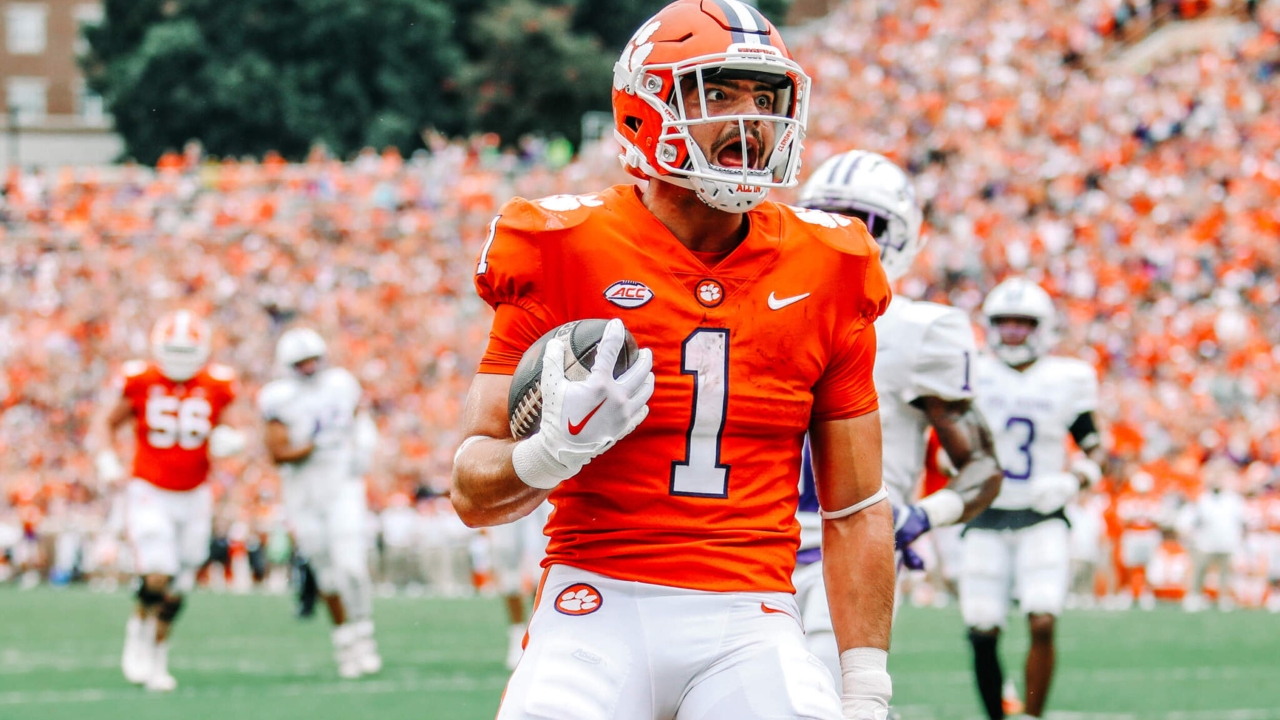 Photo by ClemsonTigers.com
Clemson Football
Keys to Victory: No. 9 Clemson vs. Miami
---

---
Each week we review the game's history, three keys to success, and Swanny's prediction.
The Match-Up:
No. 9 Clemson (9-1, 7-0 ACC) vs. Miami (5-5, 3-3)
Clemson is attempting to win its 40th consecutive home game to extend the longest home-winning streak in ACC history. No member of Clemson's roster has lost a home game at Clemson in their careers. The Tigers are attempting to tie the 1907-18 Notre Dame Fighting Irish for the eighth-longest home-winning streak in FBS history.
Clemson vs. Miami (2020)
Series History:
OVERALL: Series is tied, 6-6
HOME: Clemson trails series, 1-2
ROAD: Clemson leads series, 4-3
NEUTRAL: Series is tied, 1-1
LAST MEETING: Oct. 10, 2020 (42-17, W)
STREAK: Clemson, Won 3
Friday's Radio Show:
Roster:
We will post players who are out once they are released to the media a few hours before kickoff.
Stat of the Week:
A win Saturday would allow the Tigers to finish regular season conference play with a perfect ACC record for the ninth time in program history, joining 1967 (6- 0), 1978 (6-0), 1981 (6-0), 1982 (6-0), 1983 (7-0), 2015 (8-0), 2018 (8-0) and 2019 (8-0) seasons.
Chasing History:
Clemson attempting to win ten games for a school-record 12th consecutive season. Clemson is presently one of three FBS programs ever to post 11 consecutive 10-win seasons alongside Florida State (14 from 1987- 2000) and Alabama (14 from 2008-21). Clemson is already the only school to win ten games in double-digit consecutive seasons as a member of the ACC, as only the final nine of Florida State's 14-straight 10-win seasons came during the Seminoles' tenure in the ACC.
Key 1: Depth Perception
This game should be a showcase of how far this matchup has shifted since the Hurricanes joined the ACC. Looking back on their arrival in 2004, the thought was that Miami and FSU would cruise to the ACC Championship year in and year out. Instead, the Hurricanes have made just one visit, and Clemson has become the preeminent favorite each season in the Atlantic.
With the Tigers emerging, they rocketed past Miami, including a 58-0 shellacking, getting Al Golden fired, and showcasing the difference in talent seven seasons ago. That gap, presumably, has grown, and even in a year where Clemson hasn't played as well as expected, they've recruited better and are deeper than the Hurricanes at every position.
Key 2: Rush to the Top
Clemson's dynamic due at running back, Will Shipley and Phil Mafah, have become a formidable punch for the Tiger offense as the season winds down. Certainly, seeing Kobe Pace in uniform last weekend was a nice bonus-- and any carries he can give the team down the road will be helpful-- keeping some tread on the tires of the group.
It's my belief that Clemson's offense is stronger when they can establish the run, and there is a relentlessness to the style that both Shipley and Mafah bring to the table every week. If the Tigers can get those two going again on Saturday, it should be a long day for the Hurricanes in Death Valley.
Key 3: Defensive Points
This Clemson defense is ripe to put up points on a pick-six of a fumble return. Earlier this year, I predicted that Nate Wiggins would have an interception return for a score this season-- and I'm running out of weeks.
Miami has been a mess at quarterback this year, as Tyler Van Dyke was benched and has now returned, even if his starting status today is up in the air. Backup Jacurri Brown could ultimately get the majority of snaps today, but either way, I believe the Tigers will be on their toes to pounce on an errant pass this afternoon.
If Wes Goodwin's group can add to the point total, Clemson should eclipse the 40-point mark against the Hurricanes.
Prediction:
Dabo Swinney faces the 5th consecutive head coach at Miami in his tenure facing Randy Shannon in 2009 and 2010, Al Golden in 2016, Mark Richt in 2018, Manny Diaz in 2020, and Mario Cristobal this afternoon. That stat alone should give you some idea as to why Clemson is where they are nationally and the Hurricanes, a program with five national titles since 1983, are .500 and in the midst of a major rebuild.
The Tigers have been one of the most steady teams in CFB, and the Hurricanes are, much like their mascot-- a whirlwind, helping expand the gap between these two teams.
That gap shows up today, and Clemson cruises into the final game of the regular season.
Clemson 38, Miami 13
Swanny's Predictions:
Date
2022 Schedule Predictions
Swanny's Prediction
Actual Score
✅ or

❌

9-5-2022
No. 4 Clemson @ Georgia Tech
31-14 Clemson
41-10 Clemson
✅
9-10-2022
No. 4 Clemson vs. Furman
55-7 Clemson
35-12 Clemson
✅
9-17-2022
No. 4 Clemson vs. La. Tech
38-13 Clemson
48-20 Clemson
✅
9-24-2022
No. 5 Clemson @ No. 21 Wake Fores
38-17 Clemson

51-45 Clemson (2OT)

✅
10-1-2022
No. 5 Clemson vs. No. 10 NC State
34-20 Clemson
30-20 Clemson
✅
10-8-2022
No. 5 Clemson at Boston College
42-17 Clemson
31-3 Clemson
✅
10-15-2022
No. 4 Clemson at Florida State
34-14 Clemson
34-28 Clemson
✅
10-22-2022
No. 5 Clemson vs. No. 14 Syracuse
43-13 Clemson
27-21 Clemson
✅
11-5-2022
No. 4 Clemson at Notre Dame
31-14 Clemson
35-14 Notre Dame
❌
11-12-2022
No. 10 Clemson vs. Louisville
31-17 Clemson
31-16 Clemson
✅
11-19-2022
No. 9 Clemson vs. Miami
38-13 Clemson
❓
✅ = Correct Prediction
Never miss the latest news from Clemson Sports Talk!
Join our free email list