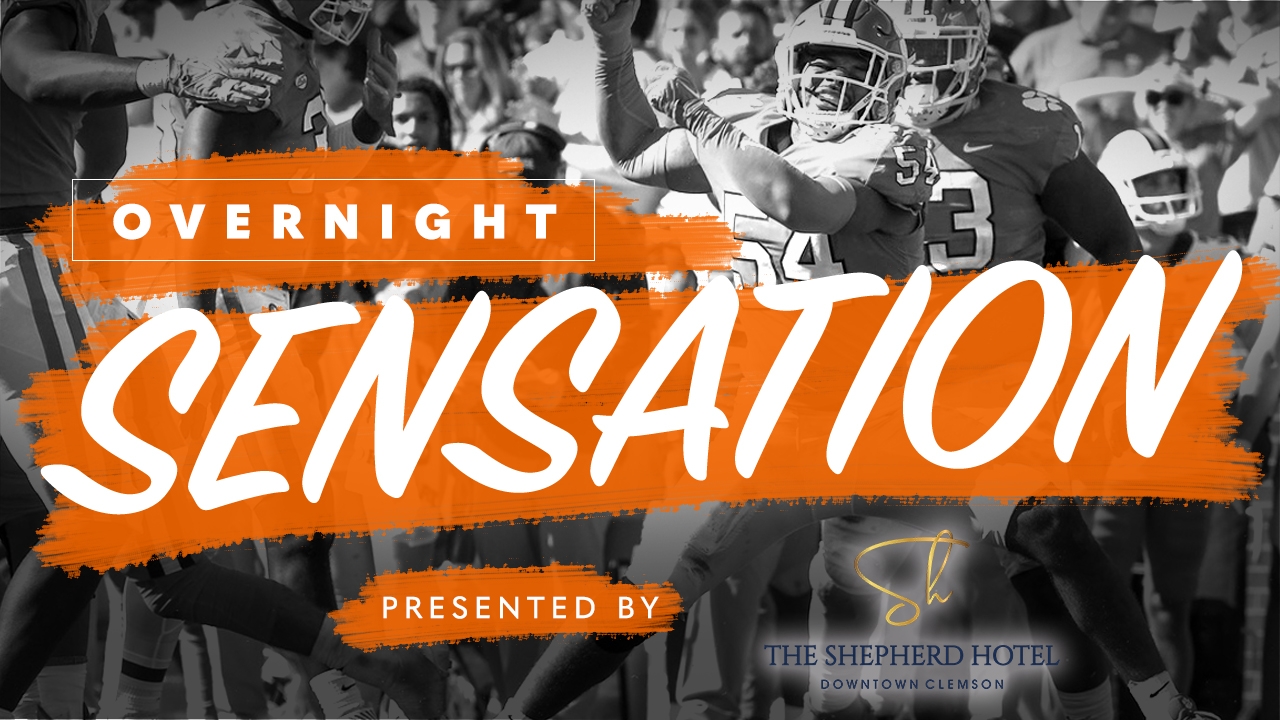 Clemson Football
Overnight Sensation: Jeremiah Trotter Jr.
---
The Shepherd Hotel Downtown Clemson | Where Southern Hospitality Meets Clemson Family
Welcome to a warm boutique experience in the heart of downtown Clemson. At The Shepherd Hotel, every room is curated for comfort, every event features a backdrop of spectacular views, and every guest is invited to experience the heartfelt hospitality of our team.
---
This week's Overnight Sensation, sophomore linebacker Jeremiah Trotter Jr., led the Tigers to victory against Miami over the weekend after putting up a strong defensive game.
The 6-foot, 230-pound unit from Hainesport, New Jersey, ended the 40-10 blowout game with nine total tackles and applied noticeable pressure to the Miami offense for the entirety of the game. After a tough loss against the Notre Dame Irish just a few weeks ago, Trotter made it clear when speaking to the media about what has changed for the defense since then.
"I'd say definitely the mentality, the work ethic and just overall our technique has gotten a lot better as far as everybody making sure they're doing their job," Trotter said. "I feel like that's just showing throughout these past two weeks. I feel like this defense is definitely taking a step forward in the right direction."
With this reinvented mindset, the Clemson defense was able to live out one of their best defensive performances of the season. Trotter stated that the Tigers had been paying close attention to how the Miami Hurricanes run and prepared accordingly for the match-up.
"That was definitely an emphasis point of our game plan, just stopping that quarterback run. We knew No. 11 (Jacurri Brown) liked to run the ball. They liked to run the ball with No. 11 a lot with those QB counters, those QB draws," Trotter noted. "All during the week, coach was emphasizing that we got to stop that and basically turn our attention to stop that run."
In addition to Trotter's nine tackles, seven of which were solo stops, making him the lead tackler by six, he left the game with a sack and a pass breakup. Dabo took notice of Trotter's performance, applauding his noticeable improvement over the course of the season.
"I thought Trotter was outstanding once again," Swinney said. "Trotter's starting to really settle in. He's just kind of starting to come into his own and be that quarterback we need."
Clemson is scheduled to take on their rivals, the South Carolina Gamecocks, this Saturday at noon on ABC.
Who will be our next Overnight Sensation? Stay locked on ClemsonSportsTalk.com to find out!
Never miss the latest news from Clemson Sports Talk!
Join our free email list