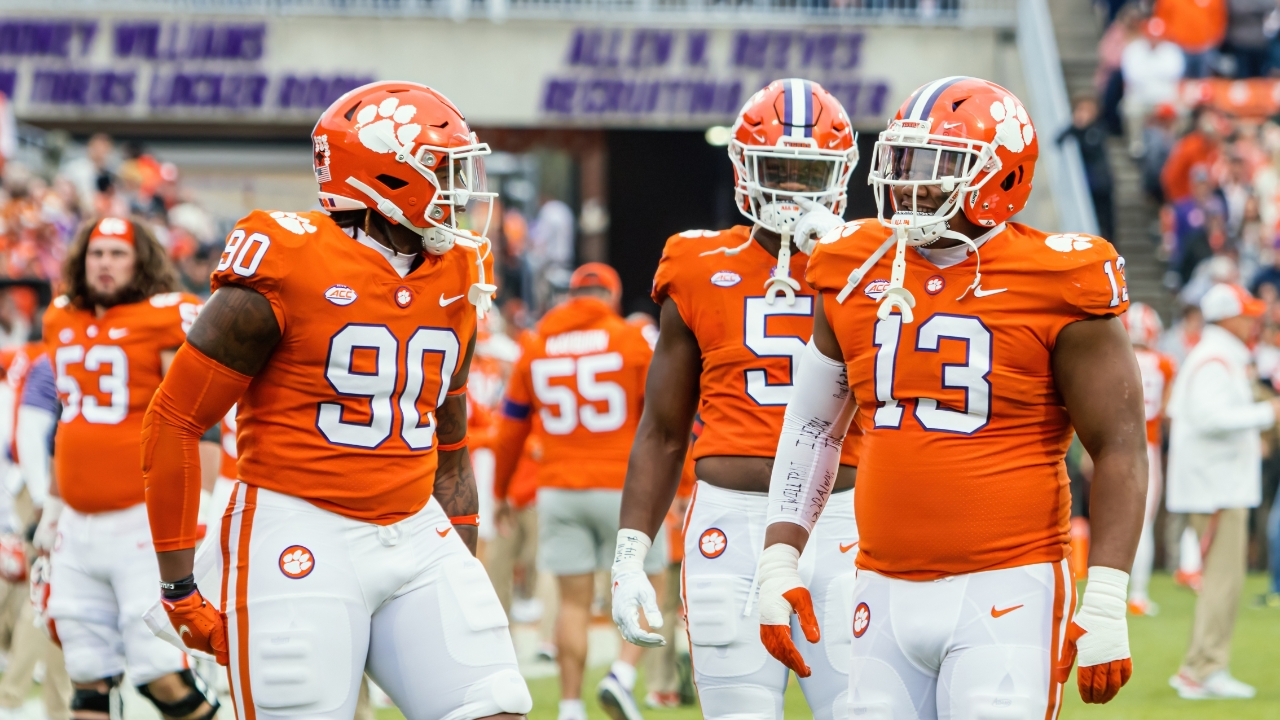 Photo by © Susan Lloyd/Clemson Sports Talk
Clemson Football
Keys to Victory: No. 8 Clemson vs. South Carolina
---

---
Each week we review the game's history, three keys to success, and Swanny's prediction.
The Match-Up:
No. 8 Clemson (10-1, 8-0 ACC) vs. South Carolina (7-4, 4-4 SEC)
Clemson is hosting South Carolina for the first time since 2018 by virtue of the 2020 interruption. By kickoff, a total of 1,463 days will have elapsed between Clemson home games in the rivalry, representing the longest elapsed time between Clemson home games in the series since the rivalry transitioned to a home-and-home format in 1960.
Clemson vs. South Carolina (2021)
Series History:
OVERALL: Clemson leads series, 72-42-4
HOME: Clemson leads series, 19-10-1
ROAD: Clemson leads series, 53-32-3
NEUTRAL: N/A
LAST MEETING: Nov. 27, 2021 (30-0, W)
STREAK: Clemson, Won 7
Roster:
We will post players who are out once they are released to the media a few hours before kickoff.
Stat of the Week:
Clemson has outscored South Carolina 286-104 during its current seven-game series winning streak, an average score of 41-15. Clemson has scored 30 points in each of the programs' last seven meetings and has held South Carolina to seven or fewer points in three of those contests.
Chasing History:
Clemson is attempting to become the first FBS program to post undefeated home records in six consecutive seasons since Florida State's nine-season streak from 1992-2000.
Key 1: Rattler Under Wraps
South Carolina's 63-point output last weekend against Tennessee surely landed squarely in the laps of Clemson co-defensive coordinators Wes Goodwin and Mickey Conn. The good news for the Tigers is that the Gamecocks put a lot of good on tape for Clemson to prepare for today.
While Spencer Rattler was sensational against the Volunteers, his performance was uncharacteristic of what we've seen all season. It's unrealistic to believe that he has a similar performance against a better defense that's going to be on their toes after watching the scoreboard light up in Williams-Brice last weekend.
Keep Rattler under wraps, and the Tigers should have little trouble controlling the game against South Carolina.
Key 2: Turnover Troubles
Let's state the obvious if Clemson wins the turnover battle; this game isn't going to be close. The Tigers have been their own worst enemy recently, turning the ball over, including in last weekend's 40-10 win over Miami. This team hasn't been elite but has managed to overcome shooting themselves in the foot more often than not.
In today's game, the Tigers' defense needs to take things into their own hands and win the turnover battle outright. South Carolina will attempt to replicate their plan against Tennessee, giving the secondary ample opportunities to make plays this afternoon.
Key 3: Make Ship Happen
The Clemson ground game has an opportunity in front of them today against South Carolina's run defense, which has been suspect at times this season, ranking 110th in the country against the rush, including yielding 374 yards on the ground to the Florida Gators on Nov. 12.
Will Shipley, Phil Mafah, and a healthy Kobe Pace present a trio of backs that complement each other very well. Given Clemson's strength in numbers there, I expect a heavy dose of those three this afternoon.
If South Carolina puts numbers in the box to slow Clemson's ground attack, it could lead to more opportunities for Uiagalelei and Company as well.
Prediction:
The gap between Clemson and South Carolina has been immense during the Tigers' seven-game winning streak, and to be honest, one big win against Tennessee didn't do anything to narrow the chasm between these two programs.
A burst from the Gamecock offense certainly raised the antennas in Tiger Town, and that's not a good thing for Shane Beamer's squad. Clemson's been the better team all season long, and today, they get to prove it-- while stamping an 8th consecutive win in the series.
Clemson 35, South Carolina 13
Swanny's Predictions:
Date
2022 Schedule Predictions
Swanny's Prediction
Actual Score
✅ or

❌

9-5-2022
No. 4 Clemson @ Georgia Tech
31-14 Clemson
41-10 Clemson
✅
9-10-2022
No. 4 Clemson vs. Furman
55-7 Clemson
35-12 Clemson
✅
9-17-2022
No. 4 Clemson vs. La. Tech
38-13 Clemson
48-20 Clemson
✅
9-24-2022
No. 5 Clemson @ No. 21 Wake Fores
38-17 Clemson

51-45 Clemson (2OT)

✅
10-1-2022
No. 5 Clemson vs. No. 10 NC State
34-20 Clemson
30-20 Clemson
✅
10-8-2022
No. 5 Clemson at Boston College
42-17 Clemson
31-3 Clemson
✅
10-15-2022
No. 4 Clemson at Florida State
34-14 Clemson
34-28 Clemson
✅
10-22-2022
No. 5 Clemson vs. No. 14 Syracuse
43-13 Clemson
27-21 Clemson
✅
11-5-2022
No. 4 Clemson at Notre Dame
31-14 Clemson
35-14 Notre Dame
❌
11-12-2022
No. 10 Clemson vs. Louisville
31-17 Clemson
31-16 Clemson
✅
11-19-2022
No. 9 Clemson vs. Miami
38-13 Clemson
40-10 Clemson
✅
11-26-2022
No. 8 Clemson vs. South Carolina
35-13 Clemson
❓
❓
✅ = Correct Prediction
Never miss the latest news from Clemson Sports Talk!
Join our free email list