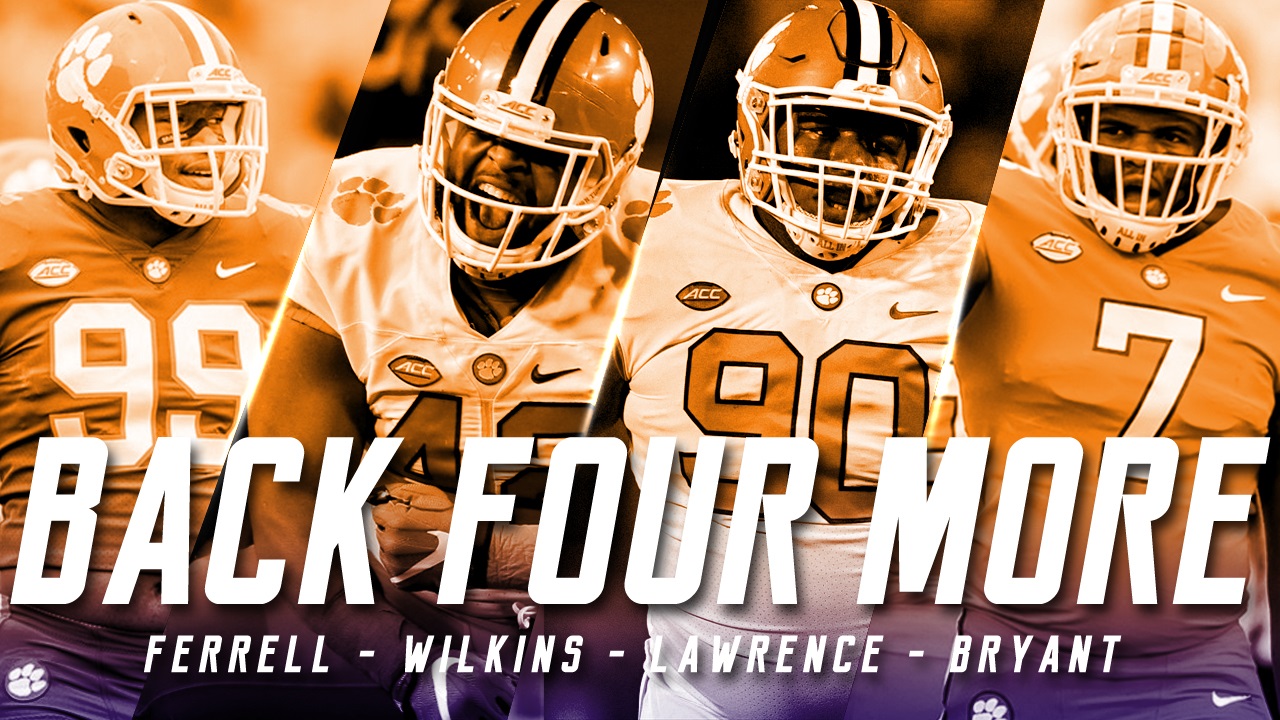 Clemson Football
Back Four More: Clemson's Defensive Front Four Return
---
CLEMSON -- In 2008, future Clemson running back Jamie Harper ended his recruitment and signed with Clemson.
Harper at the time concluded his commitment using a phrase along the lines of, "I'll be spending my next three years at Clemson."
That sentence was odd at the time. It raised a lot of eyebrows.
Before setting foot on campus, Harper had already made up his mind that he was only going to spend three years at college before testing the NFL waters.
That's become the mindset of many student-athletes ten years later. Three years in school, then it's off to collect their paychecks at the next level. Ray-Ray McCloud and Deon Cain are a perfect example.
In an interview last week with Clemson Sports Talk, McCloud said, "Going into college, me and Deon talked about being three and done."
Heading into this year's NFL Draft, over 100 underclassmen from coast to coast have announced their intentions to leave college early. It's become the norm.
But Christian Wilkins, Clelin Ferrell, and Austin Bryant have gone against the grain.
They expected to finish their careers in college at the top, but came up short this past season and had to watch confetti fall on the Crimson Tide in New Orleans.
Now, Clemson has three first-team All-Americans and four All-ACC players on the defensive line returning for one last ride.
It started Saturday evening when Dabo Swinney announced at the end-of-year team banquet Clelin Ferrell, Austin Bryant, Kendall Joseph, and Mark Fields were all returning for their senior seasons.
Wilkins spoke at the end of the banquet but did not make a decision. He was still torn, and rightfully so as a graduate.
On Monday evening around 5:00 PM, Clemson fans got the news they were all waiting for.
That sound you heard was probably every opposing offensive line Clemson faces next season taking a collective gulp.
We were told for the past couple of weeks not to be shocked if all three of the defensive linemen made the move to return. But here we are with our mouths on the floor in disbelief.
Rarely do you see players who are essentially first-rounders come back to school for another season when there's so much money on the table. Given what they have accomplished personally, not to mention being at the core of Clemson's 2016 national title win, they don't owe anyone anything.
But there's been a bad taste in their mouths since they walked off the field in the Mercedes-Benz Superdome. Emotions ran high in the locker room after a second loss to Alabama in three years.
No fan would have blamed the close-knit group for leaving after everything they have done for Clemson. However, this group is different and always has been.
It speaks to the culture that Swinney has created at Clemson. These guys enjoy playing for him and enjoy playing for each other. They embrace the college experience and don't seem to be ready to move on from it.
Clemson now has eight starters returning for 2018 on a defense that was second in the nation in scoring and fourth in total defense.
"I've never met a whole group of guys genuinely caring about each other, not wanting to let each other down, holding each other accountable," Dexter Lawrence said in New Orleans. "You don't get that everywhere. It's great playing with these guys."
Lawrence, who would have been the player to shoulder the load up front in 2018 now gets his comrades back.
The Tigers will have the top defensive line in the country heading into the 2018 season, but nothing is guaranteed.
"You gotta put your head down this whole offseason," Lawrence noted. "Be motivated to get back to here. Finish the right way, bring a little more juice and heart to the game. This offseason, we've got to put our head down to the grind, know what we want and work for it."
The front four is back for more.
---
Join Clemson Sports Talk today for just $1. Come be a part of the only Clemson website with a two-hour daily radio show (Monday-Friday) dedicated to the Tigers. Enjoy enhanced coverage of your Clemson Tigers, plus the best look and feel of any Clemson website on your mobile device.
Never miss the latest news from Clemson Sports Talk!
Join our free email list