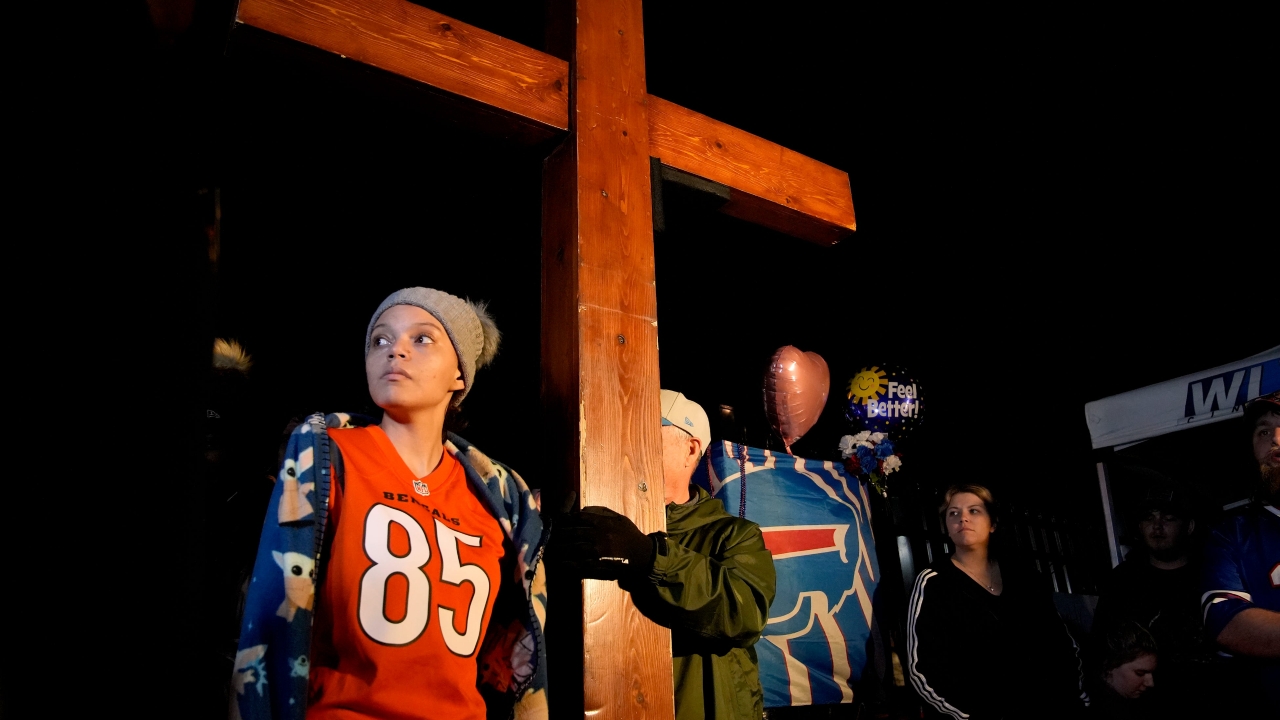 Photo by © Cara Owsley/The Enquirer / USA TODAY NETWORK
Clemson Football
Higgins, Reader return to action after Hamlin's injury as Bengals vie for No. 2 spot
---
About nine minutes into Monday night football's matchup between the Cincinnati Bengals (11-4) and Buffalo Bills (12-3), former Clemson receiver Tee Higgins was tackled by Bills' safety Damar Hamlin after a 13-yard reception.
There was nothing unusual about the hit or play until Hamlin, after getting to his feet immediately, collapsed and remained motionless on the field.
The 24-year-old former Pittsburgh Panther, as reported by team officials, went into cardiac arrest on the field before medical personnel was able to restore a heartbeat and rush him to the University of Cincinnati Medical Center.
Before Hamlin was taken by ambulance from Paycor Stadium, players and coaches from both teams were gathered on the field as concern grew over the health of a teammate and fellow player.
"You see the ambulance come out and [you think] he's just getting carted off. Then you see their players coming out of the circle crying and you immediately start to realize it's something different," said Cincinnati Bengal and former Clemson defensive tackle D.J. Reader. "As football players, you see injuries all the time — it happens all the time in this sport, but when you see other players ... start to cry ... that's when it really starts to sit in that something's going on."
Monday's game was one of the most anticipated NFL games of the year with AFC supremacy and serious playoff implications on the line. Buffalo was tied at 13-2 with the Kansas City Chiefs for the best record in the AFC and had a 24-20 victory over them. Cincinnati, the AFC North champions, trailed each team but owned a 27-24 win over the Chiefs. A win over the Bills would've given the Bengals the tiebreaker over each team and the inside track to home-field advantage throughout the playoffs.
The uncertainty of Hamlin's medical status temporarily suspended play on Monday and no one, in the stadium or watching around the country, knew if the game would or could go on.
"For me, I felt like it was as soon as it happened," Reader said when it became clear to him that the game could not continue. "Something like that is not something you see on the football field, and then the pure emotions of everybody out there. I don't know how you ask guys to go back out and continue a football game after seeing something like that and going through those emotions."
Since Higgins collided with Hamlin, he was certainly dealing with emotions. After spending time with his mom, he sent out a tweet for Damar and his family.
"My prayers and thoughts go out to @HamlinIsland [Damar Hamlin] the Hamlin Family. I'm praying that you pull through bro. Love 🙏🏾💙."
As Hamlin spent the night in critical condition at UC, Higgins also received criticism and even blame for his condition from some fans on social media.
Once Hamlin's family became aware of the criticism, they came to the Tennessee native's defense and contacted him directly.
"Damar's parents were a little bit frustrated that Tee was receiving any sort of negative backlash," said Jordon Rooney, a friend of Hamlin, outside of the UC Medical Center on Wednesday. "This was a regular football play. Tee has reached out. He's been supportive of Damar and his family. So the family doesn't want any negative backlash towards Tee at all."
"Damar's mom texted me this morning, told me about everything and it made me feel even more at home," Higgins told the media after Thursday's practice. "I really appreciate them, just hearing from them and them having my back as well. So, yeah, it feels good."
By Thursday, Hamlin was breathing on his own and he was even better heading into the weekend. The Bills released a statement on his condition via Twitter.
Per the physicians at UCMC, Damar's breathing tube was removed overnight. He continues to progress remarkably in his recovery. His neurologic function remains intact and he has been able to talk to his family and care team.
What's next for the Bengals?
With NFL Commissioner Roger Goodell announcing on Thursday that Monday's game won't be rescheduled, Higgins and Reader are preparing to play the Baltimore Ravens (10-6) on Sunday.
The show must go on, as they say, but were there any thoughts of not suiting up this weekend for either player?
"No, not at all," Higgins said. "Because I know at the end of the day, I'm here to do a job, and my teammates need me-- and I need my teammates as well. So I didn't want to let my teammates down. I know it's something big, but I got a job to do."
Reader agrees they have a job to do, but is he ready to play?
"I don't really make those decisions, so I can't really answer that question," he stated. "I got to go out there and play. If that's what's called to do. But I can also see the other side if guys don't want to. I can definitely empathize with that and understand why that would be the case. I'm just not in the space to tell you what I want to do right now."
Cincinnati must defeat the Ravens to secure the No. 3 spot in the AFC playoffs and hope for a Bills loss on Sunday to land the No. 2 position. With their win over Las Vegas on Saturday, Kansas City is No. 1 in the AFC.
Never miss the latest news from Clemson Sports Talk!
Join our free email list