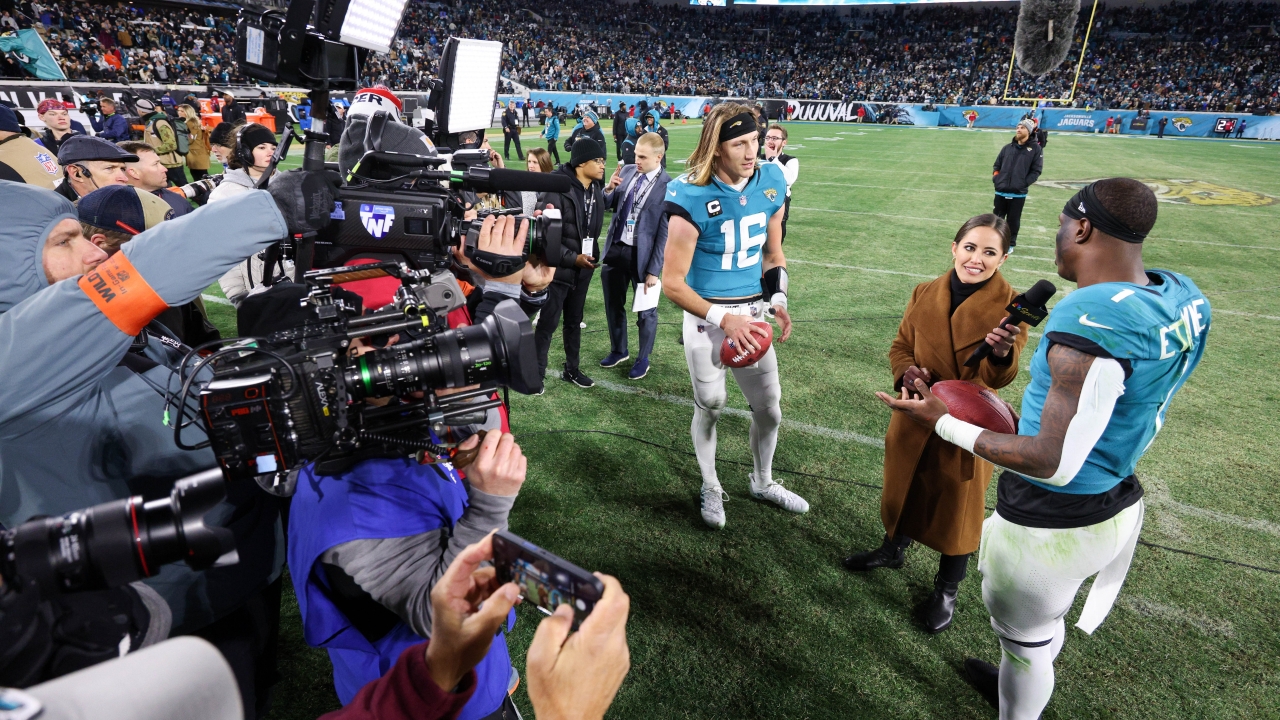 Photo by Nathan Ray Seebeck-USA TODAY Sports
Clemson Football
Clemson connection pivotal in keeping 'DUUUVAL!' alive in playoffs
---
On Saturday, the Jacksonville Jaguars (9-8) won their first playoff game since a 45-42 win over the Pittsburgh Steelers on Jan. 14, 2018. Before making the post season and defeating the Los Angeles Chargers 31-30, the franchise had suffered through a four-year playoff absence and a combined 15-50 record over that period.
The Jags are currently on a six-game winning streak but began the year dropping 6 of 8, due to inconsistent play on both sides of the ball and 12 turnovers.
With five turnovers and a defense allowing 27 points, second-year quarterback Trevor Lawrence had seen this situation before, or at least remnants of it.
"The game tonight kind of just sums up our season," said the former Clemson All-American and 2021 No. 1 overall pick. "And for myself, obviously, definitely the worst half of my football life -- of a lot of people's football life too."
Lawrence threw four interceptions in the first half, three in the opening quarter alone.
However, he was able to regroup and pass for 211 yards, three touchdowns, and converted a crucial two-point play in the second half after having only 77 passing yards, one passing touchdown, and the four picks in the first half.
"I wouldn't have been able to do what I did today and what the offense was able to do in the second half to bounce back if we didn't believe in one another," noted Lawrence in his post-game interview. He finished the game 28 of 47 for 288 yards with four touchdowns and four interceptions. "I threw four picks in the first half. The guys beside me on offense and the guys on other side of the ball didn't ever lose faith. I mean that's one thing that makes it easier when you know you got guys that believe in you no matter what the circumstances are."
First-year Jacksonville head coach Doug Pederson also believes in Lawrence, who completed over 66 percent of his passes for 4,113 yards with 25 touchdowns and 8 interceptions on the season.
What did he think of Lawrence's performance in view of the future?
"It's a step in the right direction for him and for our team, for our franchise," said Pederson. "We love having Trevor as our quarterback. He never flinches."
"I just love the fact that he's leading our football team," Pederson continued. "But it's a step in the right direction that we want this organization to go. We want him to go, our team to go and, we just got to continue to build on that."
Last season was forgettable for the franchise. The former head coach Urban Meyer, fired after 13 games, seemed distracted, especially off the field, and was responsible for the 3-14 season.
Nevertheless, the former Ohio State Buckeyes head coach did select Lawrence and Clemson teammate Travis Etienne in the 2021 NFL Draft.
Etienne, the 25th overall pick, missed the entire 2021 season with a foot injury but progressed enough by the end of October for Jacksonville to trade former starter James Robinson to the New York Jets. The move made Etienne the new starter and he rushed for 1,125 rushing yards with five touchdowns.
With the Jags trailing 28-30 at the 1:27 mark of the fourth quarter and facing 4th and 1 at the Chargers' 41, Etienne's number was called. After a timeout and play call change, he took a handoff from Lawrence and sprinted around the right end for 25 yards to the Chargers' 16. He also rushed one final time, a two-yard loss, to set up Riley Patterson's game-winning 36-yard field goal.
"[Pederson] got the new call in, and just get the ball in Travis's hands, and he makes a play like that, wins the game for us essentially," Lawrence said of Etienne's clutch play. "Obviously, Riley [Patterson] won the game but putting us in position there. It takes a lot of guts there - fourth-and-1 and game on the line - and just the guys up front, they just mashed them. They set the edge, and Travis was rolling."
It took a team effort for the Jags to pull off the comeback win and advance to round two of the playoffs but as the turnovers piled up, Lawrence was the calming force momentarily, according to his teammates.
But how?
"Honestly, [I] didn't have a choice," replied Lawrence, when asked about his demeanor amid tumultuous times. "We've come this far and those guys are depending on me to win games, in general in this league. But especially in the playoffs, quarterback has to play well. I wasn't playing well.
"I told the guys in the huddle, there's no 27-point plays. It's going to be one play at a time. That's what it took, one play at a time, all the way down the field, just again and again and again," added Lawrence. "All we can do at this point is just try to score every drive, then trust our defense. If they get a stop, great; it gives us another chance to score. If they don't, great; we'll get the ball back and go score again. So that was our mindset."
In three years as Tigers, Lawrence and Etienne won ACC championships and played in the CFP each year, and watched the confetti fall as national champions in 2018. Now, in year two, as Jaguars, they are winners of their first playoff game.
It may be surprising to fans to see the franchise make such strides so soon but Etienne, who rushed for 109 yards on 20 carries against Los Angeles, knew success would come with Lawrence by his side.
"I did have it in the back of my mind that I might have a chance to reunite with Trev," he said immediately after the draft when the pair became the first quarterback and running back duo from the same school selected in the first round by the same team since 1967. "For it to come full circle, I'm just happy, excited, and blessed. Being his teammate for three years, we've really built that camaraderie. I don't have to work on getting to know somebody else.
"I know Trev inside and out. It will be a great feeling. We're going out there with the same common goal, so there will be great things to happen on that field."
It was absolutely a great night in TIAA Bank Field on Saturday night for the Clemson Duo and the Duval faithful. Now, they look to continue the playoff run against Kansas City at Arrowhead this weekend.
Never miss the latest news from Clemson Sports Talk!
Join our free email list