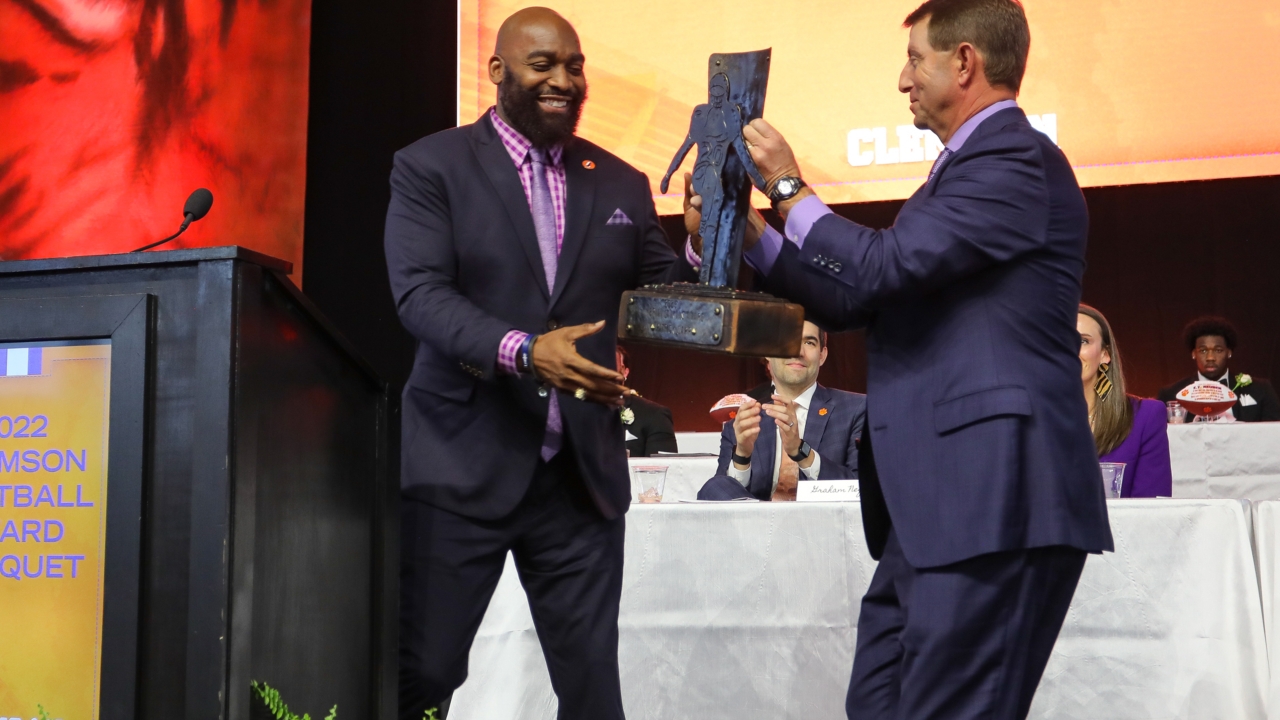 Clemson Football
Sapp Collects Brian Dawkins Lifetime Achievement Award
---
CLEMSON, S.C. — Patrick Sapp, a former Clemson standout and NFL player, received the Brian Dawkins Lifetime Achievement Award at Clemson's annual football banquet on Saturday afternoon.
Since 2013, Dabo Swinney has presented the honor to a former Clemson player who has consistently demonstrated the qualities of leadership, community service and other high qualities that are consistent with excellence since graduating from the Clemson program. Recipients must be out of school at least 10 years to qualify. Dawkins, who played 16 years in the NFL and was named to nine Pro Bowls and was a finalist for many public service awards, was the first recipient.
This year's recipient, Sapp, is close to Dawkins's heart and one for whom a case could be made that Dawkins would not have come to Clemson had it not been for Sapp. Sapp was a highly recruited quarterback from Jacksonville, Fla. in the early 1990s. In the process of recruiting Sapp, Clemson coaches were impressed with Dawkins, Sapp's close friend and teammate on the gridiron and the basketball court at Raines High School.
In 1992, they both entered Clemson, Sapp as a quarterback and Dawkins as a defensive back. Sapp became one of Clemson's finest all-around athletes since college football adopted the two-platoon substitution system in 1965. Over the last 50 years, he is one of just six players to start over the course of a season on both sides of the ball. He also played on the Clemson basketball team for Rick Barnes during the 1994-95 season.
A quarterback for the Tigers his first three years, Sapp led Clemson to a 33-point win over a top 20 North Carolina team as a freshman in 1992 and later threw a game-winning touchdown pass to Terry Smith in the 1993 Peach Bowl to beat Kentucky by a point.
In 1995, Sapp moved to defensive end, where he started 12 games for the Tigers' Gator Bowl team. He finished that season fifth on the squad in tackles. In the spring of 1996, despite playing just one season on defense, the San Diego Chargers selected Sapp as a defensive end with the 50th overall selection of the NFL Draft. He went on to play four productive seasons in the NFL.
After graduation, Sapp returned to Clemson to work in university administration in 2006 as Director of Major Gifts and Alumni Engagement, a role in which he served for 14 years. Today, he is the Vice President of Development for Rosemont Holdings' Skore Hotels. He is also Chief Operating Officer of Universal Therapeutic Services in Greenville, a company that partners with the community to provide human resource services, including mental health.
Additionally, Sapp has been involved in many community service projects. He served as Chairman of the Board of Leaders R Us Foundation in Greenville. He is the co-founder of the Greenville Red Raider Youth Organization and is a founder of the One Clemson Board. He also served as a board member of Greenville Technical College and serves as board chair for Brian Dawkins's Impact Foundation.
Sapp's connection to Clemson has continued with the matriculation of his son, Josh, a freshman tight end on Clemson's 2022 squad.
Brian Dawkins Lifetime Achievement Award Recipients
2013: Brian Dawkins, 1992-95
2014: Bill Smith, 1977-81
2015: Warren Forney, 1991-95
2016: Jerry Butler, 1975-78
2017: Jeff Davis, 1978-81
2018: Mark Richardson, 1979-82
2019: Michael Allen, 1995-98
2020: Michael Dean Perry, 1984-87
2021: Carl Martin, 1979-82
2022: Dexter Davis, 1988-90
2023: Patrick Sapp, 1992-95
Never miss the latest news from Clemson Sports Talk!
Join our free email list