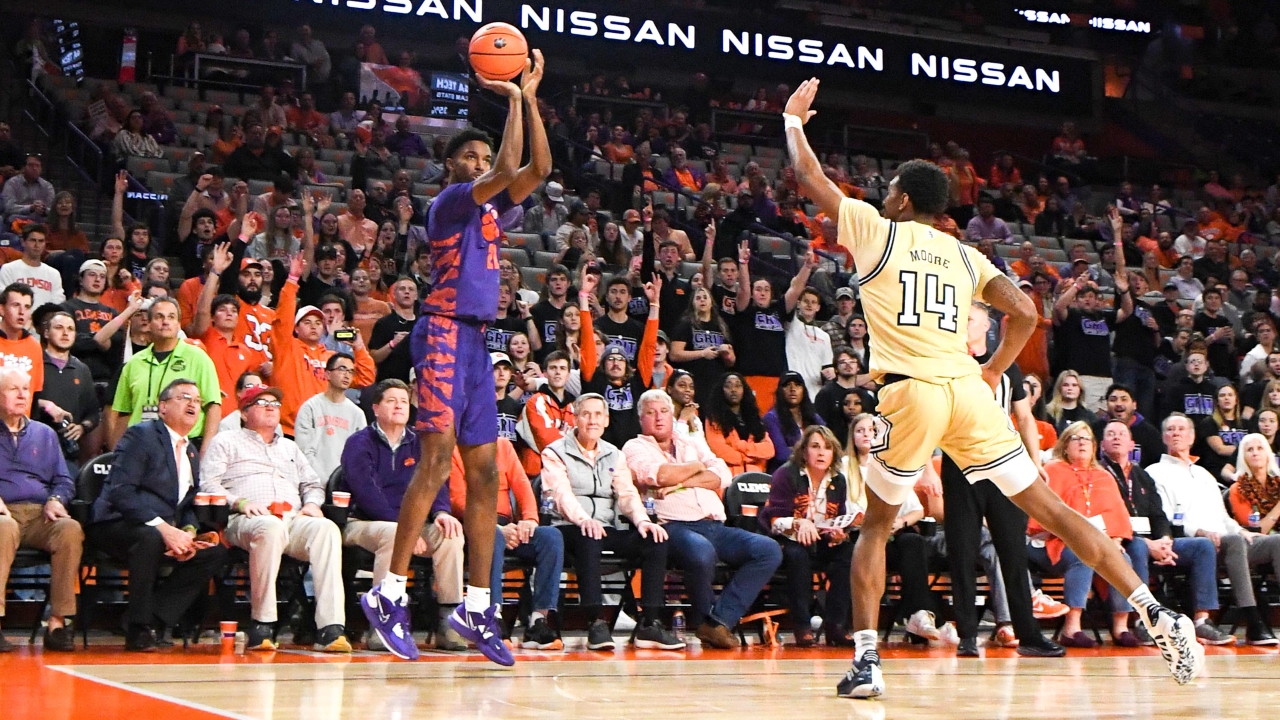 Photo by Ken Ruinard-USA TODAY Sports
Clemson Basketball
Career highs from freshmen aid No. 24 Clemson in ninth conference win
---
After defeating Georgia Tech (8-12, 1-9) 72-51 on Tuesday night, Clemson is now 17-4 overall and 9-1 in the ACC. The Tigers moved their home record to 12-0.
Clemson also notched another victory without its third-leading scorer (14.0) and assist leader (4.3), Chase Hunter, and Alex Hemenway, the team's three-point ace (50 percent).
Here are a few quotes from the post-game interviews from Tuesday night.
Head coach Brad Brownell
Freshman Chauncey Wiggins played 18 minutes and scored a career-high 14 points following 16 minutes and no points against Virginia Tech, and previous career highs in minutes (30) and points (10) at Wake Forest.
On if the 6'10 stretch forward is further along than he expected after 21 games:
"No. I felt like around Christmas time is when he finally started to make some moves. You got to [understand] there's so much to learn right, on both ends of the court, that your head starts spinning a little bit. I will tell you that I think his poise is one thing we recognized in recruiting him that we didn't think it was going to take him long that way.
"We knew he could shoot. He can pass. He needs to rebound better. He had two rebounds tonight. He's got to do some other things better but offensively he's a good player. He can see things. He can shoot balls in. And his development and confidence from September in the last month has really taken another leap."
With Chase Hunter still nursing a foot injury, Dillon Hunter, his youngest brother, drew his first start on Tuesday.
On the play of the 6'4 freshman point guard, who logged a career-high 36 minutes, finished with a career-high nine points, two assists, one rebound, a steal, and made his first three-pointer:
"[He] played really well, just competitive. I thought he defended at a pretty high level. [He] did a nice job of getting us into our stuff. [He] had a couple of turnovers. I don't know if they were all his fault. That's probably more than usual for him. But he wasn't afraid. We knew he wouldn't be afraid. He's played against high-level players his whole life. So he's not afraid to make plays or intimidated by the environment."
Starting small forward Hunter Tyson leads Clemson in scoring (15.5) and rebounding (10.0) but disappeared at times against Virginia Tech before nailing the game-winning shot. He had another lackluster performance by his standards on Tuesday, though hampered by early foul trouble, but finished scoring 12 points and grabbing eight rebounds.
On being able to maintain a lead when Tyson was on the bench in foul trouble:
"Certainly, without Chase and Alex, that forces your hand. We're a little thin right now. And we're hoping those guys will be back, maybe this weekend. They're closer. I thought there was an outside chance one might play today but [I] just want them to be comfortable before they get out there in competition. But the result of that is these guys get more minutes."
Chauncey Wiggins
In addition to his 24 total points against The Demon Deacons and Yellow Jackets, Wiggins made five of eight three-pointers after missing five of his first seven attempts.
Wiggins on why he's playing with more confidence now:
"I just try to get better. Coach Brownell, [and] all the coaches, keep pushing me every day. Even the older guys pushing me every day because I still have a lot to learn."
Freshman RJ Godfrey was also on the court on Tuesday, scoring two points, snagging three rebounds, and a steal in 11 minutes. The freshmen, with exception of redshirt Texas guard Chauncey Gibson, have all logged significant minutes this season.
On what their relationships are like and how it felt to see each of them get playing time:
"I would say our relationships are cool. I'll say we build it off the court that just carries on the court. [We're] real close, real tight. We're all together at certain times during class. So, I feel like when we are in the game, we have confidence because we all trust each other."
Brevin Galloway
Galloway, a graduate senior, is the fourth leading scorer (10.6) for the ACC-leading Tigers.
On if he is surprised the team has a record start ( 9 conference wins in 10 games) at this point in the season:
"I mean, not really. That's why I came here. I believed in the team from the jump, looking at the roster whenever I was in the transfer portal trying to decide schools. I figured I might as well come home and make history. I feel like that's what we are going to do and that's what we plan on doing."
Galloway entered the contest against Virginia Tech averaging double figures and reaching that mark in 8 of 9 games and five consecutive. He finished the game with only three points but got back in sync on Tuesday scoring seven of the team's first 10 points before closing with 14.
On whether he came into the game mindful of what happened against the Hokies:
"Yeah, I didn't take a lot of shots last game. So that was one of the emphases I was planning to do. Pretty much just make sure that they feel me from the jump and that's what I did tonight."
The Tigers are ranked below #7 Virginia and #20 Miami but regardless they are above any preseason rankings and NCAA Tournament bound if they finish well.
On are there discussions of March Madness among teammates and how they stay focused with the success they're having thus far:
"Coach Brownell does a good job of letting us know every day just about attacking details and making sure that we're on our toes whenever it comes to that. Obviously, we can't think about March because we got a game on Saturday.
"But like rankings and all the hype around it, it really doesn't matter to us because you can lose on any given night. So we just got to make sure we put our best foot forward each and every day and keep making progress."
Clemson will travel to Florida State (7-15, 5-6) on Saturday.
Never miss the latest news from Clemson Sports Talk!
Join our free email list