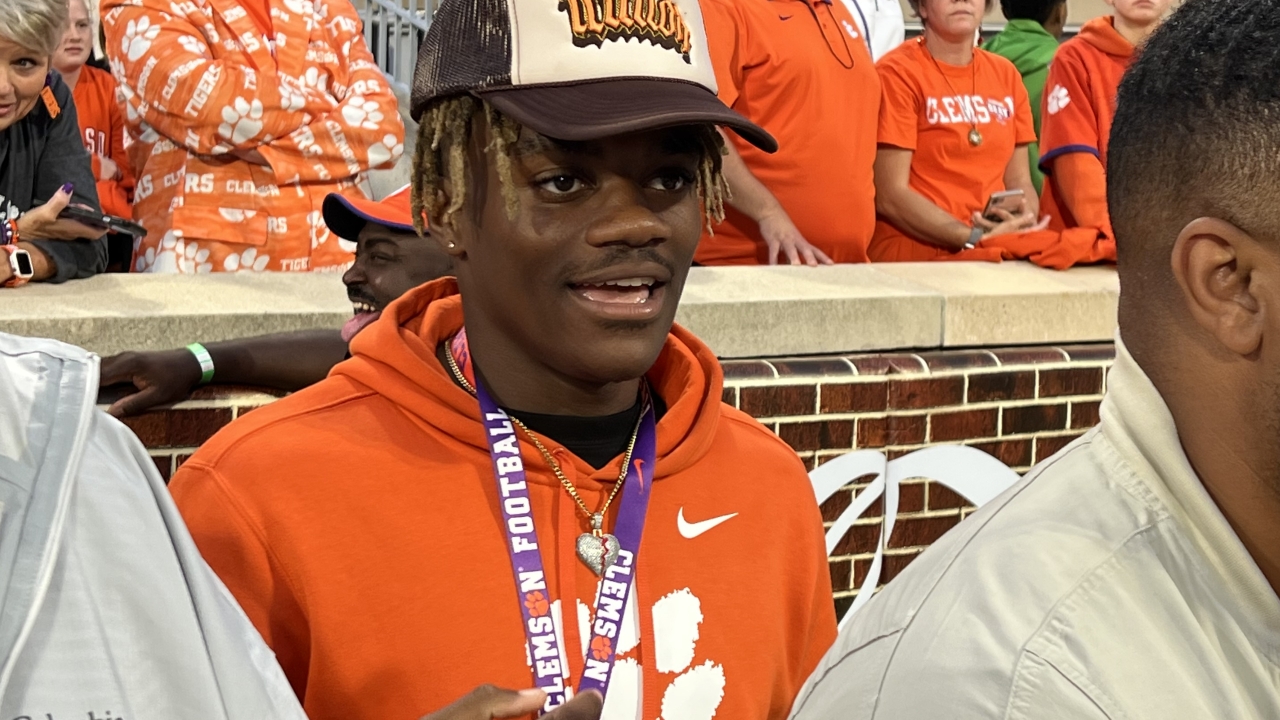 Clemson Football
Ten Clemson recruits will compete to earn Under Armour All-America game bids
---

---
Under Armour Next is hosting a series of regional football camps this winter. The series kicks off Sunday in Carrollton, Georgia, where dozens of recruits will compete with hopes of earning a bid to play in the 2024 Under Armour Next All-America Game. The southeast regional camp will feature 34 ESPN Jr300 prospects alongside a Clemson commit and nine uncommitted 2024 Tiger targets.
Here's what you need to know about the group of Clemson targets competing this weekend:
Mike Matthews‍ – ‍Five-star wide receiver. Parkview High School, Georgia.
Clemson is recruiting Matthews as a defensive back, but Matthews would prefer to play receiver in college. Georgia is the favorite to land him, but Clemson is a close second. Matthews has a strong relationship with Coach Mickey Conn and has visited Death Valley four times. The five-star is the top prospect in Georgia for the 2024 cycle.
Heading into the winter, Matthews told Clemson Sports Talk, "Every time I go there (Clemson), it's gonna be the best experience."
"I truly like the coaching staff; I'm really cool with everybody," Matthews said. "I'm always talking to everybody on the coaching staff, but along with how they want to channel the players into being a better man rather than an athlete. You know, it's not really about being an athlete, even though it is- but you know, it's always about the action path and the career, so just things like that really interest me."
KJ Bolden‍ – Five-star athlete. Buford High School, Georgia.
While Ohio State and Georgia are considered the favorites to land Bolden, the Tigers gained ground after impressing the five-star on their Junior Day in January. Bolden told Clemson Sports Talk that the Tigers showed him that he is a priority target in the 2024 class, and he appreciates the culture at Clemson. In addition, the program's off-field development is an aspect that appeals most to Bolden.
Champ Thompson‍ – Four-star defensive lineman. Meadowcreek High School, Georgia.
Thompson committed to Clemson during his Junior Day visit in January. He is another four-star that Nick Eason brought in to join Clemson's front seven. He plays at Meadowcreek High School in Metro Atlanta and can serve as an "anchor recruit' to help sell the Clemson program to other top players in his area.
Thompson is a consensus top 300 prospect, but some analysts believe he should be higher on national lists. This weekend, a good performance in front of dozens of national media members could help boost his stock as a national recruit.
David Eziomume‍ – Four-star running back. North Cobb High School, Georgia.
Eziomume has heavily showcased his interest in Clemson on social media. He is the only running back prospect Clemson has offered in the class. A recent Steve Wiltfong (247Sports) crystal ball predicts the four-star will head to TigerTown.
Eziomume is fond of Death Valley and told Clemson Sports Talk, "When I walked out there on that field, and I look around- you see all the orange. It's like, 'damn.' It's a chilling effect."
The Georgia native is excited about the direction of Clemson's offense. "When you see where Garrett Riley came from and what he's been doing- it's really a positive addition," Eziomume said. "He knows how to cook it up, honestly."
Jeremiah Beaman‍ – Four-star defensive lineman. Parker High School, Alabama.
Beaman is an elite defensive line prospect from Birmingham, Alabama. He attended Clemson junior day and is one of Clemson's top three uncommitted defensive line targets.
Jalyn Crawford‍ – Four-star cornerback. Parkview High School, Georgia.
Clemson has pulled five cornerbacks from the state of Georgia since 2021. The Tigers offered Crawford – a teammate of Mike Matthews – late in the fall. The Georgia native is a top-five cornerback in the 2024 class.
"Nobody scored on me this season, Crawford said. "They (Clemson) like that I can play multiple positions- CB, safety, & nickel. They like that I'm very agile."
Daniel Calhoun‍‍ – Four-star offensive tackle. Centennial High School, Georgia.
Calhoun has elite size and is one of the nation's top five offensive tackle prospects. He was one of the first tackles Clemson offered in the class and visited twice in 2022.
Three-star Clemson targets Jac'Qawn McRoy (offensive tackle from Alabama), Jameson Riggs‍ (offensive tackle from Georgia), and Malik Blocton‍ (defensive lineman from Alabama) have Clemson offers and will compete in the camp.‍
Note: I will travel to west Georgia to cover these ten recruits in person for Clemson Sports Talk. We will record video interviews and talk directly with the athletes to learn more about their stories and standing with the Tiger program. Check back on clemsonsportstalk.com for more recruiting updates.
Never miss the latest news from Clemson Sports Talk!
Join our free email list