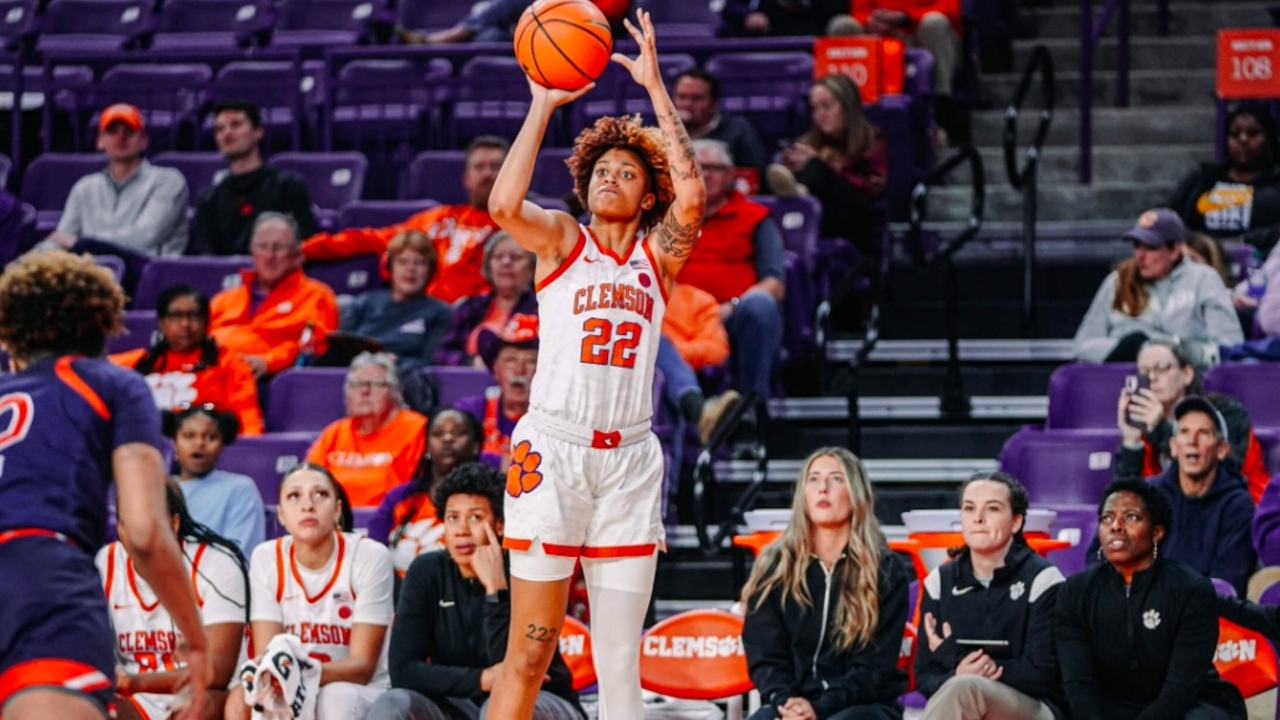 Clemson Women's Basketball
Clemson Defeat Auburn, 56-55; Advance to WNIT Super 16
---
CLEMSON, S.C. - Senior Daisha Bradford sank a jumper with 21 seconds remaining in the fourth quarter to spur the Clemson women's basketball team to a 56-55 victory against Auburn in the Second Round of the Women's National Invitational Tournament inside Littlejohn Coliseum on Monday evening. With the victory, Clemson (19-15) advances to the WNIT Super 16 for the first time in program history and will play host to Florida on Thursday night at 7:00 p.m. inside Littlejohn Coliseum.
The Clemson offense was led by freshman Ruby Whitehorn tallying 16 points after going 6-for-9 from the floor with three free throws. She was joined in double figures by Bradford, who went 5-for-9 from the floor, including two beyond the arc and the game-winner. Eno Inyang joined with nine points and four rebounds, while senior Hannah Hank led CU with 11 boards and five assists.
Auburn jumped out to the lead in the first quarter by attacking Clemson's defense and picking up 14 points in the paint. CU responded with points off fast breaks to end the first trailing 16-15. Clemson took control of the second quarter with a three-point advantage after Amari Robinson and Whitehorn made back-to-back baskets. Clemson pushed the lead to as much as seven with four minutes remaining in the period before Auburn trimmed CU's advantage down to one, 26-25.
Coming out of halftime, both teams traded points. Hank sank two consecutive fast-break baskets to push Clemson ahead by four, but Auburn tied things at 33-all with just under six minutes remaining in the third. Inyang and Brie Perpignan went on a six-point run of their own before Bradford sank a three from the corner with 28 seconds left in the frame to give Clemson a 42-38 advantage heading to the fourth.
The Clemson Tigers stretched their lead to seven points after Perpignan, Hank and Bradford went on a 6-0 run midway through the final frame. Auburn responded with a 10-0 run of its own to take a three-point lead with 3:25 to go. Inyang cut the lead to one with 1:49 remaining, then Bradford banked in the game-winner with 21 seconds to go. Amari Robinson sealed the win for Clemson, drawing a charge with two seconds remaining.
Auburn was led by Mar'shaun Bostic with 23 points, while Aicha Coulibaly added 14.
Clemson returns to the court on Thursday, hosting SEC-foe Florida at 7:00 p.m. inside Littlejohn Coliseum. Tickets are just $5 and can be purchased at ClemsonTigers.com or by calling 1-800-CLEMSON.
Never miss the latest news from Clemson Sports Talk!
Join our free email list