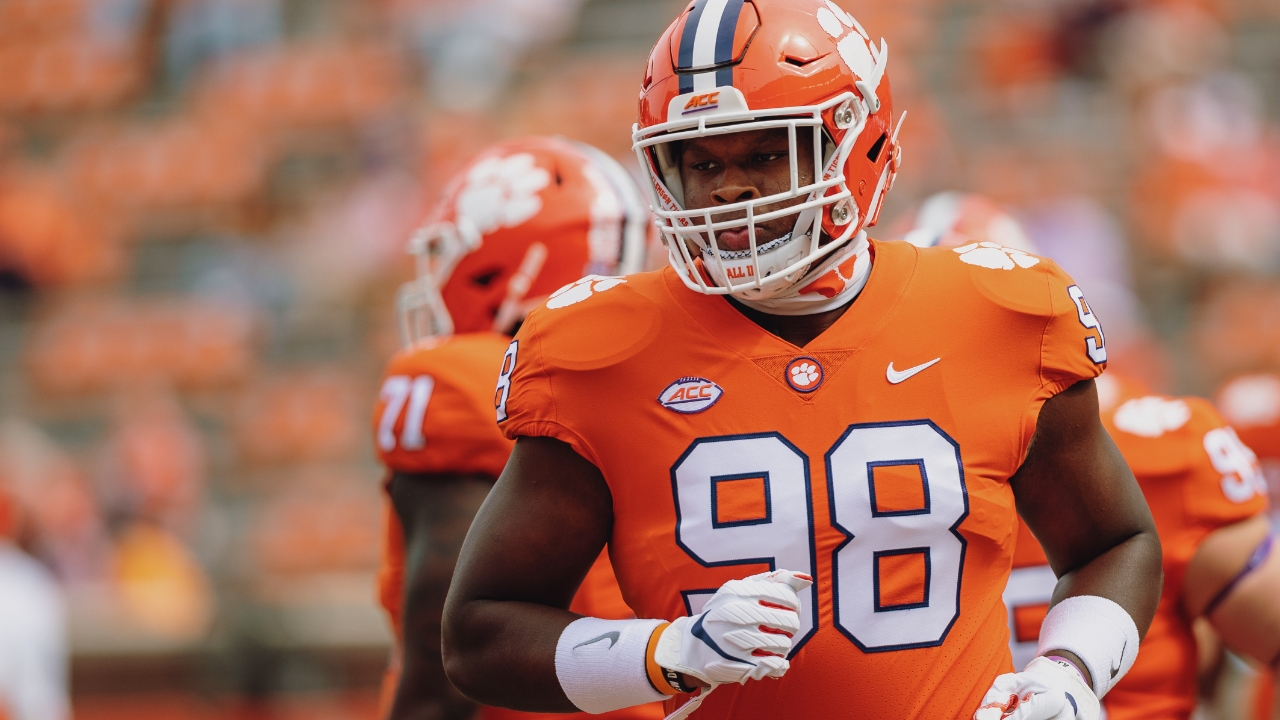 Photo by Courtesy of ACC Media Portal
Clemson Football
Clemson's Myles Murphy selected 28th by the Cincinnati Bengals
---
Clemson's Myles Murphy was selected with the 28th pick in the 2023 NFL draft by the Cincinnati Bengals. Murphy joins former Tigers in Tee Higgins, D.J. Reader, and Jackson Carman.
Murphy became the 72nd player in Dabo Swinney's head coaching tenure to be drafted into the NFL, including the 16th first-round pick of Swinney's tenure.
Murphy became Clemson's 37th first-round pick in NFL Draft history.
Murphy became the sixth Clemson defensive lineman selected in the first round since 2015, joining DE Vic Beasley (No. 8 in 2015), DE Shaq Lawson (No. 19 in 2016), DE Clelin Ferrell (No. 4 in 2019), DT Christian Wilkins (No. 13 in 2019) and DE Dexter Lawrence (No. 17 in 2019).
Murphy's selection marked the seventh time in the last nine years that a defensive player was Clemson's first selection in a draft. The two exceptions in that nine-year span came in 2017 (WR Mike Williams at No. 7) and 2021 (QB Trevor Lawrence at No. 1).
Murphy became the Bengals' sixth all-time selection from Clemson, joining TE Jim Riggs (1987), DT Donald Broomfield (1999), DT Brandon Thompson (2012), WR Tee Higgins (2020) and OL Jackson Carman (2021).
Murphy became the highest-selected Clemson player in Bengals history, surpassing Tee Higgins' selection with the No. 33 overall pick in 2020.
Murphy became Clemson's third No. 28 overall pick in history, joining Steelers TE Bennie Cunningham (1976) and Broncos DE Trevor Pryce (1997), both of whom went on to become multi-time Super Bowl champions.
HEAD COACH DABO SWINNEY:
"On pure talent, I would probably name Myles with Gaines Adams as far as the combination of length, strength, athleticism, ability to bend, natural explosive power. He is really, really, really special. I think with another year he may have been the first pick in the draft. I think he has that type of talent. I mean, there's not many people walking the planet that have first overall pick type of talent, but Myles Murphy does. The Bengals are getting him at a value because he's still a developing player. He was at Clemson for three seasons — two-and-a-half years. He's an incredibly smart kid, loves football. His dad played pro football. He's been around it his whole life but his best football is still in front of him. I'm just really excited about seeing him take that next step. He's just a rare talent. A great kid, very smart and a very cerebral player. Incredibly strong and can fly, you know? You just don't see guys that can move like him and bend. He's going to be a great one.
"And the other thing about Myles a lot of people don't really talk about is he's durable. Rarely can I ever recall him missing a game or a practice for injury. He always practiced, he was always available, and I think that says a lot about who he is and how he takes care of his body."
DEFENSIVE ENDS COACH LEMANSKI HALL:
"They are getting a guy who is relentless, powerful and loves the game. He is a physical player, smart. He's great off-the-field. He's a professional, and he's going to come in every day with the mindset of getting better."
Never miss the latest news from Clemson Sports Talk!
Join our free email list